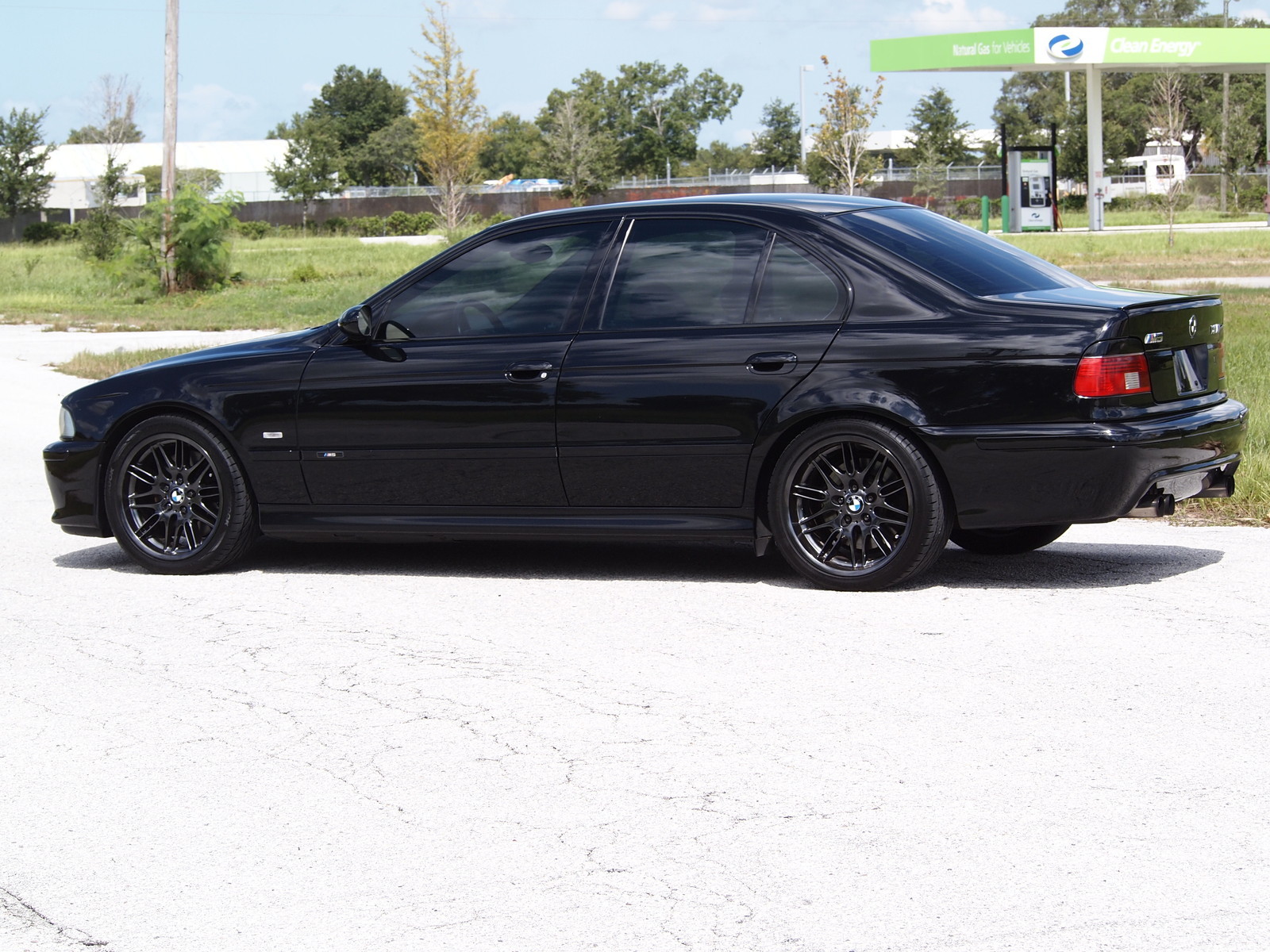 There is something rather sinister about a black E39 M5. The E39 was always a car with a certain hard edge to it and in black that edge is taken to another level. As someone with a particular fondness for black cars, this M5 hits all of the right notes for me in its appearance. In addition to its sinister appearance, this 2001 M5 has received the Dinan treatment, making what was already an excellent engine into something that is truly special. The Dinan engineers were able to induce an additional 76 hp with the S2 package without resorting to forced induction. Airflow was improved along the entire length of the engine's breathing system, beginning with a revised air intake and culminating in a redesigned exhaust that is both lighter and helps produce more power. This car has received the entire S2 package with the exception of the wheels and brakes. Having the brake treatment done would have been nice, but I prefer the stock M5 wheels over those in the Dinan package, especially on a black car such as this one, so I wouldn't consider that portion a loss. Overall, what we have here is a car with extra aggressive looks and the additional power to back up that increased aggressiveness.
Year: 2001
Model: M5 Dinan S2
Engine: 5.0 liter V8
Transmission: 6-speed manual
Mileage: 106,800 mi
Price: Reserve Auction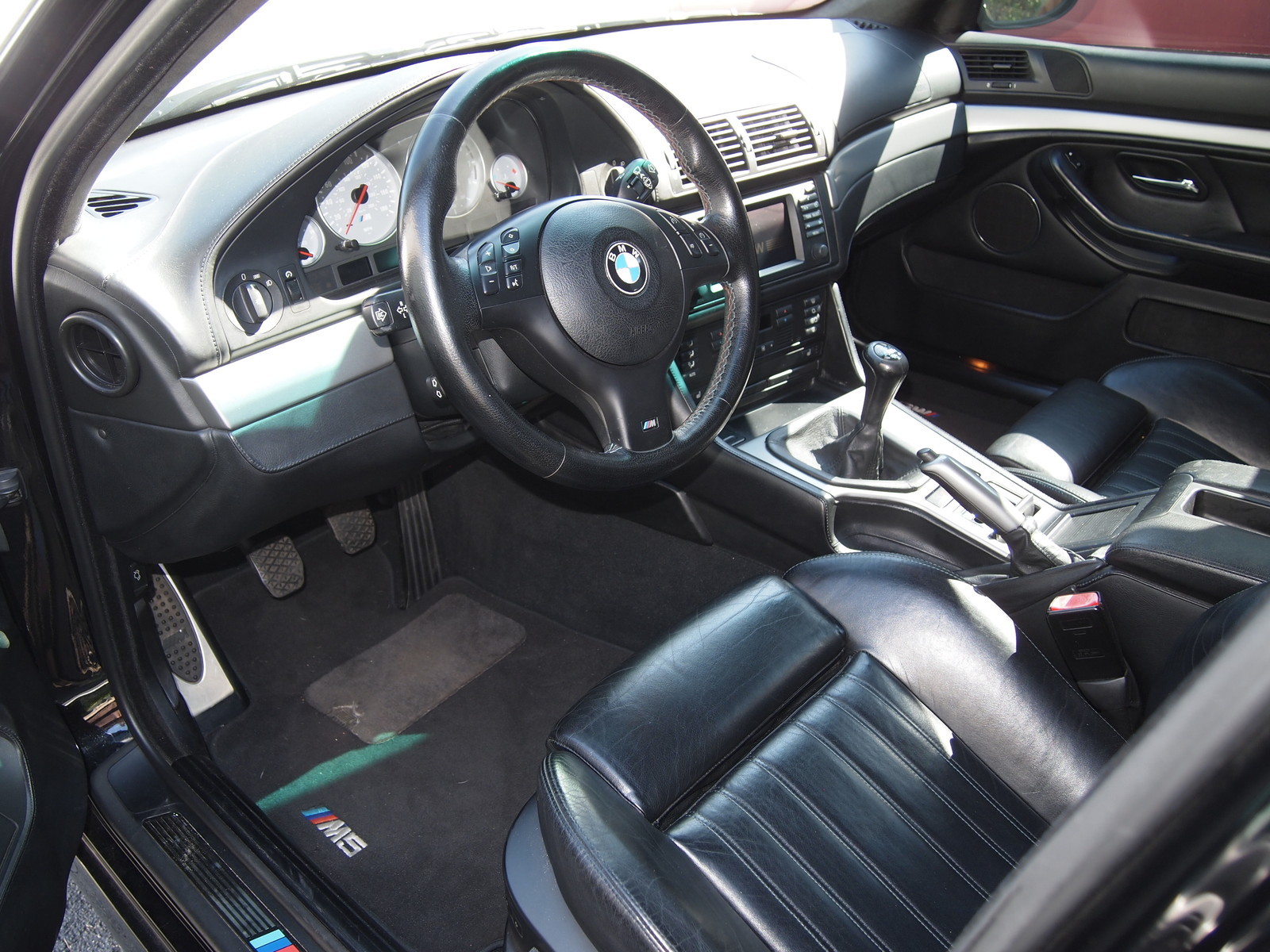 Up for auction is a very interesting M5……I acquired this car recently from a customer as part of a trade for a car I had that he wanted. I planned on keeping it as my daily driver but things have changed and I'm forced to sell. I've been working on this car since 2003 when it had 14,000 miles on it. My shop performed all the DINAN upgrades(authorized DINAN dealer for the last 12 years) and has done all the major maintenance on the car (E39 M5s/540s are one of our specialties). The DINAN S2 package was installed in 2004….this is the full S2 package minus the DINAN lightweight wheels and brakes. The car was sold by the original owner in 2006 to a family member where it covered about 30,000 miles then it was then sold to a non-family member who covered about 45,000 miles in the 2 years he had it(purchased in late 2010). In that time we did a TON of work on this car as he was completely OCD about the car…every rattle, chirp, noise, leak was addressed and corrected. I have $22,000 in invoices that was spent on this car with the bulk being a 56,000 mile motor swap that was performed when the original motor damaged a rod bearing. We decided to install the best low mileage used motor we could find($7500 motor, 35 hours of labor, $2000 in OEM parts).

The car is in very good shape for a 12 year old car but it's a been a driver vs. a garage queen. There are rock chips on the forward edge of the hood, there's a 2″x3″ scrape on the lower right front bumper(touched up). There are pixels that are out on the dash, the rear view mirror needs to be replaced for the auto dimming to work). Rear Hankook tires are at about 30% tread remaining. Interior is very clean in this car….it has been my experience in these cars that have the black luxury interiors hold up very well compared to the other colors/styles. The wood trim was painted a satin metallic grey(BMW Sterling Grey) a long time ago….looks very nice. The shifter knob has some wear on it. I have a nice set of OEM floormats for the car. Car has it's books/manuals and I saw an extra key in it's book binder. The owner I purchased it from had the clear rear turn signals blacked out which can be returned to stock. Front headlights are the euro units which are in pretty good shape for their age(we installed those back in 2004 along with painting all the OEM trim gloss black, painting the grilles, etc.). Everything functions as it should on the car at this time.

In addition to the standard DINAN S2 package, this car has the DINAN/JRZ shocks/struts on it. They were just returned to DINAN and rebuilt within the last 6 months. These ride much better than the DINAN Koni shocks/struts. They're fully adjustable as well. If memory serves right, they were about $800 EACH as an upgrade to the DINAN stage 2 Koni suspension.

Service/maintenance highlights over the last 2 years include:

56,000 mile engine installed at 103k miles. Cam position sensors (common failure in these cars) were replaced (all 4), all the normal gaskets, rear main and front crank seals (front crank seals are known to leak), all fluids of course, breather hoses, etc., were replaced during this job This was a $13k job. Car runs flawlessly and has no check engine light or known issues.

New high flow catalysts were installed along with OEM BMW 02 sensors, new thermostat, new DINAN cold air intake filters, new electronic box fan assembly

Air flow meters have been replaced

MK3 navigation drive unit installed

Differential bushings(uppers and front)

Rear CV joint(driveshaft) and drive shaft bushing

Transmission fluid with BMW MTL-2(lifetime fluid)

As I've said, I know this car pretty well….it's been a great car. It drives perfectly, has had all the normal M5 issues taken care of and has that all-impressive DINAN S2 package. I've owned several of these cars as my personal rides (specifically the S2 cars) and they remain to this day as one of my favorite cars to drive. The standard M5 is tremendous, a DINAN S2 M5 is from out of this world.

I'm more than happy to respond to emails. I will gladly provide additional pics if desired.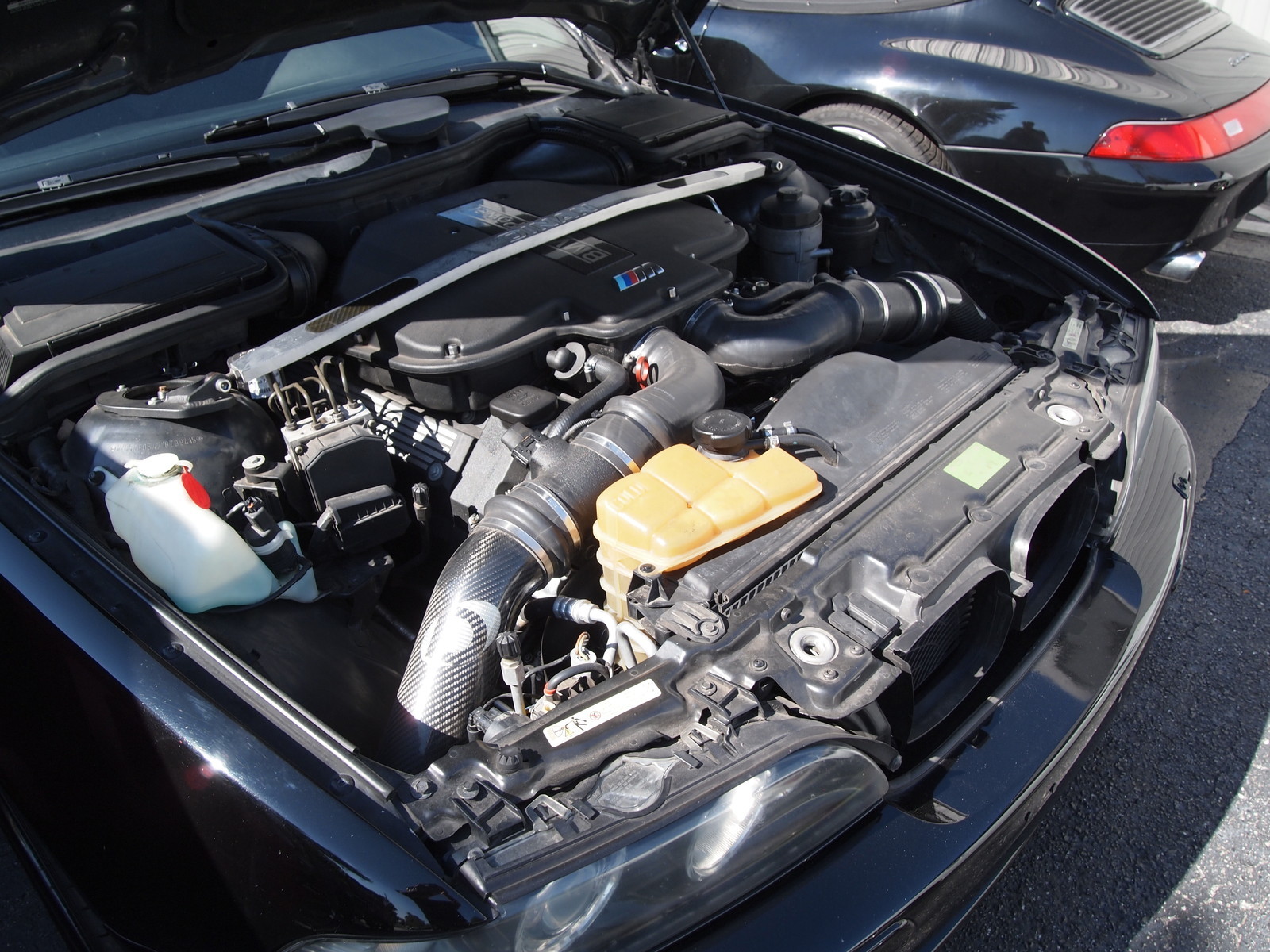 The seller has provided quite a bit of detail and his knowledge of the car suggests that he would be capable of answering any questions a particular buyer might have. This car has a few flaws but for a car with just a bit over 100K miles, it still looks in fine condition. Bidding is currently at $15,251 with the reserve still on. With E39 prices on the rise and this car coming with a bit of extra specialness we're almost certainly going to see the bidding come up. The last E39 M5 I profiled sold for $30,000. That car was much lower mileage and nearly flawless. Will the Dinan package on this car counteract the increased mileage and see a similar selling price? I'm honestly not sure, but this car is going to provide someone with a brutally sinister saloon.
-Rob