Update: 2.9.2011 From the comments the current owner is noting the care is now available again:
The care is available for sale again in California. Now has 33,500 miles. Time for me to pass it along to the next enthusiast. Always garaged, detailed, still excellent condition, stock suspension still available, Sirius/XM added, 4 additional rims mounted with Kumho Ecstas. $31,000. Contact me at tstiegler@cooley.com
---
Originally posted January 2009
The 2001 BMW M Coupe is the first year to get the fantastic S54 engine that's shared with the e46 M3. This is the first one I've seen listed for sale below $25k.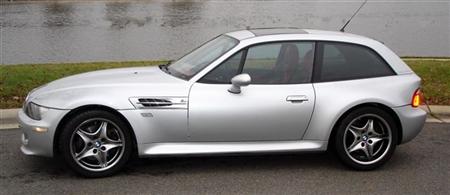 quote from seller's listing:
Sadly the coupe has to go. 2001 M Coupe, S54 Engine, 315 HP, Titanium Silver, Black and Red interior. 27,xxx miles, new Goodyear Eagle F1 GS-D3's on stock wheels, DA Koni's / TCKline Springs and Camber Plates, Strong Strut Front and Butt Strut, Rogue Engineering Rear Shock Mounts, Front Sway Bar, B&B Stainless Exhaust, Fosgate head unit with removable faceplate, Hawk HPS pads. Stock springs, struts and front sway bar included. Dealer maintained and serviced
27k miles and an asking of $24k? What could possibly be wrong with this car? I like all the modifications, but they do tend to devalue a car in the eyes of enthusiast buyers. And it also has that terrible two tone interior, red and black leather. But at this price, I'd consider it a bargain purchase and have the leather dyed!
dc