Part 2 of my Black Series, this 1984 Benz is the rarest of all four of my selections. This car features the high output AMG quad cam 6 liter V8 similar to the one found in the famous Hammer. What is particularly great about this 45,000 mile car is that it still has the work order with it documenting the AMG conversion. Since AMG records for cars like this are so scarce it is an added bonus to have a copy of the sales sheet.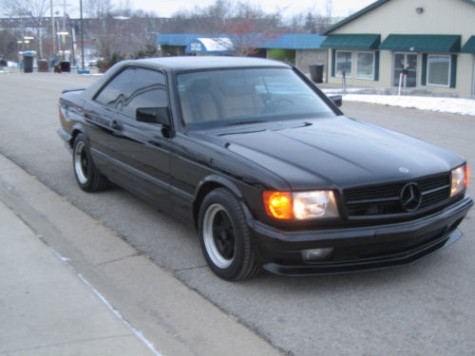 The conversion process from plain 500SEC  happened  in 1988 at AMG Central in Westmont Illinois. This car had the stock 5.0 pulled at 15,000 miles do to a problem in favor of the big 6.0 block.  It had headers and exhaust added and a modified transmission out of a 560. The car has the 2.65 rear diff.
The engine was rebuilt under 10,000 miles ago and should be good for 400 horsepower and plenty of torque.
The buy-it-now is $30,000, but bidding is up to a reserve not met $22,000. The ask isn't unreasonable, these are collector cars now. This car would get a little more for the seller had it not been a later conversion, but not by much as this still is a genuine period AMG vehicle not a backyard special with bolt ons.
The car comes with a lot of recent service and a very nice rating from me.
~Evan