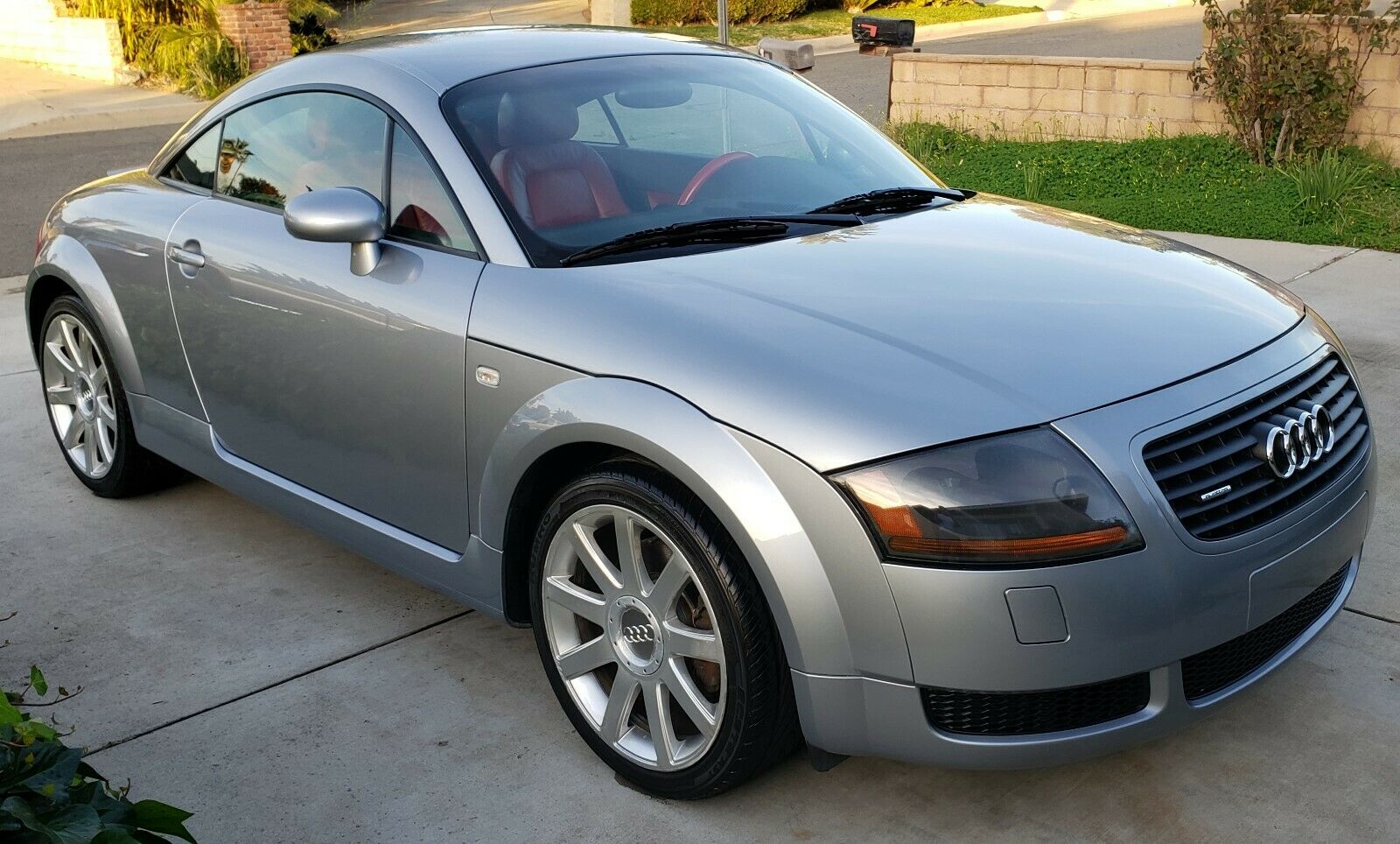 If the minor nomenclature differences between what constitutes a BMW with sport items, a Sport model, and a M-Sport model can be confusing, the ordering of model designation in Audi's TT lineup is downright infuriating. Technically, I think the correct order for the model is as shown above – Audi TT Coupe 225 quattro ALMS Edition.
Maybe.
And here's the trick. First you needed to differentiate if you ordered a Coupe or Roadster. In 2002, you could get a front-drive coupe with the 180 horsepower engine, and you could also get the 180 horsepower motor with optional Haldex quattro all-wheel drive. But if you selected a Roadster, you couldn't get a 180 quattro. Now, if you went for the upgraded 225 horsepower motor, you automatically got quattro – there was no front-drive option. That makes the "quattro" moniker after any 225 model redundant. Even more redundant in this case is the "Coupe" moniker, because if you opted for the ALMS appearance package in the 2002 model year, the hardtop was your only choice. So if you referred to this as a TT ALMS – as many do – the rest would follow – you've got by default a 6-speed manual 225 horsepower quattro Coupe. For many, this makes the ALMS one of the most desirable 8N TTs, and the limited run of 1,000 examples in either Misano Red Pearl with Silver Gray Nappa leather or, as show here Avus Silver Pearl with contrasting Brilliant Red Leather tends to command a premium over other examples of the first-gen Golf-based model: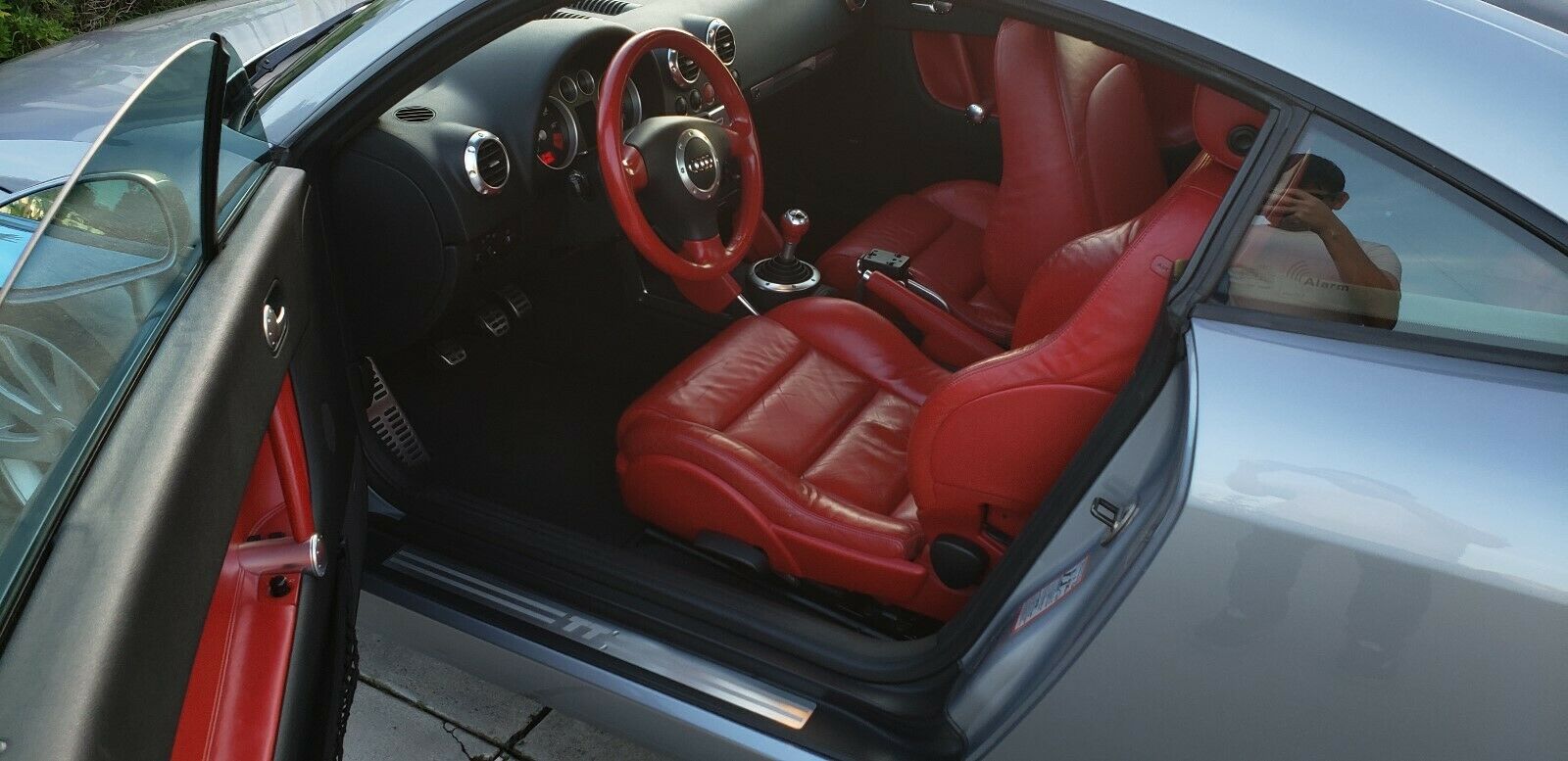 Year: 2002
Model: TT ALMS Edition
VIN: TRUWT28N621029521
Engine: 1.8 liter turbocharged inline-4
Transmission: 6-speed manual
Mileage: 124,750 mi
Location: Whittier, California
Price: $7,499 Buy It Now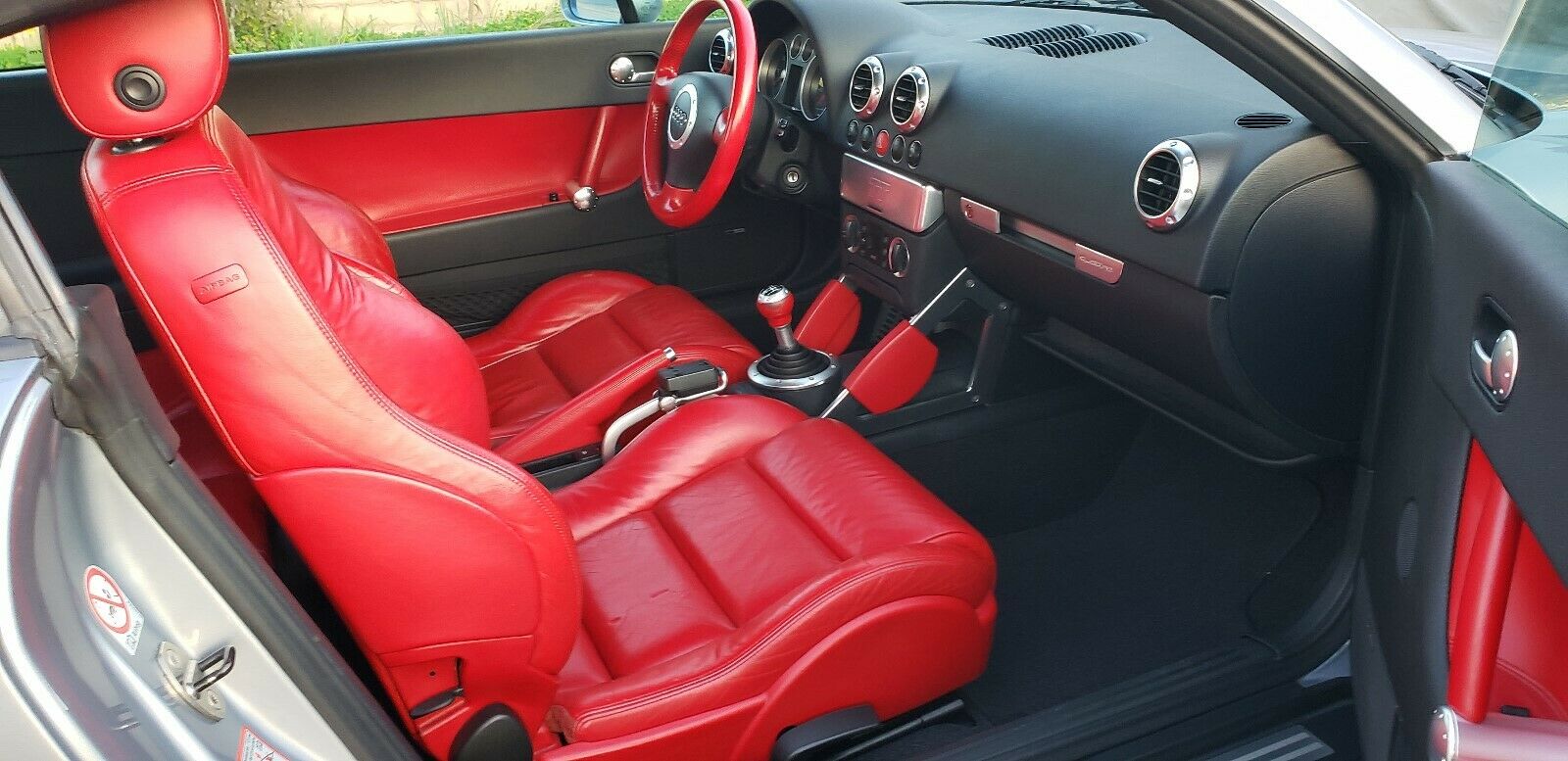 Very rare 2002 Audi TT Quattro ALMS Commemorative Edition in very nice condition. Only 1,000 were ever made, and only 500 of these were built in Avus Silver with red Nappa leather interior and stainless steel accents to commemorate Audi's success in the 24-Hour Le Mans races. This particular vehicle includes the ultra rare factory option car phone mount. The vehicle is in excellent running condition with a brand new battery. The only modification that has been made is a Magnaflow stainless steel exhaust system with 3″ tips, and looks amazing, improving the exhaust note dramatically without being loud. The vehicle has a clean title (in hand) and was just smogged and had tags renewed on 1/31/20. The vehicle has been meticulously cleaned and maintained by me, even fully disassembled inside to clean and disinfect (see photos). Looks and runs great!

Also included is a rare New Owner's Package which was provided to 1,000 ALMS TT buyers only, which includes a hardbound photo book, letter from the manufacturer, and ALMS exclusive decals to put on your new car, which are still new and unstuck. These are almost impossible to find, and required new owners to mail in a voucher to receive it. This set I got from Ebay, so the VIN number on the letter does not match this vehicle, but it's only for these 1,000 cars, so it's great to have.

All the specifics described to the best of my ability (see pictures to judge for yourself): Normal wear and creasing to leather seats for their age (no tears or bare spots). Headliner fabric sags a bit (from when I tried to clean it), though in good shape with no tears or discoloration. Will need to be re-glued. Some curb-rash to the wheels (I have already looked into it and they can be resurfaced) with brand new center caps still in the plastic. Windshield, headlamps, and front fascia have some light sand pitting which does not detract from the overall look. The paint is in good condition and has been kept waxed by me. The body is very straight with only a very few minor dings and scratches per better than normal wear (it has been kept covered by me, and garaged by the previous owner). The "Service" light will need to be reset. This is NOT the check engine light, and the check engine light is NOT on. All onboard diagnostics checks receive the "OK" from the vehicle's computer, and the car runs fantastic. The "Service" on the dash display is simply the message that the dealership or service shop resets once they change the oil. My mechanic did not know the procedure to reset it. The vehicle has a very clean radio (with zero worn off print) that powers on, but I have not tested it and it may require a code or reset. If memory serves the code may be written on the back of the radio in marker. The car also comes with a CD-changer, but I have also not tested this. As for the dash display, this vehicle has only very minor pixilation with all functions easily readable (a common issue with TT's, and this one looks far better than most).

***Update***Update***Update****

I have dropped the price considerably and (temporarily) due to my own stupidity in putting a small ding on the decklid recently! (See the last pic). Take advantage of this sale price while I'm feeling guilty.

***Please serious buyer's only. Do your own research and ask questions before committing to buy. Due to my schedule I cannot entertain any shipping arrangements. LOCAL PICKUP ONLY. No special arrangements outside of eBay and what is stated here. I have described the condition to the best of my ability. The vehicle is being sold AS-IS and includes no warranty. Thanks for your interest!***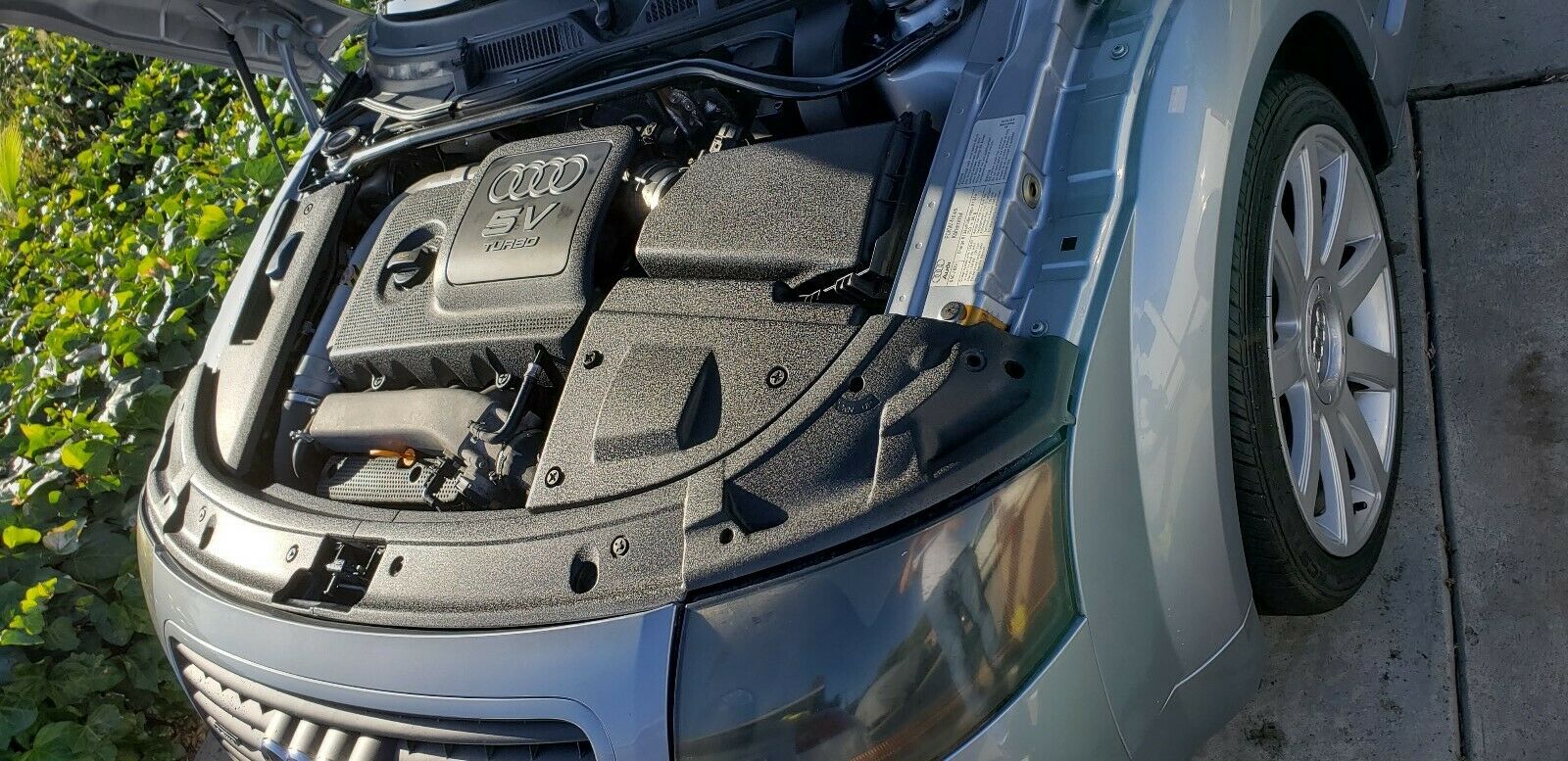 These TTs usually command a strong premium when they come to market, and it's easy to see why. It's a lovely looking combination, and frankly if you remove performance from the equation, it's a much nicer place to sit in and looks equally special to most same-year 911s. And it's not like the performance is all that bad; these are capable cars. Yes, not one to go set lap records in, but certainly fun hustling down a back road. To add to the appeal, the pedestrian underpinnings really do keep repair costs in check, and if you want to go wild you'll be able to put down 911-beating power to the road through all four wheels with a few thousand dollars worth of APR equipment. Condition looks to be reasonably good and in line with the mileage, and to me the $7,500 asking price seems fairly reasonable. It's a lot of style, performance, and practicality for a car that won't break the bank.
-Carter