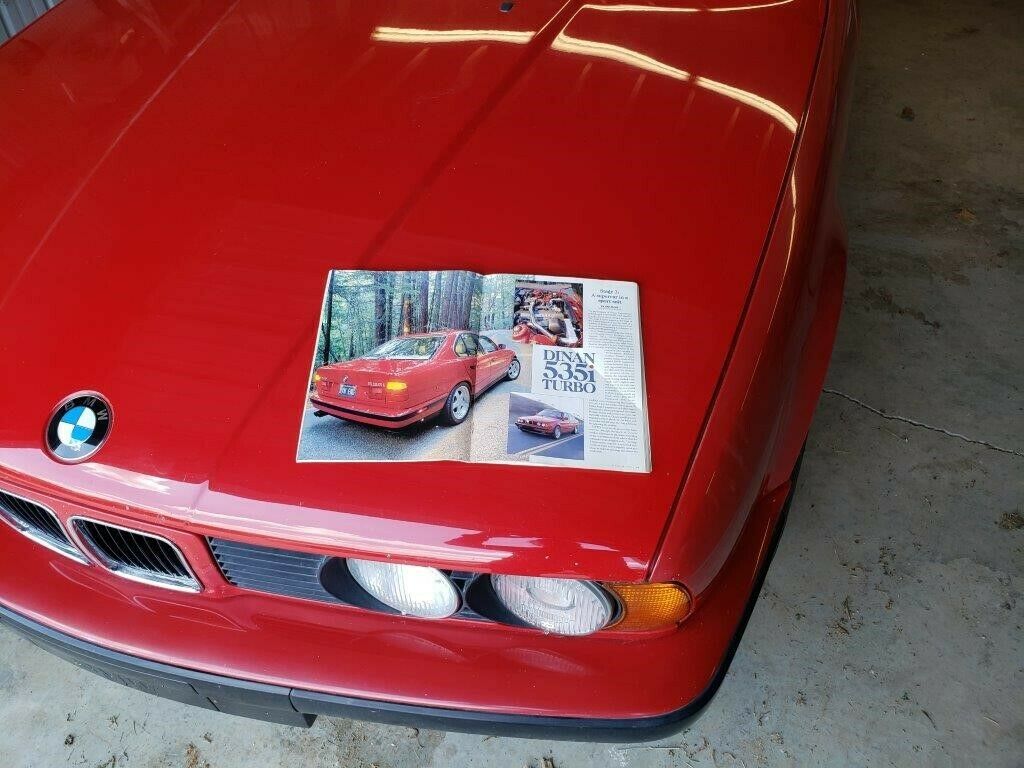 Following up on the recent Callaway Stage IIs, the other best-known American turbocharger of German products in the 1980s was Steve Dinan. Equally highly regarded, Dinan's products have made their way from a small independent to being offered in BMW dealerships across the country, and the quality of his work is on par with the best independent tuners from Germany – Hartge and Alpina. Dinan has taken on tough projects – turbocharging the S38, BMW's first V12, and punching out their V10 to 5.8 liters – and come away smiling.
Today, one of his less-exotic historical products is on the market. In this case it's a 1989 535i that was turbocharged, lowered and stiffened, and given a big set of wheels. It's the classic recipe, and sure enough, the outcome looks nice. But what makes this car notable is that it was reportedly Steve Dinan's personal car, and is presented as the poster pinup probably more than a few of us reading about in Car & Driver when new:
Year: 1989
Model: 535i Dinan Turbo
VIN: WBAHD1315K2174104
Engine: 3.5 liter turbocharged inline-6
Transmission: 5-speed manual
Mileage: 93,100 mi
Location: Cookeville, Tennessee
Price: $45,000 Buy It Now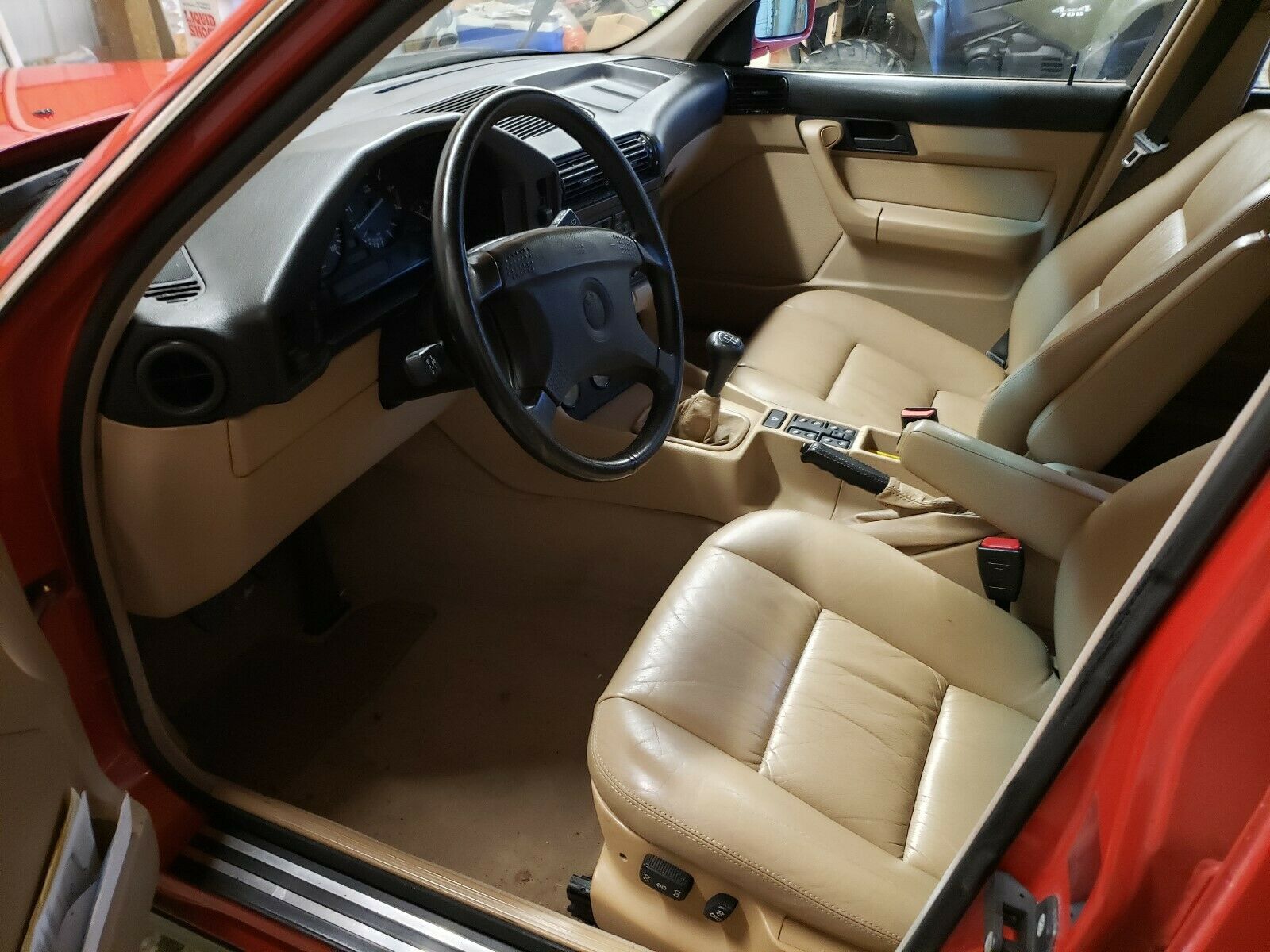 For a video YouTube tour of Dinan Engineering by Steve Dinan go to https://youtu.be/QtkFUD18uSk

Take a lookinside at what makes Dinan Engineering one of the most well respected BMWtuners in the industry. President Steve Dinan shows you the "DinanDifference" by giving you a tour of Dinan's Morgan Hill based, 33,000square foot facility where every bit of R&D, race development andmanufacturing happens.

Excerpts that follow are taken from March 1991 AUTOMOBILE magazine article by Barry Winfield DinanMight. The Dinan Engineering's BMW 535i Turbo is a blast to drive. (full article can be read in the Pictures Section see) Automobile magazineMarch1991 also Car and Driver April 1991 and European Car March 11992

" As the carbon fiber metallic pads bite hard into the larger thanstock rotors (a $2,200 option), this BMW shed speed as if it hit a sand trap,the engine and road noises dying like a record shut off in mid song. Aided by a big 45 series Yokohamas on nine-inchwide Dinan wheels (a $3,400 option) Now new Pirelli P 0 all season, the car quickly slowed down to the limit. This is the kind of good fortune you need to own one of Steve Dinan's conversions, quite apart from the additional cash outlay that bumps theoriginal price up to a minimum of $56,500 Price as Tested$65,775 (1989 money). But it seems appropriate. Dinan's performance claims include 330 horsepower a 165 mph top speed, and a higher skid pad lateral acceleration figures than an M5 can accomplish. His transformation of a stock 535i BMW is so dramatic yet it is so civilized that little of the original car's urbanity is sacrificed.

When driven on an open road the car is a rocket. Its steering is precise and its grip on theroad reassuringly right. In fast bends the car hangs on tenaciously. The combination of blistering acceleration, consummate road manners, and high top-speed potential make Dinan's 535i Turbo a car that can run with the big ones, and its civility ensures an entree into polite society. You can't ask for anymore than that."

Excerpts that follow are taken from European Carmagazine March 1992 "The car a 1989 BMW Model E 34 Dinan ConversionTurbocharged and inter-cooled, 1/4mile time, 13.1 at 111 mph" note: Airflow forIntercooler is in the front bumper.

This particular 535i Turbo was Steve Dinan's personal car. Every option is in all original condition. Oil – synthetic Mobil 1. In preparation for saleover $6,700 was recently spent on anything that needed checking with mechanical and parts replaced where needed, Receipts furnished upon request.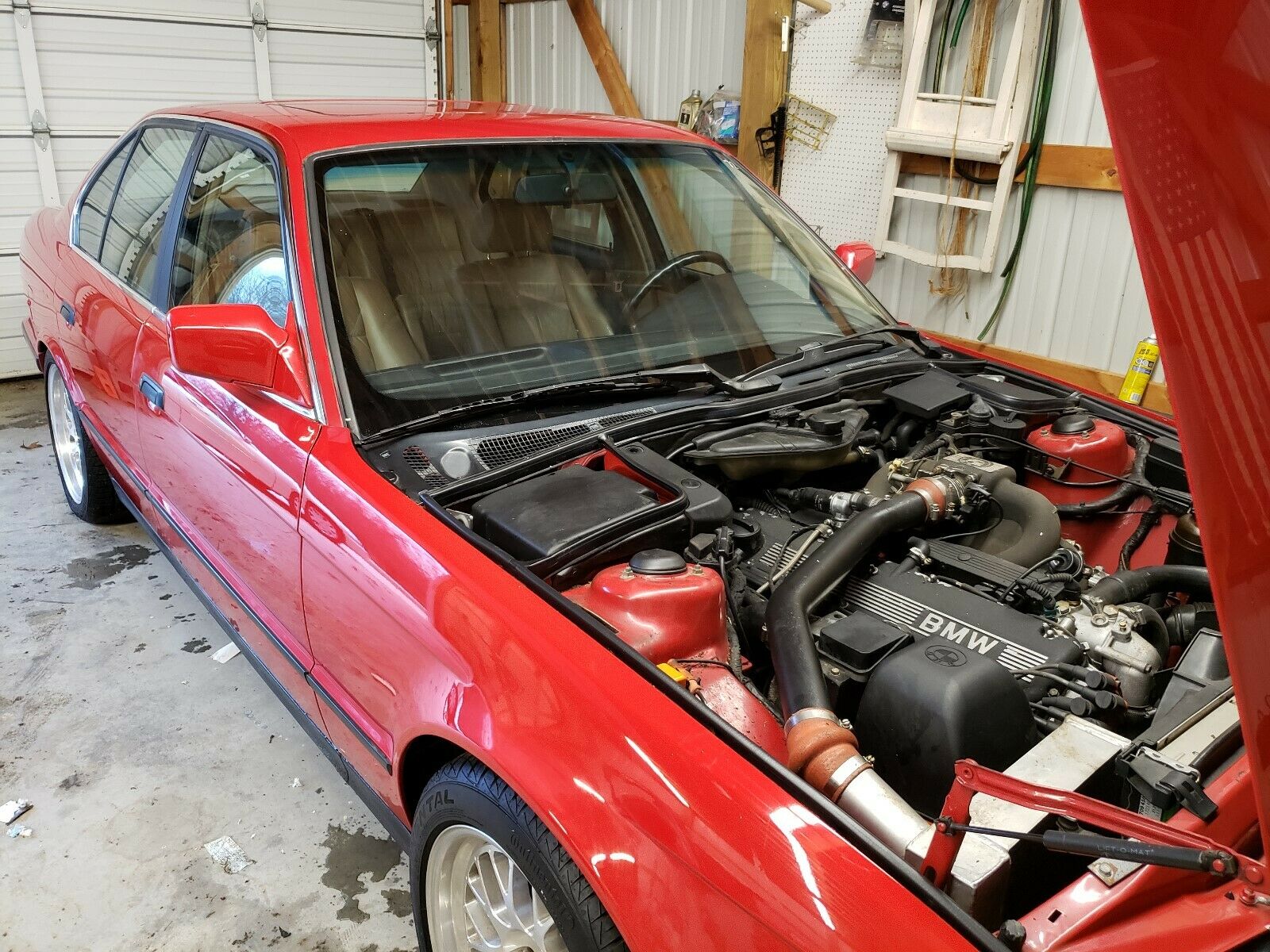 While I was fairly young when this car was built and featured, I really do remember reading the articles about Dinan's turbocharged wonders. Coming across fully-built Dinan cars from the 1980s is about as tough as finding the Callaway from yesterday. They're out there, but they seldom come up for sale. This car is claimed to be Steve Dinan's personal car, and appears to be the car that was used in testing, which would make sense. However, is there a letter shown that this is Dinan's car? No. Does the seller come out and say this is the actual car from the tests? No, that's skirted as well. And when you combine that with what is otherwise, frankly, a pretty lazy listing where the car isn't even pulled outside for a full body shot, that's pretty frustrating. The Fikse wheels will please some, I'm sure, but personally I'd rather have the original multi-piece Speedlines on there for originality's sake if nothing else (plus, I feel they look better!). Anything else? Yeah, I thought it was strange that the car doesn't have sport seats. So I guess the question is at this point, would you pay going on double good E34 M5 money for this much more rare Dinan Turbo with a few mods and not much else shown?
-Carter