After some of the amusing comments about the E39 M5 clone wagon I thought I'd fan the flames with this total boy racer E46 Wagon.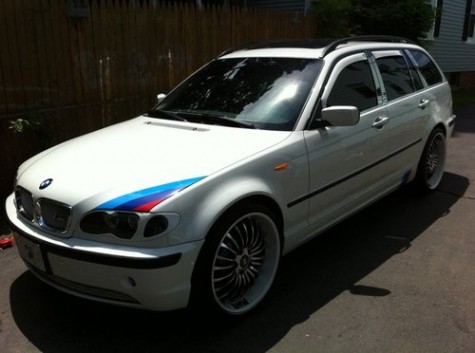 The mostly all show mods to this wagon will make it stand out, but unlike some of the other cars we post you are still stuck with a low horsepower wagon with an automatic. I tend to like my wagons the other way, sleepers, with little outside identification, but raging beasts stuffed under the hood, a la AMG wagons.
This 89,000 mile wagon has had a bucketload of cosmetic parts and badges thrown at it. 20″ BMW labeled rims, extra chrome, mesh grille with M badge, M sport paint work, tinted tails, etc. The car has upgraded sound system as well. There isn't much description, but the seller says there is too much to list, surely not parts from the Dinan or A.C. Schnitzer catalog.
The ask is $9,500, with bids currently up to $6,600.  Honestly not a bad car for your kid who goes to a 2nd tier private boarding school and needs something to haul his gear. It has to be buyer be ware when purchasing a car from someone whose eBay handle contains the phrase "sexyboy".
~Evan