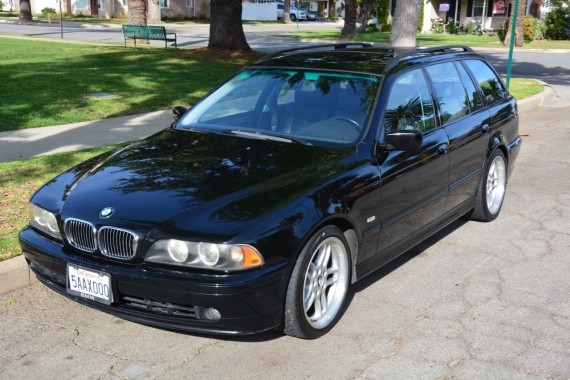 Stare at a BMW E39 estate long enough and I'm pretty sure you'll forsake all other wagons, perhaps even all other cars depending on your level of longroof love. This car was just one of those times when the designers got it so right it's almost scary. The artists over at BMW took one of the greatest sedan designs of all time and molded it into the greatest family hauler of its time. The seller goes so far as to say the 540i Touring is the best looking wagon ever made, now or then. He certainly has a point if you focus on the competition of the era but as far as best looking wagon of all time, I'd have to give that to the beastly RS6 Avant. I will however give the 540i Touring the silver medal without a second thought. The proportions on this car are wonderful and it looks good from any angle, the hallmark of a truly exceptional design.
The positives extend far beyond the appearance of the vehicle, it is equally as impressive inside and under its skin. The 540i Touring is powered by a 4.4 liter V8 churning out 290 hp and 340 lb-ft of torque, not too shabby even by today's standards. The superb handling dynamics of the E39 sedan carry over to the estate which makes the car even more desirable. It is by no means a canyon carver but from what I've read these cars handle with far better precision than one would think, especially since the damn thing weighs in at 5,043 lbs. When you consider that torsional rigidity was increased over the E34 5 series by 40 percent, the reasoning behind the affinity for these cars becomes quite clear.  It's a big steel caged missile that bests a car held in high regard for its handling capabilities. Having a hot rod that can haul will always be an attractive proposition to me and many other German car enthusiasts, the hard part is picking the right one. I'm always torn between the quintessential 90's design of the E34 and the slightly more modern E39 but when push comes to shove, I seem to end up envisioning myself in the latter. I'm not sure why but the addition of a few more curves and rounded edges pushes the overall look of the elongated 5 series from great to all time classic.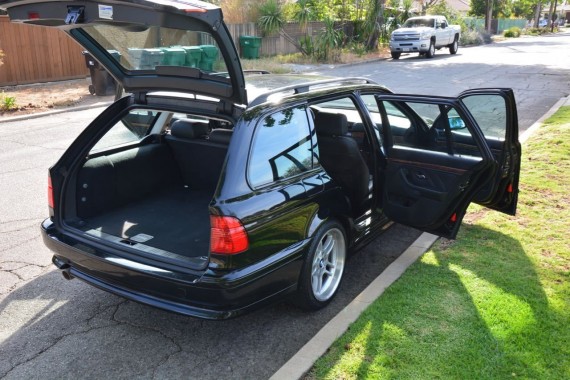 Year: 2002
Model: 540i Touring
Engine: 4.4 liter V8
Transmission: 5-speed automatic
Mileage: 94,305 mi
Price: $9,000 Buy It Now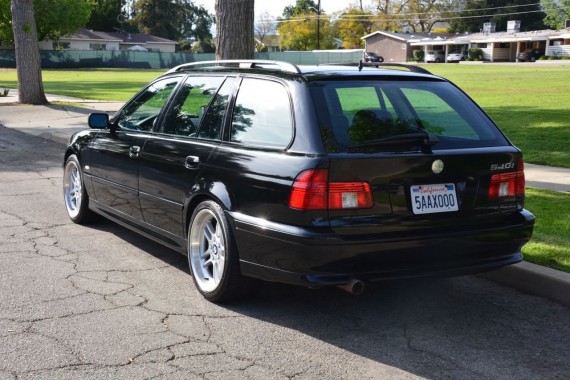 Overview: Time to sell my beloved 540iT – it's been a third car for years, and with two of the kids driving, we just don't have room for it anymore.

I've owned this car since 2007, longer than any car I've ever had. I've always loved BMW wagons, and have owned several over the years, but the E39 wagon is most certainly the best looking wagon ever made (then or today).

I've put over $15,000 in maintenance over my years of ownership, and always kept it in good running order. I'm going to list it out with the Good, Bad and Ugly so you know exactly what you're getting with this car. I've bought and sold many cars on eBay, and with only one exception (a BMW I purchased from Virginia that had many more issues than the seller reported), all my transactions have gone well. Honesty is the best policy here, especially for my fellow BMW enthusiasts.

The Good:

Super clean, no major dents or dings, the car looks awesome.

Paint is excellent

Interior is very good with just a few issues (see below)

Books and Records – I've got every service receipt from my ownership, and those of the previous owner going back to 2006 (while it was still under warranty).

Runs brilliantly, still a rocket ship.

AC is cold and system works well.

Electrics all work fine

Sunroof works great

Brakes are great.

There are zero mechanical issues that I am aware of, and the car just came out of service where the car was reviewed and smogged.

The Bad:

The airbag light stays on the dashboard.Mechanic tells me it's the passenger airbag switch and not worth replacing, does not affect deployment of the airbag.

I have only one key, and it was chewed on by our new puppy last year.It starts the car, but the keyless entry doesn't work.  You will want a new key, which the dealer can get you with your valid registration.

The driver's seat occasionally groans when you're moving it back.It works fine in all directions, however.

The rear driver's interior door handle leather has peeled away a bit, and the stitching on the drivers seat bottom is tearing a bit. These are the only two issues with the interior – headliner is great.

The Ugly

None. No major issues.

Chances are, if you're seriously looking at this car, you know what it is – one of the fastest, best looking, coolest cars ever made.

Let me know if you have any questions – I can help with shipping, and I'll include all the books and records when you take the car.

Thanks for looking!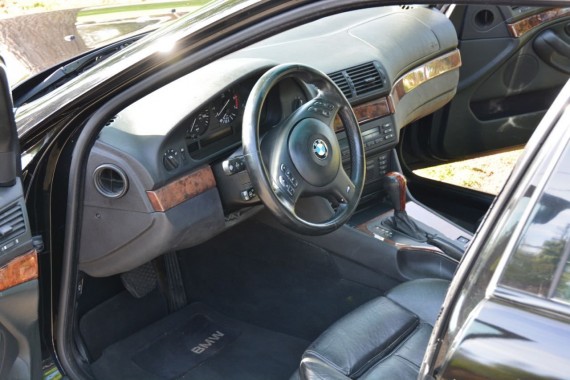 So this seller is an eBay veteran, has both bought and sold cars on the website, always a good sign. I think the $9,000 asking price is a bit ambitious, even for a car that's becoming very, very hard to find in good condition. The fact that the car hasn't hit six figures on the odometer yet certainly works in favor of the seller but I'm not sure if the lower (by BMW wagon standards) mileage justifies the premium. There are those few cosmetic issues and while the seller states that all the electronics are in good working order, you can see in the pictures that there is some pixelation going on in the center stack. That's not enough to scare me off but they will need to be replaced at some point, just the nature of the beast.
Speaking of which, water pump, pulleys, and valve cover gaskets are areas of concern with these motors. It would be prudent for an interested party to find out if such things were part of the $15k spent on maintenance during the seven years that the seller cared for the car. Currently bidding sits at $4,050 and I think that in the neighborhood of $6,500 would be a good deal for both buyer and seller. In my opinion this is a legendary car that is deserving of every amount of praise heaped on it, however that's an opinion shared by a relatively small group of people. To most folks this is just a big Bavarian family hauler powered by a fuel chugging V8, nothing more than an outdated way to move a people and a bunch of stuff.
If only they knew better.
Cheers,
-Andrew