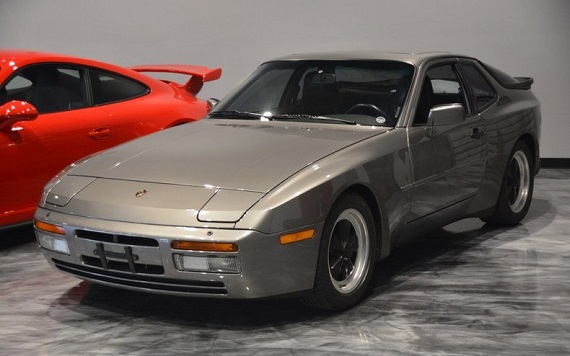 Such is the value of the 944 Turbo, it has become almost a cliche on these pages. I suppose that I could go back and count the number of phenomenal 944s that have rolled across my computer, but I'd say that it's on par with the amount of overpriced, over-hyped E30 M3s and 911s. It seems that we keep saying the same thing, too – "values are certain to rise", "finding another in this condition will be hard" and the like. Turbocharged performance with a classic Porsche kick, stunning through corners, capable of high-speed long distance rides with ease and even semi-practical as a daily driver, the 944 is arguable the Jackest of all-trades from classic Porsches. From an aesthetic perspective, there were very few changes to the U.S. bound Turbo models; outwardly, all that changed over the run were the wheels and a few special colors. While that hides some updates like ABS and more power under the skin, early and late Turbos have a decidedly different flare. While I enjoy the performance and look of the later "S" specification cars with the forged Club Sport wheels, there's always something about a clean Fuchs equipped 1986 model. 1987s wouldn't have the Fuchs option anymore as ABS meant the offset of the wheels was different. It's one of the very few applications of black wheels that somehow is just perfect: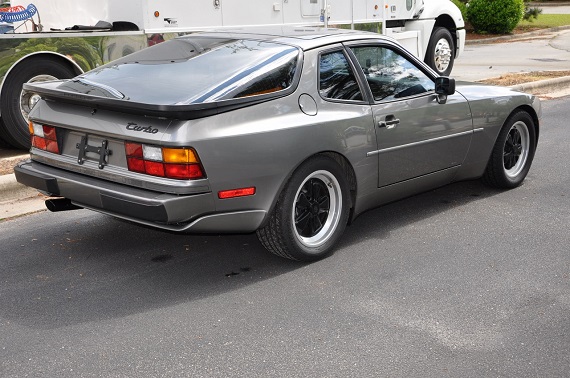 Year: 1986
Model: 944 Turbo
Engine: 2.5 liter inline-4
Transmission: 5-speed manual
Mileage: 30,300 mi
Price: $25,000 Buy It Now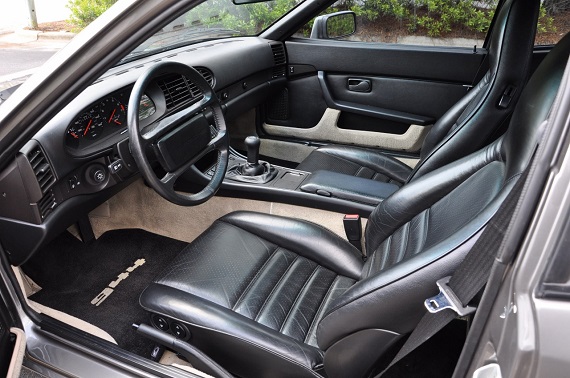 944 Turbo (951/952)
For the 1985 model year Porsche introduced the 944 Turbo, known internally as the 951. This had a turbocharged and intercooled version of the standard car's engine that produced 220 PS at 6000 rpm. In 1987, Car and Driver tested the 944 Turbo and achieved a 0-60 mph time of 5.9 seconds. The turbo was the world's first car using a ceramic port liner to retain exhaust gas temperature and new forged pistons and was also the first vehicle to produce identical power output with or without a catalytic converter. The Turbo also featured several other changes, such as improved aerodynamics, a strengthened gearbox with a different final drive ratio, standard external oil coolers for both the engine and transmission, standard 16 inch wheels (optional forged Fuchs wheels), and a slightly stiffer suspension (Progressive springs) to handle the extra weight. Major engine component revisions, more than thirty in all, were made to the 951 to compensate for increased internal loads and heat.

1986 Porsche 944
1986 10 Best Cars
JANUARY 1986 BY DON SHERMAN

"Turbocharging is a way of life at Weissach. If a blower can possibly be bolted onto a Porsche engine, it will be-at the earliest opportunity. In the case of the 944, the 1986 model year is your cue to celebrate life on the plus side of the manifold-pressure gauge.

Of course, the 944 Turbo is fun, fast, and frightfully expensive. Attacking that list in reverse order, the price just barely clears our #30,000 ceiling, a stretch of your right leg will carry you to 157 mph, and the only activities that are more entertaining than driving this car demand a live partner.

Where does this leave the regular 944? The truth of the matter is that most of us at Car and Driver prefer it to the Turbo for everything but flat-out, high-speed, get-me-to-the-church-on-time pursuits. The standard 944 has better throttle response and its steering feels sharper on center.

Furthermore, the normally aspirated 944 is about the best sports-car value going. This is more true than ever for 1986, because Porsche has seen fit to give this machine several new suspension components and a new instrument panel (both of which were developed for the Turbo) without raising the price a smidgen. All of which makes one wonder what exactly Porsche has in mind for next year."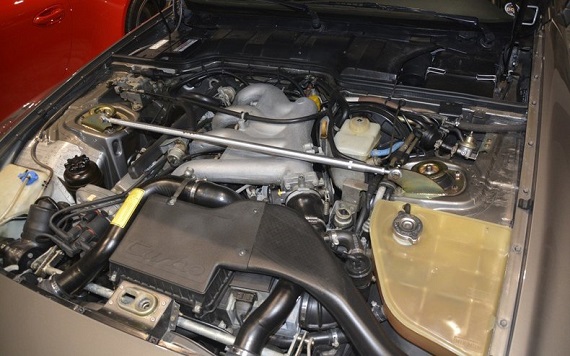 The pictures and listing aren't particularly overwhelming, especially for such a low mileage example as this one. To me, the car looked like Stone Grey Metallic; a great color that's more dynamic than you'd expect. So I did a bit of looking and came across a listing for this very car from last year with 700 less miles. Interestingly, it comes from the same seller as today, yet the 2014 advertisement has much better and more comprehensive pictures as well as some good information about this example; we learn that it was optioned with a locking differential, for example. What's more impressive though is looking through the pictures and happening upon the three ring binder full of receipts for the car. Buying into a car of this low mileage and condition certainly necessitates such documentation to verify not only the validity of the claims, but that it was cared for throughout its life. This one certainly seems to be so, and the impressive original condition is awesome to see. The asking price – $25,000 – even seems to be reasonable when one considers what that amount buys in the M3, 911 or even Quattro world today. This is a lovely example with shockingly low mileage and full documentation, yet it is a thoroughly affordable classic with better overall performance than either of the three previously mentioned cars. Just as it was in 1986, the Porsche 944 Turbo remains a giant killer and one of the best values going not only in German cars, but in classic motoring in its entirety.
-Carter