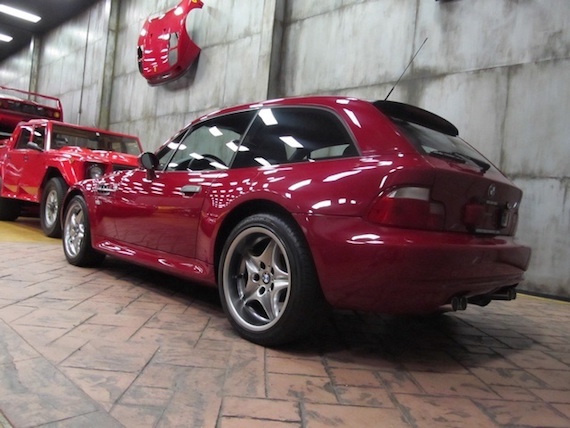 Since red is a traditional Christmas color, I figured we would search out something extra special in that hue today. This 2002 M Coupe for sale in New Jersey is one of those 678 M Coupes to have the S54 engine under the bonnet, showing just under 22,000 miles on the odometer. I always marvel at cars like these which seemingly escaped the watchful eyes of the bean counters in accounting to wind up on the showroom floor. At a time when crossovers are proliferating the BMW lineup, it's nice to look back at some cars that made this company's bones as a car for driving enthusiasts.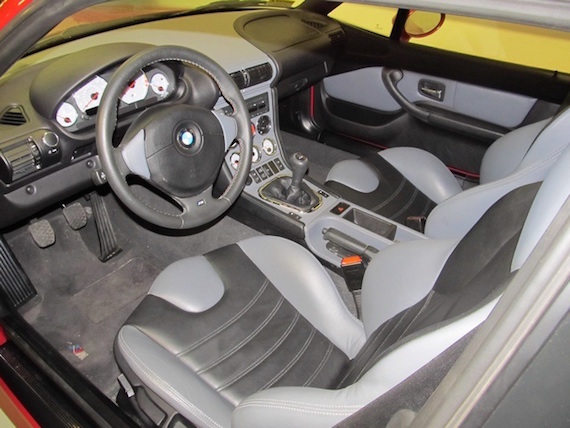 Year: 2002
Model: M Coupe
Engine: 3.2 liter inline-6
Transmission: 5-speed manual
Mileage: 21,985 mi
Price: $75,988 Buy It Now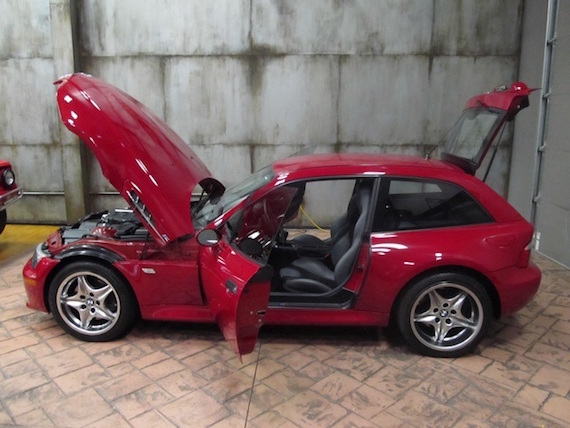 2002 BMW M COUPE FINISHED IN IMOLA RED WITH BLACK AND GREY LEATHER INTERIOR, VERY LIMITED HARD TOP NO SUNROOF, ACCORDING TO RECORDS THIS IS ONE OF ONLY 2 CARS PRODUCED FROM THE FACTORY!!!!!! ONLY 21K ORIGINAL MILES !!! THIS CAR HAS BEEN IN A MUSEUM/COLLECTION FOR THE PAST 10 YEARS STORED WITH MULTIPLE OTHER CARS IN A CLIMATE CONTROLLED PRIVATE ENVIRONMENT, I OBTAINED THE COLLECTION , THIS CAR HAS NEVER BEEN ADVERTISED TILL NOW!!!! THIS IS THE FINAL YEAR AND PRODUCTION OF THE MCOUPE , ALSO THIS IS THE YEAR WITH THE UPGRADED ENGINE THAT IS MUCH SOUGHT AFTER, THIS CAR HAS NEVER BEEN IN ANY ACCIDENTS , NON SMOKER, NEVER ABUSED, NEVER RACED, NEVER CRASHED, NEVER PAINTED, NEVER , NEVER NEVER, REAL DEAL MUSUEM CAR!!!!!I DONT THINK YOU CAN FIND A BETTER ONE, WHAT A GREAT FUTURE INVESTMENT, ANY INFO PLEASE CONTACT STEVE WALDIE 6095777976 PLEASE TEXT IF YOU CAN'T REACH ME I WILL HATE TO SEE THIS ONE GO! PLEASE FEEL FREE TO CONTACT ME DIRECTLY WITH ANY QUESTIONS OR SPECIAL REQUESTS, I WILL CONSIDER COOL TRADES,???????? I HAVE HAD THIS CAR FOR A WHILE IN MY FAMILY SO PARTING WITH ANY OF THESE IS TOUGH FOR ME, FOR THE FIRST TIME THIS CAR WILL BE OFFERED WITH LEASE, FINANCE OPTIONS. I WILL GLADLY ACCEPT YOUR CURRENT TRADE OR IF YO HAVE A REASONABLE OFFER FOR ME SEND IT ISMOTORSPORT@AOL.COM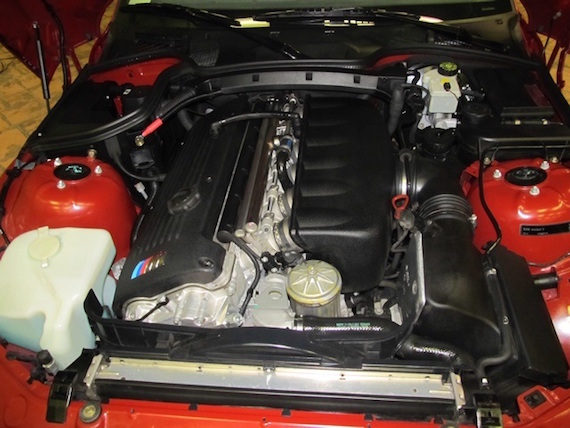 When I first looked at the price of this M Coupe I had to do a double take. Are we now reaching the land of the $75,000 and above M Coupe? I've seen a few of late for sale in the $45,000 to $60,000 range, but for everything I've come across, this is a new high. I'm not sure the market is quite there yet, as there are a lot of options in the sports car arena when you get up into this price bracket. Nevertheless, while some still deride the styling, I've been a fan of the original M Coupe from the day it debuted. Unlike a lot of vehicles which try and be something to everyone at the same time, this was a car with a singular purpose. Driving pleasure.
-Paul