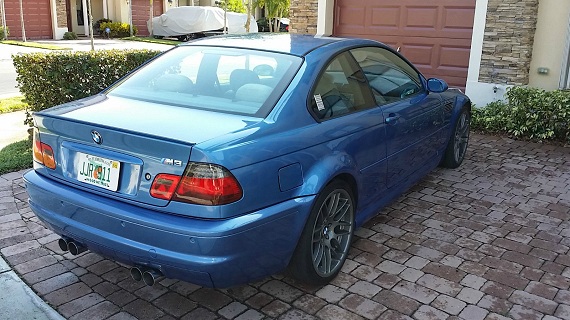 It's been a great week for rare-toned E46 M3s, and the Estoril Blue special order model that I wrote up last October is back up for sale. With the addition of only 330 miles since we last saw it and now for $1,000 less, the only drawback I see here is the SMG transmission and that the seller still doesn't know the proper name for the color. For $16,500 this car certainly looks like a great deal for the right buyer!
The below post originally appeared on our site October 22, 2013: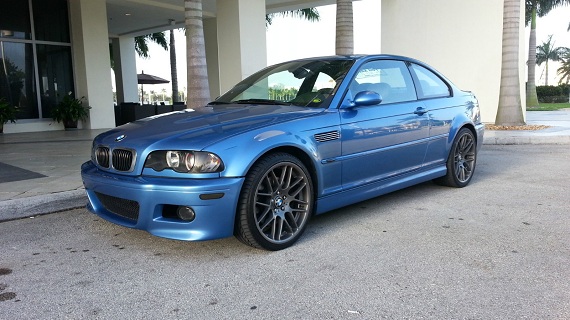 If there's one thing that I really love it's rare colors of already unique cars. I'm not even sure why the rare colors appeal to me so much, but I just love seeing neat German rides in something other than silver, white or black. In the case of the E46 M3, that means my favorite by far is Phoenix Yellow, but that's not the most rare color on E46 M3s. No, there were some individuals who decided that the color pallet offered by BMW just wasn't enough; this particular M3 was specified by the owner in the E36 shade of Estoril Blue. Original idea? Well, not really, but boy the results are good. Take a look at this Easter Egg: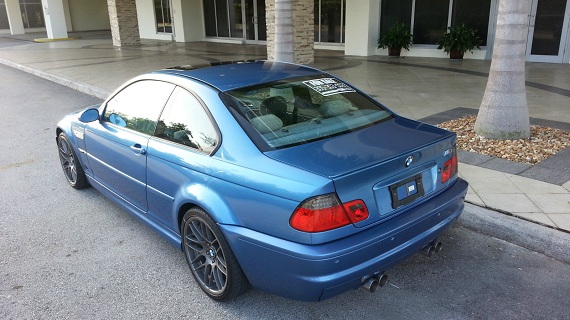 Year: 2002
Model: M3
Engine: 3.2 liter inline-6
Transmission: 6-speed SMG automatic
Mileage: 77,331 mi
Price: $16,500 Buy It Now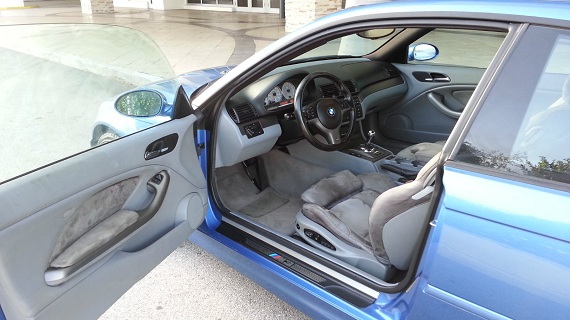 Old Description:

EXCELLENT CONDITION, GARAGED AND PAMPERED. VERY UNIQUE SPECIAL ORDER STARE BLUE COLOR, 19′ CSL WHEELS. VERY STRONG! SOUNDS AMAZING AND TURNS HEADS EVERYWHERE YOU GO!

CALL JOHN WITH ANY QUESTIONS 305-303-0037

New Description:

2002 M3 IN A VERY UNIQUE STORILBLAU METALLIC ORDER FROM FACTORY. PAMPERED LOW MILES. 19″CSL WHEELS, K&N AIR INTAKE AND ACTIVE AUTOWERK EXHAUST. THIS IS THE ONE YOU SHOULD HAVE IF YOU LIKE TO GET SOME ATTENTION SPECIALLY FROM OTHER BMW ENTHUSIAST. TITLE ON HAND. PRICE TO SELL. LOCATED IN DORAL/MIAMI AREA. CALL JOHN @ 305 303 0037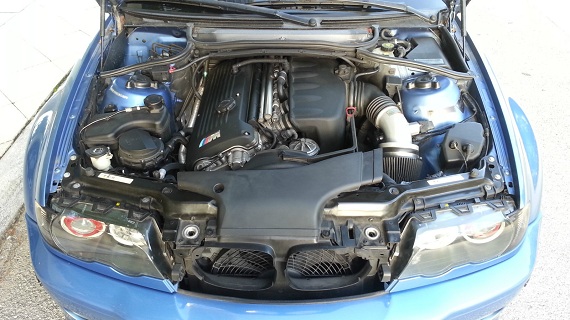 Why you would go through the effort of buying the beautiful BBS CSL 19″ wheels and painting them dirty is beyond me, but like so many other things, it's not all about me. I'd immediately refinish those gems back to the original silver as I think it would fit the car a little better. This car was mildly modified with exhaust and some blackouts, and looks to have Alcantara seats. Luckily for my bank account, it also has the SMG transmission which rules it out of ownership for me, but if you're interested in a track ride this could be a good deal. At $17,500 with 77,000 miles it seems pretty appropriately priced and would set you apart from the rest of the E46 M3 crowd!
-Carter