I find it ironic that the company which popularized the small van over 60 years ago turned to another manufacturer when it came time to reintroduce a van to the US market. But that's exactly what Volkswagen has done. The Routan is nothing more than a rebadged Dodge Caravan. Volkswagen projected they would sell around 45,000 of these vans in the first year, but they were only able to move a little more than 14,000 units. Perhaps this is automotive karma for this cop out of a product offering? Whatever the case may be, this has me questioning whether Volkswagen would have been better off offering the latest generation of what we see here for sale in Missouri, the Eurovan, or Transporter, as it is known elsewhere in the world.
This 2002 model represents the second to last year that the Eurovan was offered stateside. The last of the Eurovans featured the 2.8 liter VR6 engine with a four-speed automatic as the only transmission choice. Versus the earlier Eurovans with the anemic 2.5 liter five cylinder engine, these vans could at least get out of their way.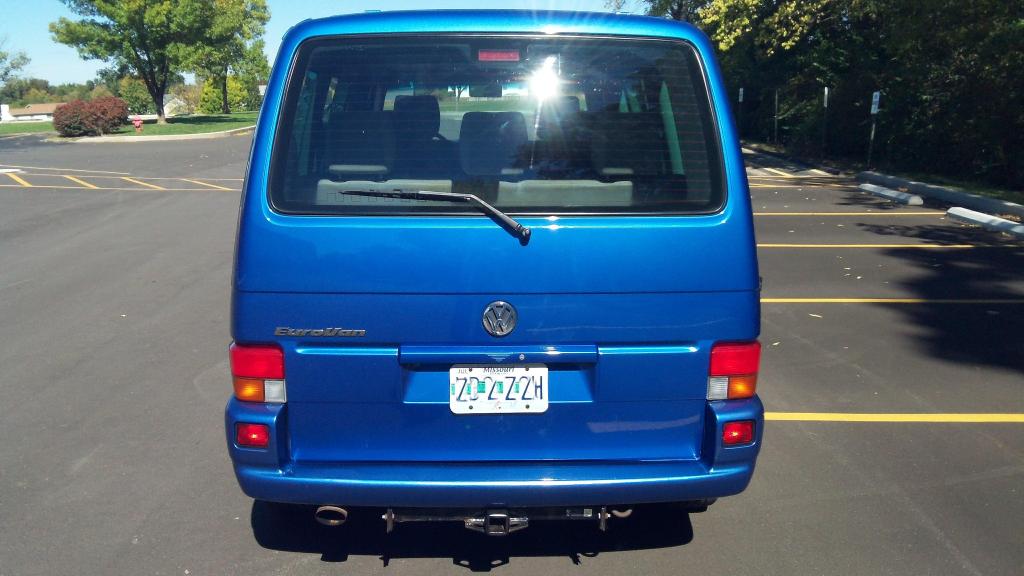 The van was purchased new by my father in Feb. '02 and then I purchased it from him in about 2 ½ years ago. It had Ziebart rust protection installed before delivery. I have complete history from the window sticker to the most recent repair. Everything works perfectly and it needs nothing. It passed full safety and emission inspections at the end of July.

Although all repairs are documented, these are a few of the most recent and major:

Nokian entyre tires (proper load rating) were installed in March of '11.

June of this year (3k miles ago) I replaced all motor mounts, serviced transmission (fluid and filter), and replaced all brake pads (all parts purchased from Europarts SD)

Last week I replaced the alternator. A/C compressor, drier, expansion valve, and pressure switch were all replaced at the dealer in Aug. '05. The van is in excellent condition. The inside is in great shape, but does have some wear/stains on the carpet. The hood has some rock chips that have been touched-up. The only modifications are a six-disc CD changer (dealer installed) and installation of clear corner marker lights in the front (I still have the OE amber). Although I am the second owner, it has been in my family its entire life. I would not hesitate to drive this van anywhere (I drove it to D.C. this summer)! Please feel free to contact me with any questions. I am located just outside of St. Louis.
It's hard to find Eurovans with low mileage, as these haulers are often employed for long distance and vacation travel. The asking price of $7,900 seems reasonable in light of the condition and one family history and it's always a good sign to see that the seller is willing to negotiate. The Eurovan certainly isn't everyone's cup of tea when it comes to a family hauler, but for those who want to be different, this might just be the ticket.
-Paul