I'll admit, I'm one of those Porsche 911 fanatics. I've never owned one, but certainly plan to before I leave this earth. The new for 2012 911 is still growing on me. I think it looks a bit more sleek from the front angle and the 7-speed manual gearbox is certainly unique. But I think the rear end is a bit too busy with the Porsche script and all of the ones I've seen in person have the PDK gearbox. I know, before everyone says it, I know this gearbox is more efficient and faster off the line, but I'm still one of those die hard enthusiasts that prefers to swap cogs myself in a sports car. This 911 Carrera S Cabriolet for sale in Ohio has the PDK but I am smitten with the color combination, even if the interior could be considered a bit outlandish with all that red.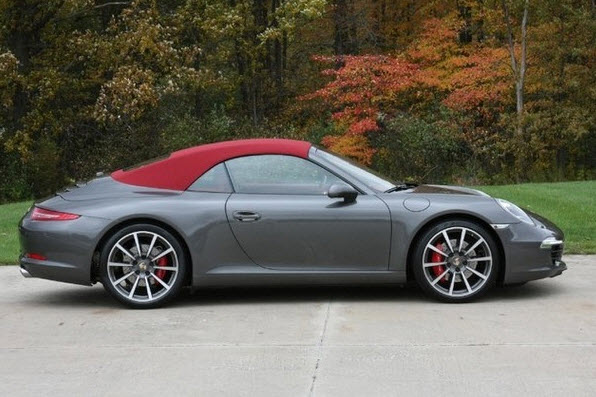 2012 Porsche 911 Carrera S, 2,100 original miles. Perfect, one owner car, Agate Gray Metallic over Carrera Red, PDK transmission, Premium Package Plus, Carbon fiber steering wheel, carbon trim Deviating stitching (cream) throughout AMAZING color combination! We've seen our share of 911s in all sorts of colors, but this one really stands out. The way the Agate Metallic integrates with the Carrera Red interior and top is simply classic. That those finishes are draped over a gorgeous new 991 doesn't hurt, either! You COULD have a new 991 S cab for around $109,000, but you could have this one, loaded with options, for just a few dollars more. Power Steering Plus, Premium Package Plus with 14 way heated and cooled seats, 20 inch wheels, sport exhaust, extended leather and deviating stitching as far as the eye can see. This car is optioned very, very well.
I think the seller has a point in this advertisement. What's another $15,000 to $20,000 in options when you are spending six figures anyway? This 911 is well equipped, but it also has me longing for Porsche to make a more simple version for the more serious enthusiast. But, being Porsche, I bet they would charge more for less. Still, I am loving the combination of Agate Gray with the red canvas top and red leather. It makes me think that the new 911 is about as close to a timeless machine that is made currently.
-Paul