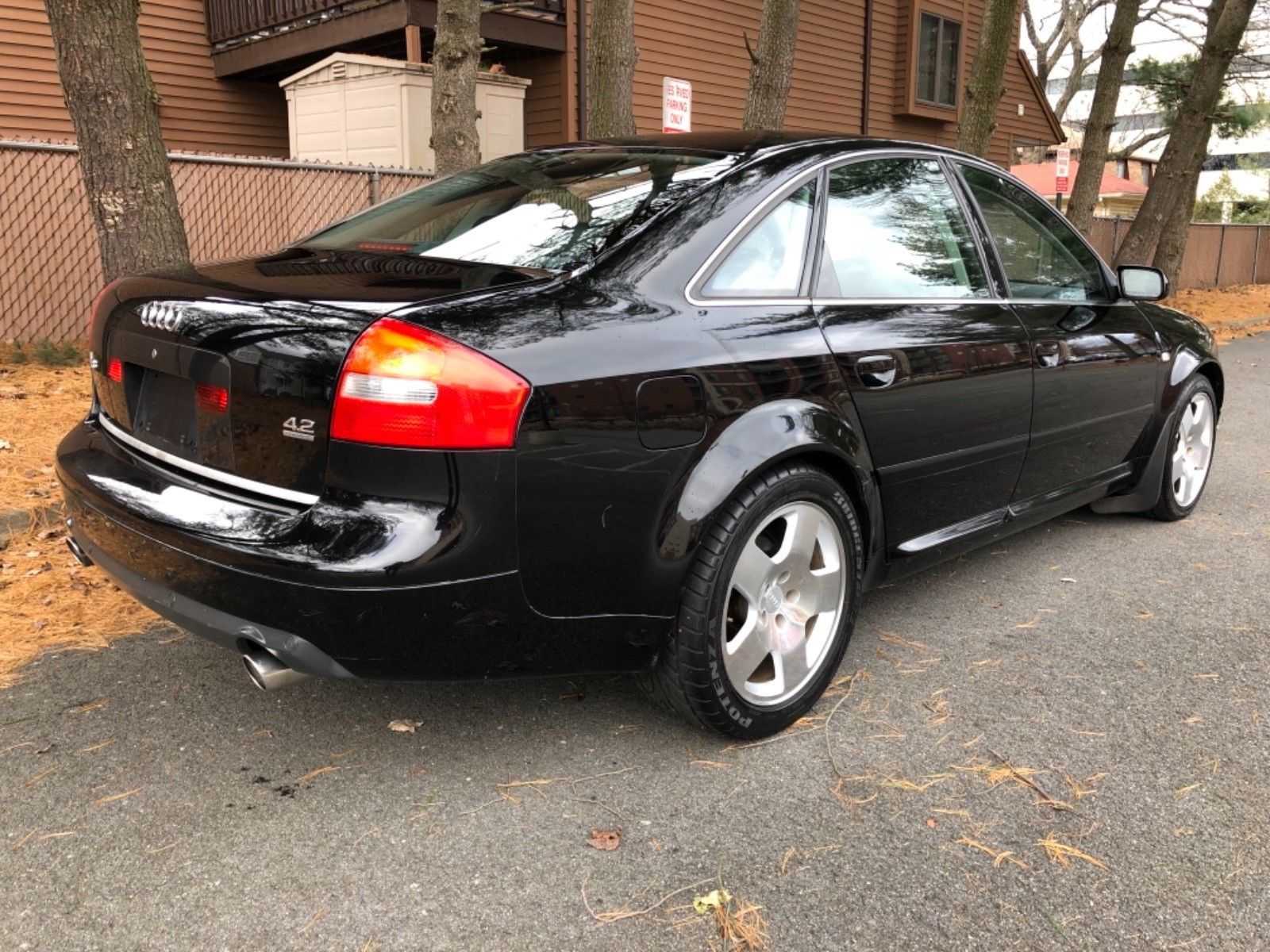 Update 1/17/19: This car is listed as sold for $2,750.
As I've mentioned before, the success of the Audi A4 really opened the U.S. market to a whole lineup of cars we might otherwise not have been privy to. Undoubtedly the best way to consider that is by looking at the C5 A6 lineup. But first you need to remember that prior to its 1998 launch, the C4 reigned in 1996 at the top of the Audi sales ladder for the U.S.. However, the number of configurations you could get was shockingly small. You had the choice between front-wheel drive and quattro, and again between sedan and Avant. That's it. Following the drop of the 2.2 liter turbocharged S6 for our market in 1995 and the 5-speed manual from the A6 lineup for 1996, your only "choice" if you wanted a mid-sized Audi was to begrugdingly select the rather stale 2.8 liter V6 rated at 172 horsepower and mated solely to a 4-speed automatic. It was competent, but boring. Actually, that sentence sums up the end of the C4 run here pretty well – and the market recognized that, snapping up only around 10,000 of the models each year.
Turn your attention to the C5 lineup and you suddenly see the array of options opened by sales success. First to launch was the heavily revised sedan for 1998. Now with the 30 valve V6, horsepower was up to a more respectable 200 and the transmission gained a gear, though it was still automatic-only. The Avant carried over from the C4 lineup unchanged for '98, but the new sedan was enough to double sales of the A6. '99 launched the new Avant and with it, again a surge in sales by 50%. That allowed Audi to bring over some more exciting options:
Year: 2003
Model: A6 4.2 quattro
VIN: WAUML54B63N104420
Engine: 4.2 liter V8
Transmission: 5-speed automatic
Mileage: 89,317 mi
Price: No Reserve Auction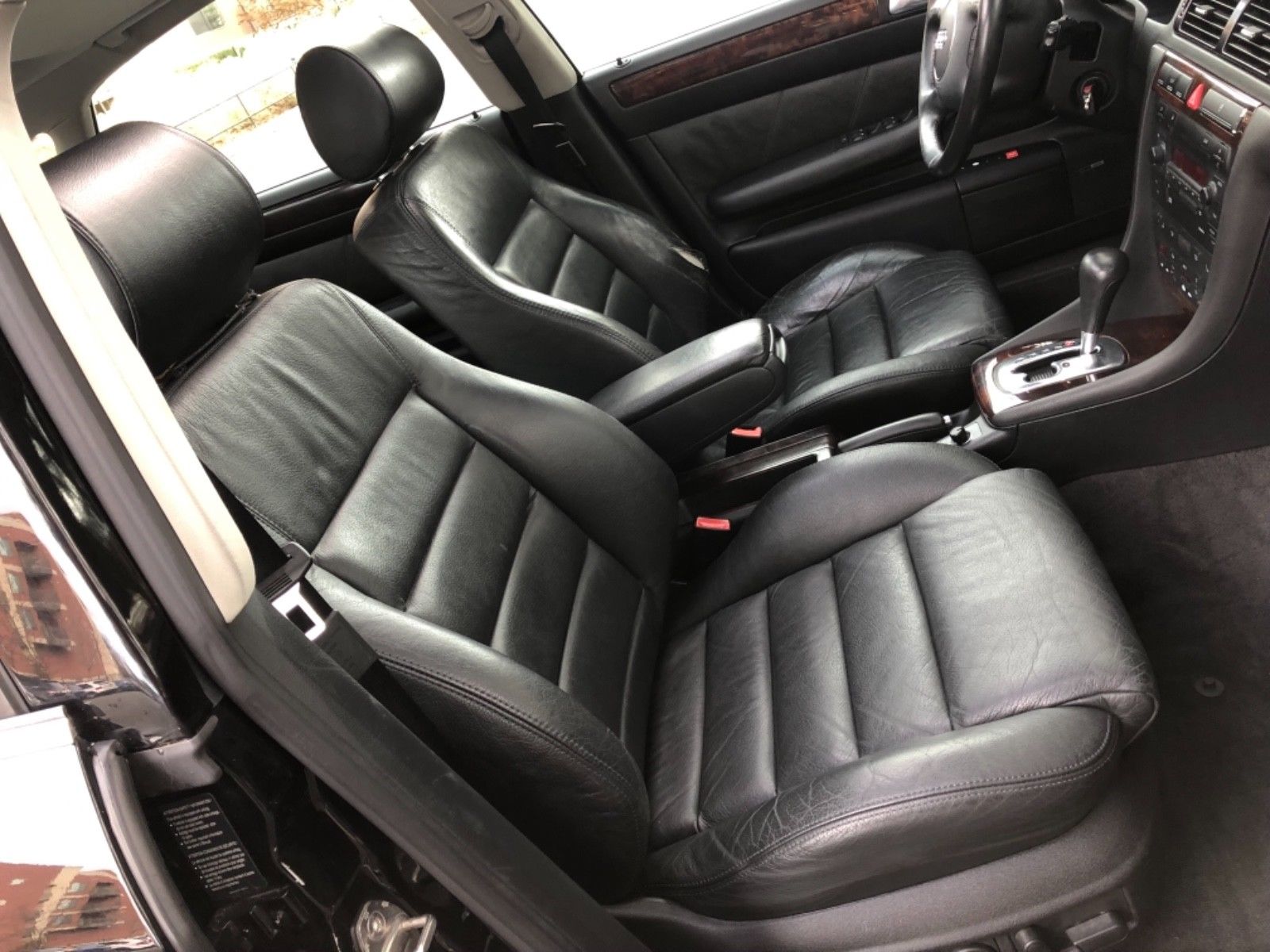 OVER 50 LARGE DETAILED PHOTOS OF THIS AUDI A5 BELOW MY DESCRIPTION. PLEASE LOOK AT EVERY SINGLE PHOTO I POSTED BELOW. PHOTOS OF EXTERIOR, INTERIOR, UNDERCARRIAGE & ENGINE BAY.

5 DAY AUCTION
ADD IT TO YOUR WATCHING LIST SO YOU DO NOT MISS IT

LOCATED IN HASBROUCK HEIGHTS, NJ

ZIP CODE: 07604

FEEL FREE TO EMAIL AND YOU CAN EXPECT A RESPONSE WITHIN 30 MINUTES 7 DAYS A WEEK FROM 7AM – 11PM ET

LICENSED NEW JERSEY CAR DEALER

PLEASE GIVE THE LISTING A MINUTE TO LOAD.
I HAVE OVER 50 LARGE DETAILED PHOTOS BELOW MY DESCRIPTION

I WELCOME ALL SERIOUS BUYERS TO COME LOOK AT IT AND TEST DRIVE IT BEFORE BIDDING

I BOUGHT THIS A6 A FEW DAYS AGO FROM A DEALER ONLY CAR AUCTION. I COULDN'T RESIST BUYING THIS GREAT LOOKING AUDI A6 BECAUSE THESE A6 ARE TILL THIS ONE OF THE BEST LOOKING AUDI BUILT & EVERYONE LOOKS AT THEM AS THEY ARE EYE CANDY.

THE ICING ON THE CAKE IS THIS AUDI A6 ONLY HAS 89,000 MILES, IS THE 4.2L WITH THE 8 CYLINDER ENGINE. THIS ISN'T ANY OLD AUDI A6….. IF YOU LOOK CLOSELY WILL SEE THE FENDER ARE WIDER THAN THE TYPICAL AUDI A6 TO COVER THE WIDE WHEEL & TIRES.
THIS CAR CAME THIS WAY FROM FACTORY.

ONLY 89,000 MILES. WHICH IS LOW CONSIDERING ITS 15 YEARS OLD CAR AND ON AVERAGE THE AVERAGE CAR IS DRIVEN 12,000 – 15,000 PER YEAR. MAKING 89,000 MILES LOW MILES FOR THIS AUDI. ON AVERAGE A 15 YEAR OLD CAR HAS 160,000-170,000 MILES.

THE AUDI LOOKS VERY GOOD CONSIDERING IT'S AGE. CLEARLY IT WAS LOVED BY HER PREVIOUS OWNER

HEAT WORKS

ALL WINDOWS WORK

POWER LOCKS WORK

ELECTRIC SUNROOF WORKS

KEYLESS WORKS

I KNOW BUYING UNSEEN & TOUCHED ISN'T EASY BUT I HAVE INCLUDED MANY DETAILED PHOTOS TO SHOW YOU DETAILS & MAKE YOU FEEL AS IF YOU WERE NEXT TO HER. IF YOU NEED ANY MORE PHOTOS FEW FREE TO REACH OUT TO US FOR MORE PHOTOS. MOST SELLERS WILL NOT SHOW DETAILS PHOTOS SIMPLY BECAUSE THEY WANT TO HIDE THINGS BUT NOT HERE. HERE I DO MY BEST TO COVER ALL AREAS.

NO RESERVE AUCTION..
UNLIKE MOST OF THE NICE AUDI A6 ON THE MARKET THAT HAVE SKY HIGH ASKING PRICES. NOT THIS ONE! HIGHEST BID WINS THIS NO RESERVE AUCTION! GIVING ANYONE THE OPPORTUNITY TO BUY A AUDI A6 AT A FAIR PRICE.

FEEL FREE TO MAKE AN OFFER FOR A BUY IT NOW

DON'T LET THIS MUSTANG GET AWAY

——————————–
——————————–

2003 AUDI A6

4.2L

8 CYLINDER – 4.2 LITER GASOLINE ENGINE

AUTOMATIC TRANSMISSION

POWER WINDOWS

POWER LOCKS

CRUISE CONTROL

———
———-
———–
————

——————————————————————

EXTERIOR)- STILL IS GLOSSY (LOOKS VERY GOOD AND STANDS OUT VERY WELL FOR ITS AGE- ). (THE A6 HAS THE NORMAL BLEMISHES YOU CAN EXPECT TO FIND ON A 15 YEAR OLD CAR)

INTERIOR)- IS VERY GOOD CONDITION

ENGINE)- RUNS VERY GOOD(NO MISFIRE.NO OVERHEATING)

TRANSMISSION)- SHIFTS THROUGH ALL GEARS

** THE TRANSMISSION SHIFTS THROUGH ALL GEARS FINE BUT I NOTICED THAT YOU COME TO A STOP FOR EXAMPLE A STOP SIGN OR A RED LIGHT THE CAR DOWN SHIFTS UNUSUAL BECAUSE YOU ACTUALLY FEEL A JERK. I KIND OF GOT USE TO IT AFTER DRIVING IT FOR A FEW DAYS BUT THE TRANSMISSION WILL PROBABLY NEED SOME SERVICE. I HAVE FELT NO SLIPPING AND NO HARD SHIFTING WHEN UP SHIFTING.

** THE HEAT WORKS GREAT BUT ONLY WORKS WHEN THE CAR IS MOVING BUT WHEN IT'S ON A STAND STILL IT STOPS BLOWING HOT. AS SOON AS YOU START DRIVING AGAIN THE HOT COMES OUT AGAIN

** AMAZING CAR BUT WILL NEED SOME LOVE.
For 2000, the A6 lineup was bolstered by the addition of the 2.7T and 4.2 models. While both were sedan-only, both were also serious upgrades from the 2.8. The 2.7T was the same motor seen in the S4, and as such cranked out 250 horsepower and 258 lb.ft of torque. It could also be mated to a 6-speed manual transmission. The top tier was reserved for the heavily revised 4.2 though. In fact, in order to squeeze the V8 into the C5, there were so many changes it might as well have been a different car. The body was stretched 1.4 inches in front. The track was widened both front and rear, and beefy flares covered the 235-50/16 standard wheels, with 17″ 255-40 series tires optional. The fuel tank increased to nearly 22 gallons to feed the new 300 horsepower 4.2 liter V8 under the Now aluminum hood. The Sport Package also gave you sport seats and the lower/stiffer 1BE sport suspension, too (in addition to the 17″ wheels).
While the C5 later added the even more desirable S6 Avant and twin-turbocharged RS6 sedan, for me there's always been a bit more appeal to a clean 4.2 sedan. They're stealthy and great-looking, and generally quite affordable to get into – though they're not without fault. Finding a clean example can be particularly tough. This particular Brilliant Black checked a few boxes right away. It looked clean at first glance, it's got the forged Fat Five sport wheels and accompanying Sport Package, replete with the seats, and the mileage is lower. It's also a no reserve auction. But it's not all roses.
First, there are no records, and at 90,000 miles, you better be prepared to do the timing belt. Second concern on these cars, as with all auto Audis of this generation, is the transmission – and this one sounds like it may be starting its death throes. The hard downshift is likely a solenoid issue, but "if you're there" means you'll quickly be looking for an entire rebuilt transmission or sourcing a 6-speed manual swap. Clicking through the photos also revealed some wear issues which you'd expect – a missing center cap, a broken headlight seal – and some you wouldn't. For example, the seller claims "CLEARLY IT WAS LOVED BY HER PREVIOUS OWNER". I have reservations. First, the car has – or, more properly had – a set of factory mudflaps. Unfortunately, only two remain, and they're mis-matched. The front one also appears to be falling off. The steering wheel has a crazy amount of wear but only on one side. The headlight switch – which, I'll note has an auto function – looks like it was attacked by hungry squirrels. Then there are the tires. This is the first time I've seen five different tires on a car like this. It's something you come to expect from a $500 Craigslist find, but a "clean" A6 4.2? The front passenger tire is a Continental Contipro Contact, passenger rear is a Bridgestone Potenza, driver rear is a Dunlop Sport D40 M2, and the driver front is a Kuhmo Ecsta. For good measure, the spare is a Riken Raptor. None of them look especially fresh and the Dunlop has alarming cracking that seriously makes me wonder how the car passed inspection. Speaking of, the dash is ablaze with the headlight leveling system and the windshield is cracked. I do give the dealer credit for showing all this, but wow.
Now, add up those repair bills and you'll quickly see how upside down you'll be in this car. By my count, figuring you pay someone, you'd have roughly $9,000 in repairs on deck – assuming there is nothing else wrong, such as the failure-prone ABS system, brakes, or any engine running conditions. And at that point we also have touched upon other issues – electrical, for example, or the issue with the heater core. Frankly, it makes the no reserve auction necessary. Bids so far are up to $3,500. Factor in the repair bills and you're quickly into RS6 money. Either the people throwing bids up there aren't looking at the same car I am, or they're not looking close enough. I looked at a very nice lower mileage example on better shape last year full of records including the timing belt, and its ask was only double the current bid. This one looks pretty from a distance, but if you're smart you'll keep it that way.
-Carter