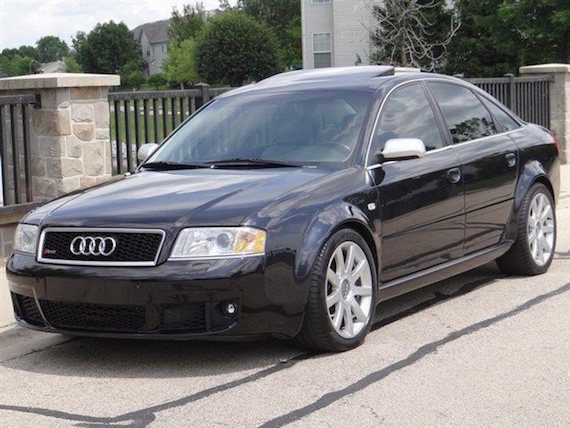 For me, the great appeal of the early '00s era super sedans has always been their relatively restrained styling. Unlike contemporary offerings from M, AMG and quattro GmbH, which are nakedly aggressive and loud, the cars from this period don't look too different from the underlying models on which they were based. The RS6 is a good example. The C5 platform A6 underpinning the car typifies Audi styling of the time: good looking and functional but a bit staid. I'd be willing to admit that some of the Bauhaus-esque curves and lines give it a little edginess, especially when when viewed from the rear quarter panel, but you have to squint hard to see them. Indeed, Regular Car Review Guy has a bit about the styling of the A4 of the same era being "the future by way of the past," and I think that the same could equally be said about the A6. This conservatism continues into the RS6, but the deeper front spoiler, flared fenders, 18″ wheels and double exhaust make for a far more muscular look and hint at the extraordinary power that lies beneath. While enthusiasts will know what it is, most other people will mistake it for an ordinary executive saloon. And that's a good thing. There's something seriously cool about a car that blends into the crowd, but is nonetheless capable of cracking nearly 200 MPH on the autobahn.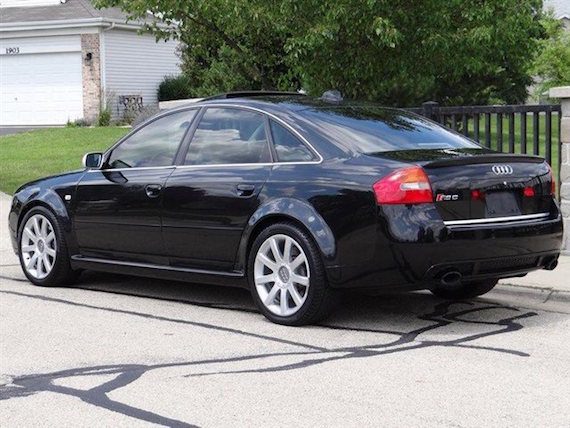 Year: 2003
Model: RS6
Engine: 4.2 liter biturbo V8
Transmission: 5-speed automatic
Mileage: 73,800 mi
Price: $18,800 classified price or best offer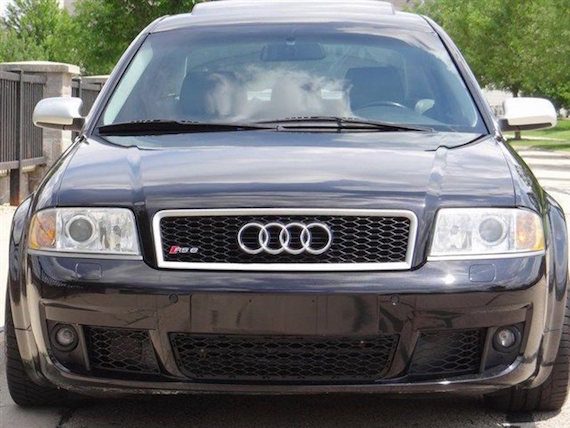 2003 AUDI RS6 QUATTRO 4.2L V8 BI-TURBO SEDAN!!

METALLIC BLACK ON GRAY LEATHER INTERIOR!!

*RARE* "RS6" ONLY MADE IN 2003!!

AUDI AUDIO SYSTEM!! PDC!!

FACTORY 18-INCH SPORT ALLOY WHEELS!! FULLY LOADED!!

~ AMAZING PRICE ON AN AMAZING VEHICLE!! ~

ALL WHEEL DRIVE!! V8 BI-TURBO AWD!!

PURCHASE WITH CONFIDENCE FROM "IMOTORS"!!

CALL SALES @ 1-866-980-3955 TODAY!!

LUXURY IS DEFINED AS THE ENJOYMENT OF COMFORTS AND PLEASURES CONDUCIVE TO SUMPTUOUS LIVING. OUR PRESTIGE COLLECTION IS REPRESENTATIVE OF WHAT A LUXURY CAR SHOULD BE, OFFERING ELEGANCE, REFINEMENT, COMFORT AND DISTINCTION OUT OF THE ORDINARY. IMOTORS PROUDLY PRESENTS ANOTHER FINE VEHICLE FROM OUR PRESTIGIOUS COLLECTION. UP FOR SALE IS THIS 2003 AUDI RS6 QUATTRO SEDAN.

THIS RS6 QUATTRO SEDAN IS IN GOOD CONDITION INSIDE AND OUT FOR ITS YEAR AND MILEAGE. IT HAS ALL THE BELLS AND WHISTLES THAT COME STANDARD WITH THIS RS6. BELOW IS A LIST OF SOME OF THE OPTIONS THIS VEHICLE IS EQUIPPED WITH:

AUTOMATIC TRANSMISSION

METALLIC BLACK ON GRAY LEATHER

PADDLE SHIFTERS

QUATTRO (ALL WHEEL DRIVE)

POWER WINDOWS/LOCKS

AM/FM/CASSETTE/CD IN DASH

POWER SEATS

HEATED SEATS

CRUISE CONTROL

POWER MOON ROOF

FACTORY 18-INCH SPORT ALLOY WHEELS

TITANIUM SIDE VIEW MIRRORS

REAR PARKING SENSORS

KEYLESS ENTRY

REAR SPOILER

DUAL EXHAUST

HOME LINK

XENON

FOG LIGHTS

DUAL ZONE CLIMATE CONTROL

ALL BOOKS & MANUALS

ALL WEATHER FLOOR MATS

4.2L V8 BI-TURBO ENGINE!

450 HORSEPOWER!

AND MUCH MORE…

DON'T DELAY & BUY THIS 2003 AUDI RS6 QUATTRO SEDAN BEFORE IT'S GONE. CALL SALES TODAY @ 1-866-980-3955!!!

THE CONDITION OF THIS VEHICLE IS CONSISTENT WITH ITS AGE AND MILEAGE; IT IS IN VERY NICE SHAPE INSIDE AND OUT AND IS FULLY DETAILED AND STORED IN OUR INDOOR TEMPERATURE-SENSITIVE FACILITY. KEEP IN MIND THAT OUR VEHICLES ARE PRE-OWNED AND ARE NOT BRAND NEW, AND AS SUCH THEY MAY REFLECT WEAR AND TEAR IN CONSISTENCE WITH AGE. WE TRY OUR BEST TO DESCRIBE THE VEHICLES AND THEIR OPTIONS, BUT SOMETIMES WE MAY MAKE AN ERROR; SO IF YOU HAVE ANY QUESTIONS OR CONCERNS PLEASE GIVE US A CALL TO VERIFY ANY INFORMATION AS FAR AS OPTIONS OR CONDITION OF VEHICLE BEFORE PLACING YOUR BID. WE ARE VERY FORTHCOMING IN THIS REGARD BECAUSE OUR CUSTOMERS DESERVE THE HIGHEST LEVEL OF QUALITY!!!

If you have any questions about this or any of our other auctions please feel free to contact us via e-mail at imotorsusa@gmail.com or you can call us at 1-866-980-3955. Thank you for your interest and we look forward to hearing from you.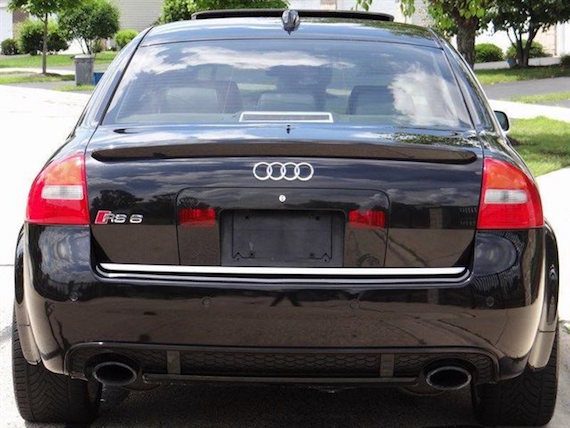 The RS6 is powered by twin-turbo 4.2-liter V-8 producing 450 bhp and 415 lb-ft of torque, turning the A6 into a DTM-worthy brute capable of alarming speeds. US models are electronically limited to 155 MPH, but road testers have hit an indicated 174 MPH in delimited cars, and 0-60 MPH comes up in about 4.6 seconds, which is quite astonishing for a car of this size. All that grunt is fed through an automatic gearbox that had to be sourced from the W-12 A8 to handle the power, while the quattro all wheel drive system helps to keep the car planted, with assistance from a tricksy hydraulic damping system. This particular example presents in sinister black, with a contrasting silver leather interior and modest 73k miles on the odometer. Overall the condition looks good, though the pictures reveal some scuffs on the leading edge of the front chin spoiler and some blemishes on some of the buttons and controls on the center stack. As ever, a thorough PPI will be required to ensure that there are no hidden (and expensive) surprises looming.
The $19k asking price on this car places it squarely within the sights of those considering good condition E39 M5s, and the RS6 undoubtedly offers an interesting and compelling alternative. I think it's a fairly reasonable price given the amount of power and performance available here. But of course these are expensive cars to maintain and buyers will need deep pockets to cover service costs. Still, if you can afford to run this car, what a great package it offers.
– Craig