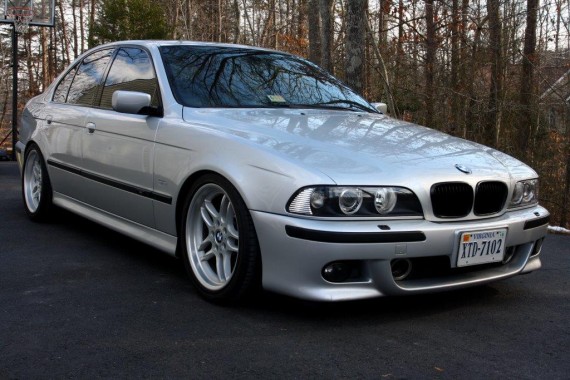 Lets get this out of the way right off the bat. The E39 BMW 5 series is the best looking sedan ever made. It is the pinnacle of balanced design and it's beauty is only accentuated by the garish abomination that succeeded it. Show me someone who says they love their "Bangle Butt" 5 series and I'll show you a person in serious denial. BMW tired to scale back the ugly on the F10 but it's still a bloated boat compared to the clean, svelte E39.
Growing up I was obsessed with the hottest version of this beautifully thought out machine, the E39 M5. One of my favorite pro skateboarders had two of them and could be seen thoroughly enjoying them in his video parts. At age 15 a blacked out M5 with "peanut butter" interior was THE car and it remains a vehicle that I am still in lust with. However I'm a bit more educated than I was back then and I know that while the M5 is the lead, there is an equally impressive supporting player in the cast, the 540i M-Sport.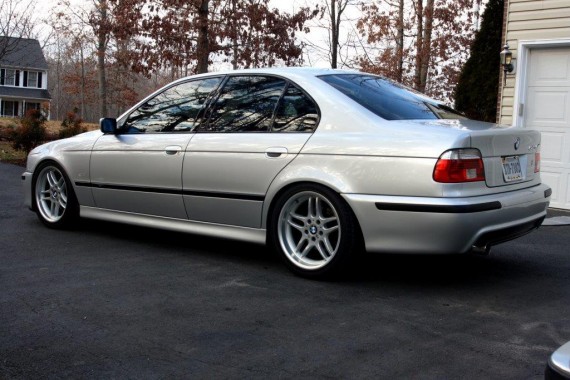 Year: 2003
Model: 540i M-Sport
Engine: 4.4 liter V8
Transmission: 6-speed manual
Mileage: 131,000 mi
Price: $14,000 OBO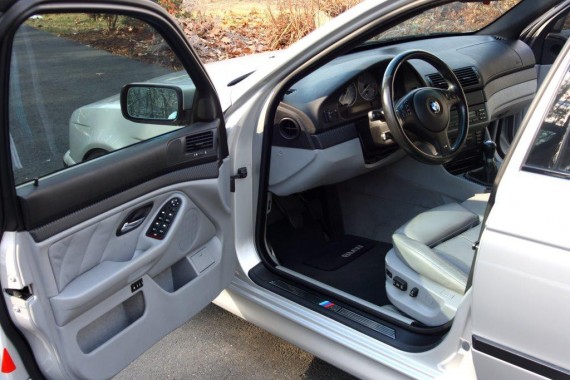 2003 BMW E39 540i M-tech (not just m sport)
VIN # WBADN53423GF72075
131,000 miles
Sterling Silver with Gray/Black Interior
6-speed manual
Second Owner
Clean CarFax
$14,000.00 obo

You are looking at 1 of only 1,265 M-tech 540's made for the US, this is number 253 of 1265 (GF72075)
Only 147 (silver) were made with a 6-speed manual transmission

540 M-tech features:

3.15 gears
M5 front struts
Single rear exhaust outlet
M5 steering wheel
M front and rear bumpers
M parallel wheels
Unique kick plate
M door sills
M door moldings
M dead pedal

Great condition, but has a few scratches underneath the front bumper
Runs and drives excellent, very smooth and quiet

Heated leather seats
Automatic dual zone climate control
Power windows, doors, seats, sun roof

List of 'personal preference' upgrades to car: $3,500.00

Valve Covers Powder-coated Wrinkle-Black
OEM Hella German Headlights – white indicators
Bilstein PSS Coilover Suspension Kit
Spacers and Extended Bolts:15mm (f) Eibach  10mm (r) H&R
BMW E39 Final Stage Unit (AC)
Rad Wheel Locks
Rogue Engineering OCTANE Short Shift Kit
CDV (clutch delay valve) Delete
BMW 6 Speed ZHP Shift Knob
Exhaust Resonator and Silencer Delete
Anthracite Floor Mats, Brand New – Unused
Black Kidney Grills
Brake Inlet Cooling "M" Grill
Windows Tinted

List of major maintenance performed in the past 24 months:
(Can provide receipts upon request)

– Rear Brake Pads w/Sensors: 6-18-14, $52.00

– Replace Left and Right Bank Vanos Unit and Solenoids
– Renewed upper and lower gaskets, crankshaft seal,
– Replace timing chains, guide rails and camshaft
– Adjuster-magnet: 2-3-14, $6,040.00

– Bridgestone Potenza S-04 Pole Position XL Tires
– 235-40-18 F / 265-35-18 R: 2-1-14, $664.00

– Ignition Coil Replaced for Cylinder 8: 9-27-13, $182.00

– New Interstate Battery: 5-24-13, $150.00

– Valve Cover Gaskets / Ignition Coil (1)
– Coil Boots (7)
– Spark Plugs done at this time (Bosch FGR7DQP): 4-30-13, $742.07

– Radiator /Water Pump / Cooling Tank /
– Power Steering Hoses from Radiator: 8-24-12, $1,600.03

– New Starter, new MAF (mass air flow) Sensor

Note: Valley Pan Gasket is the only maintenance related item that has not yet been done –
My technician says it is not currently leaking – not necessary to perform at this time.

Please contact me via e-mail at: onemean5@yahoo.com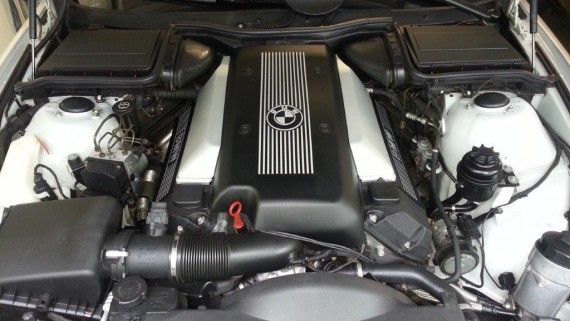 The E39 5 series is a solid vehicle no matter what trim level you get but the 290hp, 4.4L V8 powered 540i is without a doubt the best value of the lot. From it's introduction in 1997, any E39 5'er in the USA equipped with 3 pedals was a "sport" model as it had the sport suspension though the additional options changed over the years. The shadowline trim, 3 spoke M-Sport steering wheel, 12way sport seats and 17″ wheels became standard in '99. You could course change these options out if you were the sort of loon who wanted a 6spd rocket with comfort seats (a $1,600 option) and wanted to confuse the hell out of future buyers when they're shopping for a 540i. The most important thing to take away from all of this is that in its final year, the 540i/6 did have an additional package available, the M-Sport due to the fact that BMW had a ton of M5 parts sitting on the shelf. In addition to the car looking nearly identical to the M5 save for a single exit exhaust, it was down 100hp and from what I've read, that's about it. The M-Sport optioned cars got the M-Tech Suspension II treatment with M-5 front struts, rear shocks and rear springs. The front springs were apparently halfway between M-Tech I and M5, at least that's what the Bimmer wizards of the world wide web say. Also included with this package, the gorgeous 18″ staggered M Parallel spoke wheels which are among the best BMW has ever fitted to their vehicles.
Now this is a whole lot of information but it's important to know because many a used car dealer will slap an M-Sport or M-Tech label on a 5 series in order to justify that little extra premium the cars are known to command. In the case of this vehicle it appears to be completely legit and I'd guess that the owner put M-Tech in the title in order to garner a bit of extra attention. I know it worked with me as I had not previously heard the term until I came across this vehicle. Of course I was initially suspicious because having been a long time fan of the E39 I thought I was aware of all the packages and sub models. As it turns out I was aware of this particular vehicle, it's just usually called an M-Sport, a car that has seen a whole lot of love on this site and others. I will say that digging into the details of what differentiates an Sport from an M-Sport was illuminating and confusing but I now feel more knowledgeable about this legendary Bimmer than ever before.
The only troubling thing about this listing is how much the seller touts the rarity of the car due to it being an "M-Tech" not just "M-Sport". The M-Sport package includes all the suspension bits whereas a regular '03 540i/6 would have been a sport already and come with the cosmetic differences. I can't blame the guy for wanting to draw more attention to his listing and make the car seem even cooler than it already is but it's kind of annoying given that he has to know the difference as a BMW enthusaist. I suppose he could be oblivious to these facts but something tells me that you don't get 1st Place at the 14th Annual Classic at Shenandoah Vineyards in Edinburg,VA without knowing a thing or two about your car. Either way, nice looking car with a very solid list of tasteful upgrades, none of which would make me nervous going into purchasing the car. The seller also lists major maintenance done in the past 24 months (two years as it is known among us common folk) and they say they're happy to provide receipts for the work which is always a good sign because you can see where it was done. With 131,000 miles on the clock and an asking price of $14,000 OBO, I think this this is a solid representation of where the 540i/6 market is at. I'd want to drive the price down by at least two grand, I don't care how much money the seller has put into the car, $14k is just too much for how high the miles are. $11,500 has a nice ring to it and the whole deal would hinge on what type of read I got on the seller. I'd hope to find an older guy who really knew his stuff and had a pleasant disposition, not some middle aged chap who has deep pockets and a tendency to stretch the truth.
-Andrew