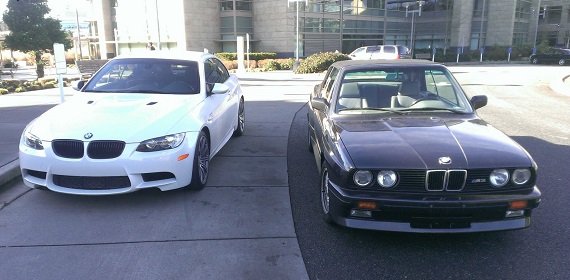 Could the M3 market get hotter? I bet it can, because there are a massive amount of enthusiasts who follow and lust after the cars, this author included. But in my general searches for cars this week popped up one of the more strange ads that I've seen in some time; it was an advertisement celebrating the beginning and end of M3 production, but in convertible form. And it was for not one, but two M3s – an E30 and a E93. Now, frankly right now it doesn't really matter what type of E30 you come up with, there's someone who wants it. But the convertibles, though more limited production than the coupes, are a bit of a different market. In short, they're desirable, but for a different reason than the motorsport heritage that started the M brand. 2013 saw the death of what we associated with M3; a naturally aspirated 2-door overachiever that in many ways defined the market for small performance sedans. Is this listing a fitting tribute to the legend or just an attempt to capitalize on M3-mania?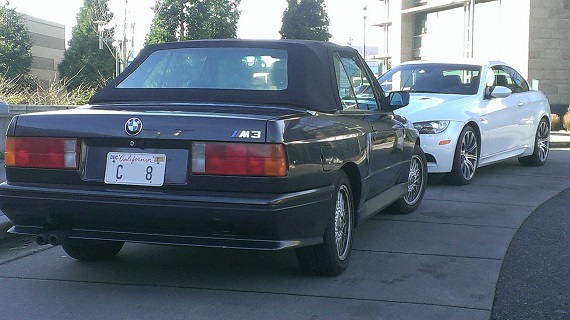 Year: 1991/2013
Model: M3 Convertibles
Engine: 2.3 liter inline-4/4.0 liter V8
Transmission: 5-speed manual/7-speed dual-clutch M-DCT automatic
Mileage: 75,000 mi/10,000 mi
Price: $110,000 Buy It Now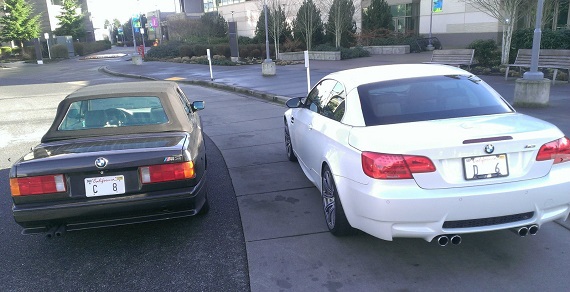 For your considerations, we are offering a pair of most unique and
desired BMW M3 Convertibles!

This offer is a package deal and will NOT sell separately

The Beginning and the End of the M3 Coupes & Convertibles!

BMW's M division, the M from GmbH, is becoming 40 years old!
The brand first assembled under the BMW Motorsport name in 1972, and for
much of the 1970s its activities were limited to BMW's racing efforts.
This changed, of course, with the M1 supercar in 1978.
Essentially a homologation special, the production M1 was sold so BMW Motorsport
could send it racing. It was the BMW's first M-badged road car, and it set the stage
for more M models down the road.

Here is the link for the full article via CAR and DRIVER

http://www.caranddriver.com/features/40-years-of-bmw-m-tests-drives-and-more-feature

Let us begin with this beautiful 1991 E30 M3 Soft Top Convertible finished in BMW Metallic Black Schwarz
The legendary E30 gave birth to the revolutionary 'M3' series, in coupe and convertible
with World Touring Championship title in 1987
This fully documented, two owner, M3 Convertible is one of the 786 units ever produced with less than
120,000 Kilometers, [ ~ 75,000 Miles ] with VIN=WBSBB05xxxxxx
The 2.5 Liters, 240 HP, S-14 motor is matted to a quick shifter, 5-SPEED Manual Transmission

Finally, another beautiful M3, this 2013 E92 BMW Hard-Top Convertible M3 finished in BMW's special Alpine White
The BMW Motorsport returned to the DTM, www.dtm.de in 2012, and the
"DTM Champion Edition" was built to commemorate it winning the championship
The 2013 was the end of Coupe and Convertible as well as termination of the monster
4.0 Liters V8, DOHC with Double-VANOS variable valve timing, producing, 414 HP @ 8,300RPM and, just under
300 Ft-Lb Torque @ 3,900RPM, matted to the 7-SPEED Dual-Disc Automatic Transmission with the awesome F1 Paddle Shift
This M3 Convertible with VIN-WBXDSxxxxxxxx has less than 10,000 pampered miles with transferable remaining BMW Warranty!

Here is the LINK with general information about all M3s via Wikipedia

http://en.wikipedia.org/wiki/BMW_M3

As a reminder, this offer is a package deal and will NOT sell separately
Serious Inquires only. All questions and inquires will be responded via
eBay's communication system

An immediate none refundable $500.00 PAYPAL deposit is required

The Winning Bidder is responsible for all in-person inspection, shipping
transportation and their local Tax & Licenses

Final payment within 5 Business days of AUCTION's end date via Bank Wire

Have a Happy Super Bowl Weekend and, bid with confidence

Thank You for your visit and checking out this unique opportunity ! ! !

The D_CSL Team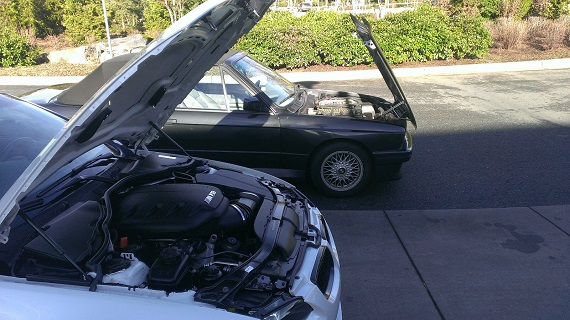 For a listing supposedly celebrating the collectability M3 convertibles, there are several glaring details that stand out as incorrect. Starting with the E30 convertible, some quick research thanks to the M Registry tells us that this is model BB05, the last of the E30 M3 convertibles produced. That means 215 horsepower, not 240, and 2.3 liters, not 2.5 – which was exclusive to the Sport Evolution Coupe. The condition of the E30 too seems to be not spectacular from the images provided; the paint looks tired, but not as tired as the wheels. For a small investment, new center cap Roundels would have gone a long way towards making the car look much better. Also importantly, we get no images of the interior – on either car. With the 2013, there's the glaring chassis designation problem – the Coupe was E92, the convertible is E93. For someone who sited Wikipedia, it's a silly detail to get wrong since even they get that right. There were approximately 8,600 WL93/DX93 North American-spec M3 convertibles produced, most of which came equipped with the M-DCT 7-speed transmission like this one. Again, the seller's inclusion of the DTM edition information is confusing, because the M3 DTM Champion Edition was only available on the coupe.
All in all, this is a strange listing. It's odd to pair these two convertibles together, since not many in this realm will have the ability to buy these two cars or see the vision of collectability. There's certainly a market for the E30, and there's certainly also a market for the E93. However, together? That's tough. A quick search of eBay turned up a few E93s for sale with less mileage, and the ballpark price seems to be about $50,000. That means they're effectively asking $60,000 for the E30 convertible, which frankly given the condition seems like a bit of a stretch. Still, real-deal E30 M3 convertibles are seriously rare in the U.S., and I bet this listing has many salivating even if it's not the dream M3 they'd want. Having watched Barrett-Jackson, deals like this occasionally come across the block, but usually there's something more than just a model designation to link the cars; for example, two Corvettes that are painted exactly the same but generations apart. However, the M3 market is red-hot right now, and the M3 2-door is dead; perhaps there is more meaning in this listing than I've given credit for. But to me, it's just not that special or that significant to justify the coupling and the price tag. I think the seller would do better trying to sell them individually and taking better photos of each, frankly.
-Carter