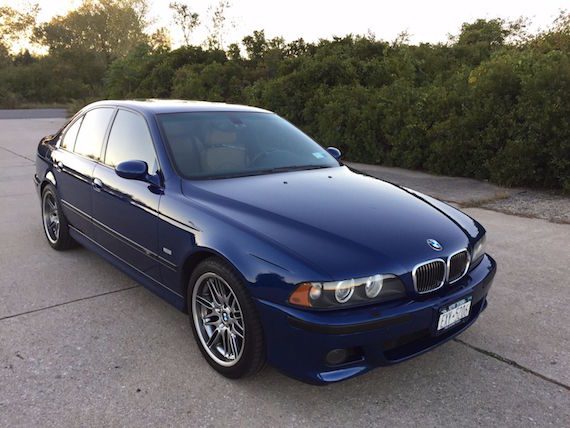 The E39 M5 is an everyday supercar whose restrained exterior belies the power that comes from the monster lurking underneath its skin, a 4.9 liter V8 that makes 394 hp and will scream its way up to a 7,000 RPM redline. There's something very pure and unadulterated about this car, and this gives it a special place in the heart of most M-enthusiasts. That purity comes from the application of a very simple (and by now seemingly old-fashioned) formula: take a big, naturally aspirated motor and add 3 pedals, 6 gears and only subtle exterior modifications to the already quite conservatively styled 5-series body shape. The product is a practical, four door sedan that you can use to pick up your groceries and drive your family to the mall. Or, blitz around the track.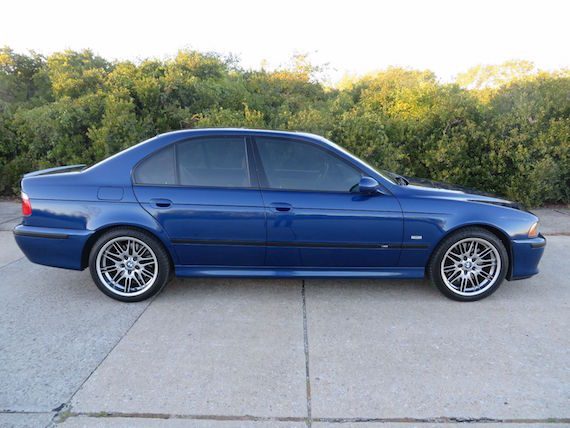 Year: 2003
Model: M5
Engine: 4.9 liter V8
Transmission: 6-speed manual
Mileage: 93,416 mi
Price: Reserve auction with $23,000 Buy it Now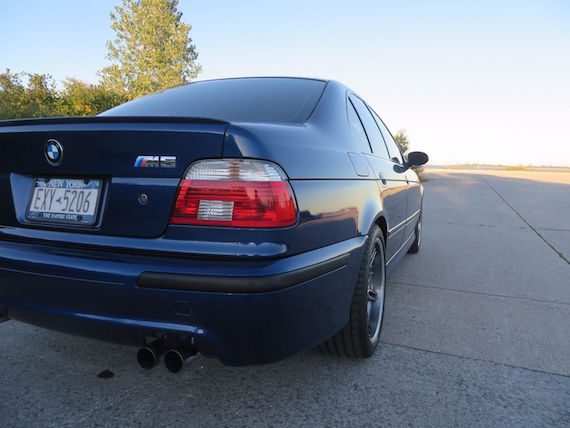 This 2003 M5 is a non-smoker in excellent condition. It was not a daily driver, but has been driven long distances and frequently. I took meticulous care of this car inside and out. Oil changes consistently. I have all the maintenance records for work done on the car. It is completely original There is a very small dent in the rear driver side quarter panel as well as rear driver side door. There are the usual paint chips you would find on the hood/bumper of a mostly highway driven car. Driver side seat shows some wear, but kept well-conditioned. Please contact me for any further information or more pictures.

Split folding rear seats w/ski bag.
OEM rubber mats.
Tires changed 74k 10/13
Pulleys and belts changed at 77k 11/13
Brakes changed on all 4 corners.
Coolant and power steering fluids flushed.
New Bilstein shocks installed and suspension components updated.
New O2 sensors.
Dunlop SP Winter Sport OEM winter wheel/tire set.
OEM Spare Tire kit.
OEM Brake cooling ducts.
BMW Aux cable install.
Odometer cluster replaced by BMW under dead pixel TSB.
Latest MKIV NAV with the latest software installed.
35% Window film all around.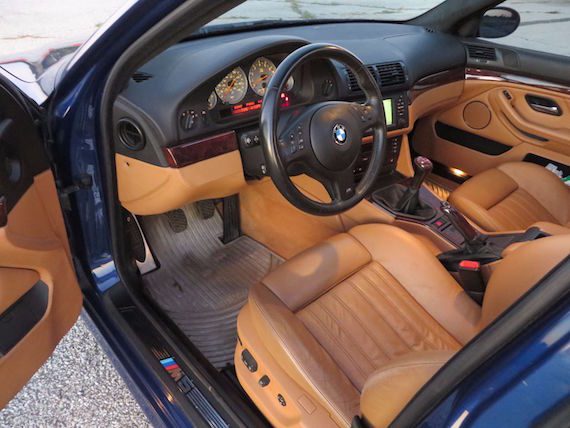 This particular example comes in a gorgeous color combination: LeMans Blue over a Caramel leather interior. Condition appears to be excellent, though the seller does note a few exterior imperfections that are not immediately apparent from looking at the pictures.
Miles are modest at 93k and some maintenance history is listed, though it doesn't suggest that much by way of major work has yet been done (and might therefore be due in the near future). Potential buyers might want to take that into account: maintenance on these things can become staggeringly expensive very quickly. A $23k buy it now price seems a little high, but not by too much.
– Craig