Did I say I wish that Beetle Pickup was a more fun color? Well here we go. In 2002 Volkswagen launched the Color Concept editions of the New Beetle, which allowed specification of the funky Golf-based retromobile in several unique shades. Options included Snap Orange, Double Yellow, Blue Lagoon, Red, and or today's example of Cyber Green, and you got not only the exterior shade but color-matched wheel accents and interior upholstery as well. Under the frunk hood was the 1.8T, and here it's linked to a four-speed automatic. But we get one of the more fun shades to consider, so let's take a look: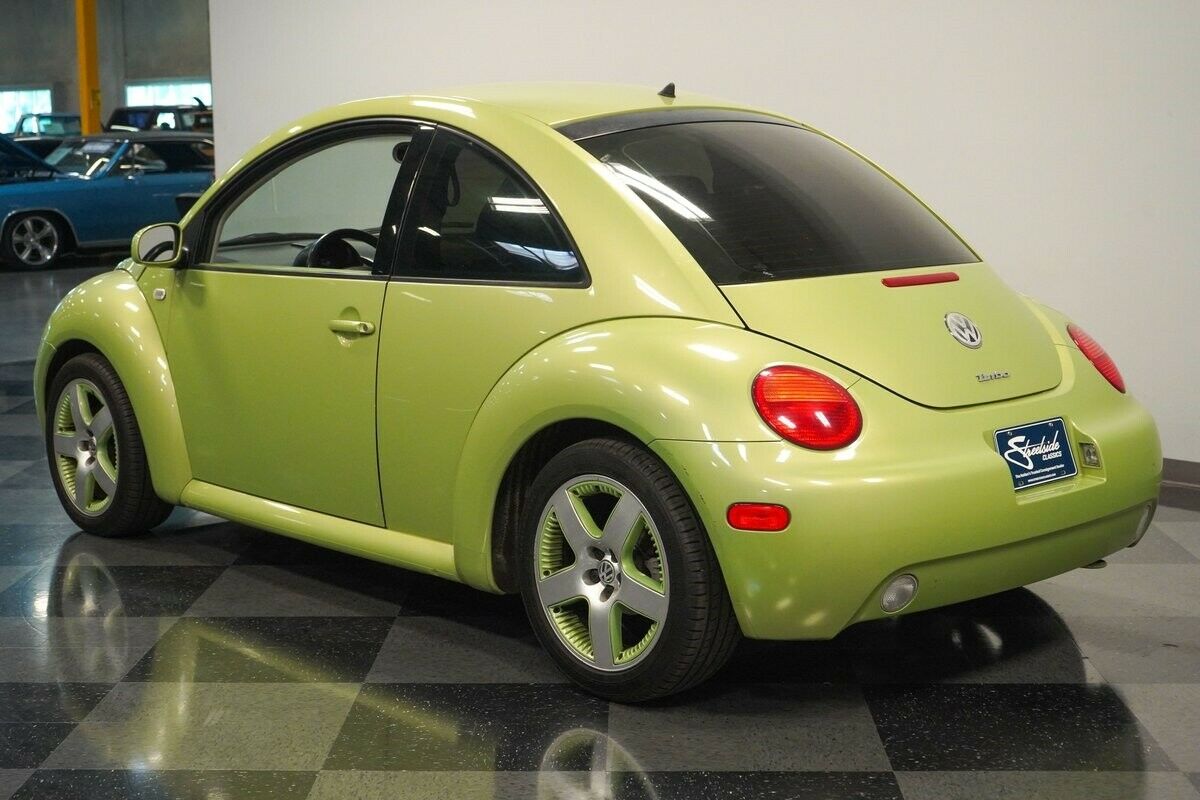 Year: 2003
Model: Beetle GLS Turbo Color Concept
VIN: 3VWCD21C23M402901
Engine: 1.8 liter turbocharged inline-4
Transmission: 4-speed automatic
Mileage: 119,000 mi
Location: Mesa, Arizona
Price: $11,995 Buy It Now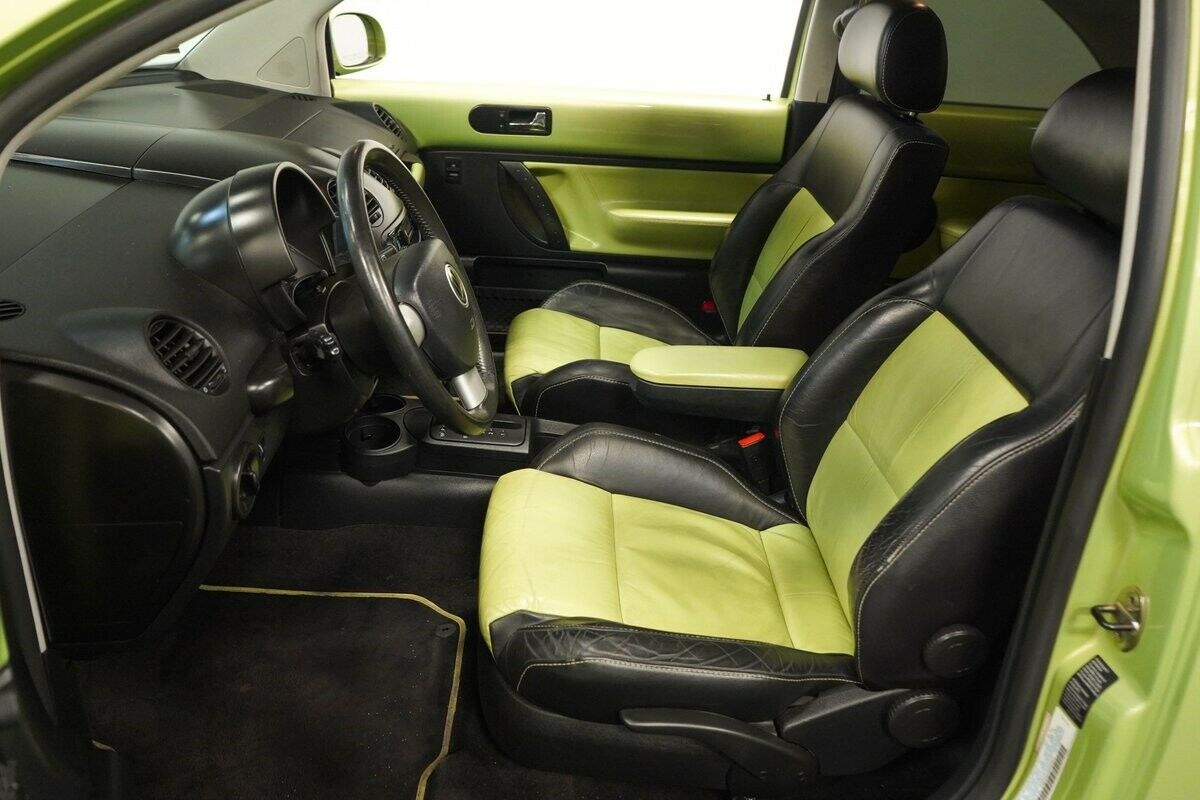 It's time you discovered a modern classic with serious rarity. This 2003 Volkswagen New Beetle GLS Turbo is a Color Concepts special edition. These are rumored to be as rare as only 2,000 for each color, and so someday soon we may talk about it in the same kind of rareness as Hemi muscle cars. And this distinct-looking coupe also is loaded with all the best modern features. So that makes for a car with a true pedigree and everyday appeal.

Cyber Green is great to have on a special edition known for its color. It seems to mix a hue that belongs in nature with a glossy and pearlescent glow, and we could even give the car a funky nickname like The Electric Lime. So it certainly will get attention even if you don't tell anyone about the rarity. Another part of the attraction is the special Take 5 wheels that have color-matched inserts bolted into the 17-inch alloys. The car's odometer reflects its full actual mileage. So this one has been enjoyed out on the road, but it also has been appreciated correctly. It's coming from a collector who amassed the five Color Concepts models and kept them all for a few years. And this one has everything from the clean body lines to the darkly tinted windows to show off a sporty style that gives it plenty of appeal.

The interior really shows off how the Color Concept cars earn their name. Every New Beetle came with door tops that were color-matched to the outside. But these special editions make it a far more thoughtful package with a matching green also on the door panels, rear side panels, grab handle, center armrest, and carpet piping. And the green inserts in the leatherette seats and contrast stitching really the rare Color Concept cars apart from the rest. Some of the upholstery is reflective of the mileage, but since this one was part of the collection for its completeness, it remains looking impressive today. Plus, this coupe is loaded with all the best features, including power windows, power locks, an alarm, tilt/telescopic steering column, electric rear defogger, heated seats, overhead clock/console, and an upgraded AM/FM/CD stereo with USB and Bluetooth. You even have the best in safety with dual front airbags, side airbags, and anti-lock brakes. And with cold-blowing air conditioning and a power sunroof, you can really understand how this is a breezy, fun, and comfortable collectible.

The engine of choice in these earlier New Beetles was the turbocharged 1.8-liter fuel-injected motor. They were the most powerful offered of their time, and the peppy turbo nature just goes well with the Beetle's style. This fires up readily and runs smoothly, like a modern car should. And it has the overall tidy look of a well-maintained car with an everyday kind of appeal. In fact, the four-speed automatic transmission, power steering, and cruise control make this great for the long hauls. But nimble handling and four-wheel power disc brakes also remind you that this turbo Beetle is also a fun all-around driver.

Complete with the owner's manual, this is the cool modern classic that gives you a terrific balance of true rarity, a bold color, and a package that fits into your daily routine. Call today!!!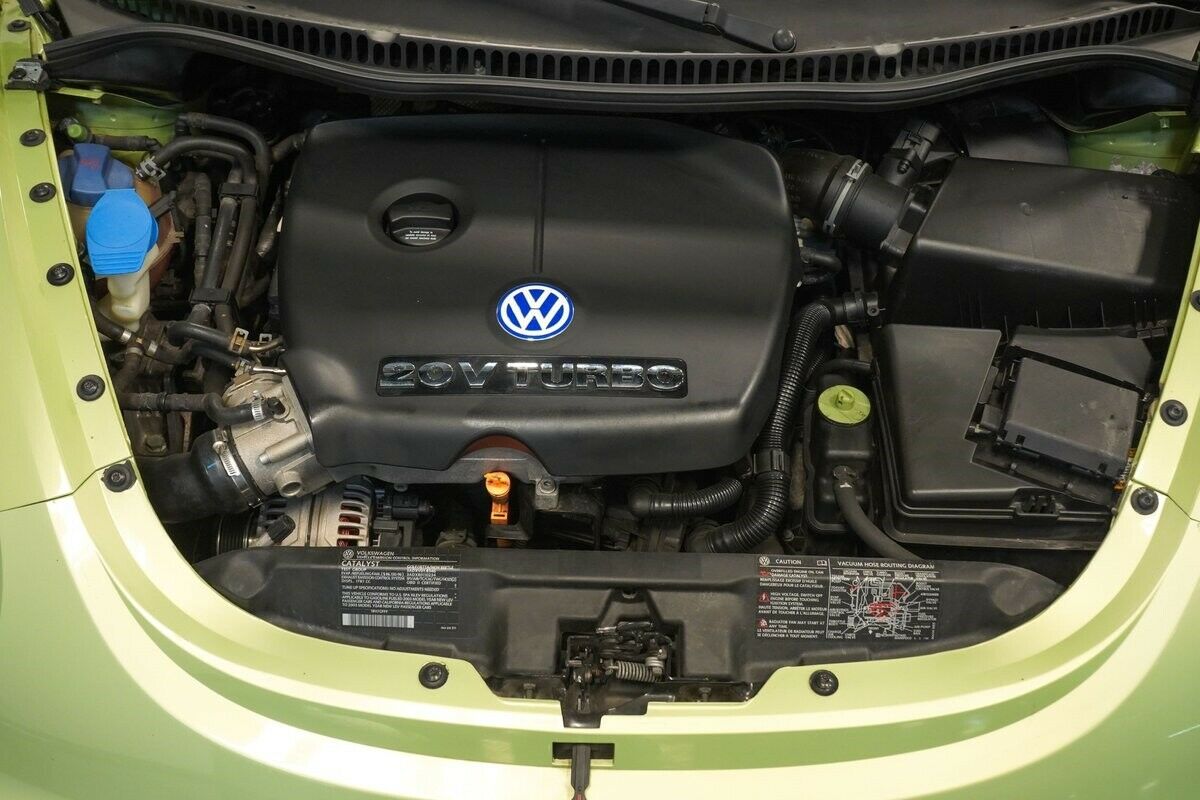 Cyber Green Metallic is a great, and very fun, color. The color-matched wheel accents are really neat too on these, and subtle on the lighter tones. Inside, it's far from subtle as you can't escape that eye-searing shade – but in all honesty, I'd still be on board for the right price. But $12k for a 120k mile New Beetle? Yeah that should put you on a FBI watch list. You can buy these cars all day long for a third of that price, and the ask here gets you into a much newer (and much nicer) 2.0T Beetle. Don't like green? No worries, the same dealer also has a Snap Orange example with lower mileage, and as a bonus it's a manual. But it's still $12,000, which seems unjustifiable to me.
-Carter