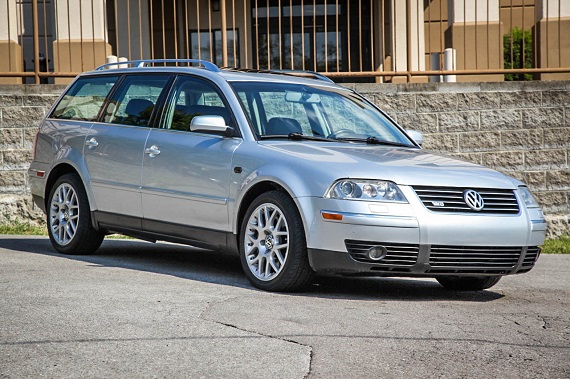 I always get a bit of a chuckle at the keyboard warriors who love to denigrate manufacturers for not offering the full European catalog to U.S. customers. Really, you'd buy a RS6 Avant if it was offered here? You and what bank account, Mr. Sittinginhisrentedapartmentstealinginternetfromtheneighbors? Manufacturers need to live in the real world, and in the real world of the United States, while there is in fact a market who would purchase top-tier cars like the RS6 Avant, the reality is that the vocal majority of enthusiasts barking about how they'd snap them up like hotcakes would – at best – be hoping to buy a lightly used one downstream. At worst, these super wagons would only become affordable after ten years, at which point their complicated systems would render ownership prohibitively expensive for most. So, they kick tires, simultaneously ruing that such options aren't available to them while secret thankful that they don't have to put their money where their mouths are. We don't have to look back far to find why this market departed the U.S., because when we were afforded the option to buy these cars, we found them unaffordable. Witness the very expensive W8 4Motion Variant 6-speed: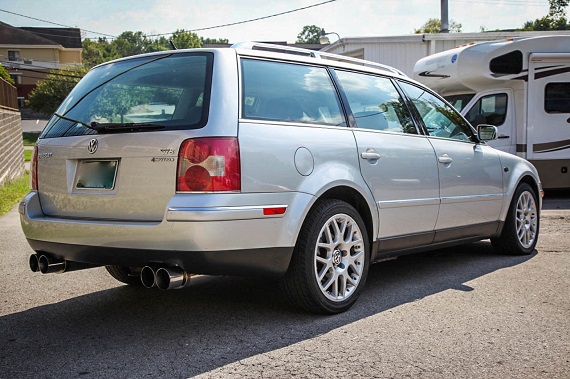 Year: 2003
Model: Passat W8 4Motion Variant
Engine: 4.0 liter narrow-angle W8
Transmission: 6-speed manual
Mileage: 106,100 mi
Price: $12,900 Buy It Now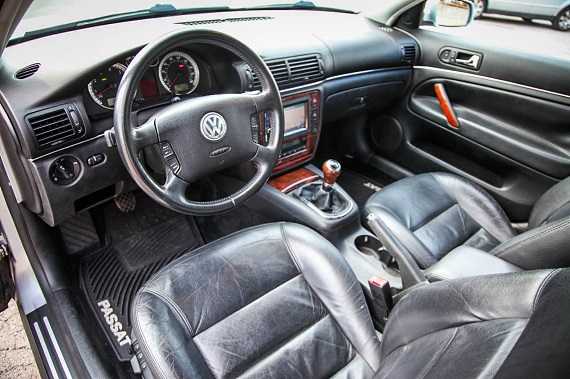 Up for sale is this extremely rare 2003 Passat Wagon W8 4-Motion 6-Speed manual! Reflex Silver over Black interior with the optional 2-piece 17″ BBS Wheels. It's rumored that only 97 6-Speed W8 Wagons were sold in North America making this one of the rarest VW's ever sold here. We acquired this Wagon just a couple months ago and have had it gone through from front to back. The recent work we have done includes, front right wheel bearing, front left outer axle boot, full AC serviced (replaced a high-pressure line), replaced a leaking transmission mount, new engine snub mount, 2 hew HID bulbs, engine oil change, air filter, new all weather mats, and tire rotation. All work was done by a 17-year Master VW/Audi technician right here at Niche Motors. This Passat Wagon runs and drives beautifully! Everything works as it should. All brakes, tires and suspension bushings are in good shape. No noises, issues, or warning lights! 6 months ago the previous owner had the power steering pump and rack replaced at the dealership. This Passat Wagon needs nothing at all and comes with all books and 2 working remote keys. The previous owner had a very nice Kenwood touchscreen Nav unit installed with Bluetooth. He also had a custom exhaust installed with X-pipe and Magnaflow rear mufflers. This is EASILY the best sounding VW we have ever heard! The interior is very clean and free from any rips or tears with only lights signs of wear. Smoke free. The exterior is very clean, with no door dings and only minor chips and scratches here and there, way above average for a 2003. Please see pictures for exact condition! Headlights are in EXCELLENT condition with no yellowing….Please call or e-mail with any questions! *** ——————————————————– Disclaimer: *** Mandatory Doc Fee of $250 must be collected and is not included in the sale price.*** We do our very best to represent the vehicles we sell both cosmetically and mechanically. Our best advice to potential buyers is that if you aren't sure of something or have a question, PLEASE CALL. Our stellar eBay reputation over the last 15-years should put anyone at ease, but please do your research, ask questions, and buy all means feel free to have any of our vehicles inspected prior to purchase. All the vehicles we sell have been serviced and inspected to some degree (please refer to description for details) BUT, with all that being said, all our vehicles are being sold AS-IS and WHERE-IS unless otherwise stated in the description. These are used vehicles so please expect there to be small blemishes, imperfections, and some repairs needed. If you need help making inspection or transportation arrangements, please contact us and we will gladly help! We are not like other car dealers! We are 'Car Guys' just like you and aim to please all of our customers to the best of our ability! Please call with any questions or concerns today!

Click here for the full description and 48 photos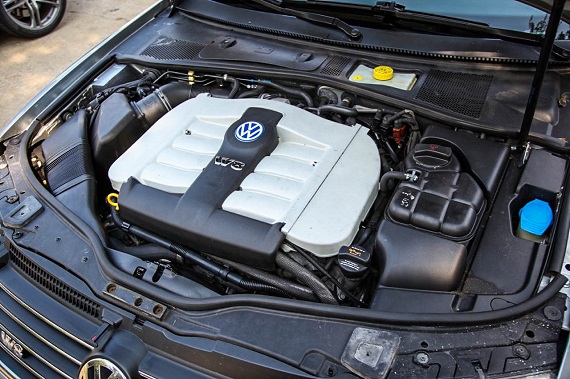 It's a Passat so here come the production numbers: There were actually 105 6-speed W8s sold in North America, and 95 of those were in the U.S.. 53 are 2003s, and 11 are Reflex Silver Metallic like this one. Of those, 7 had black leather like this car, 4 had gray. The color is nicely set off by the 2-piece BBS Madras wheels. Quality is slightly above average given the mileage, but the silly looking exhaust is probably a detraction for most. Still, most will shy away not from the sound but from the price of this 'Unicorn'. At $13,000, you can get into a faster S4 Avant, a faster 535xi Touring, a sportier 3-series Touring, or any number of faster, easier to maintain options. And that's the conundrum of these cars – incredible performance and design that you're glad was created, yet once affordable repair bills that you can't contemplate being sustainable.
-Carter