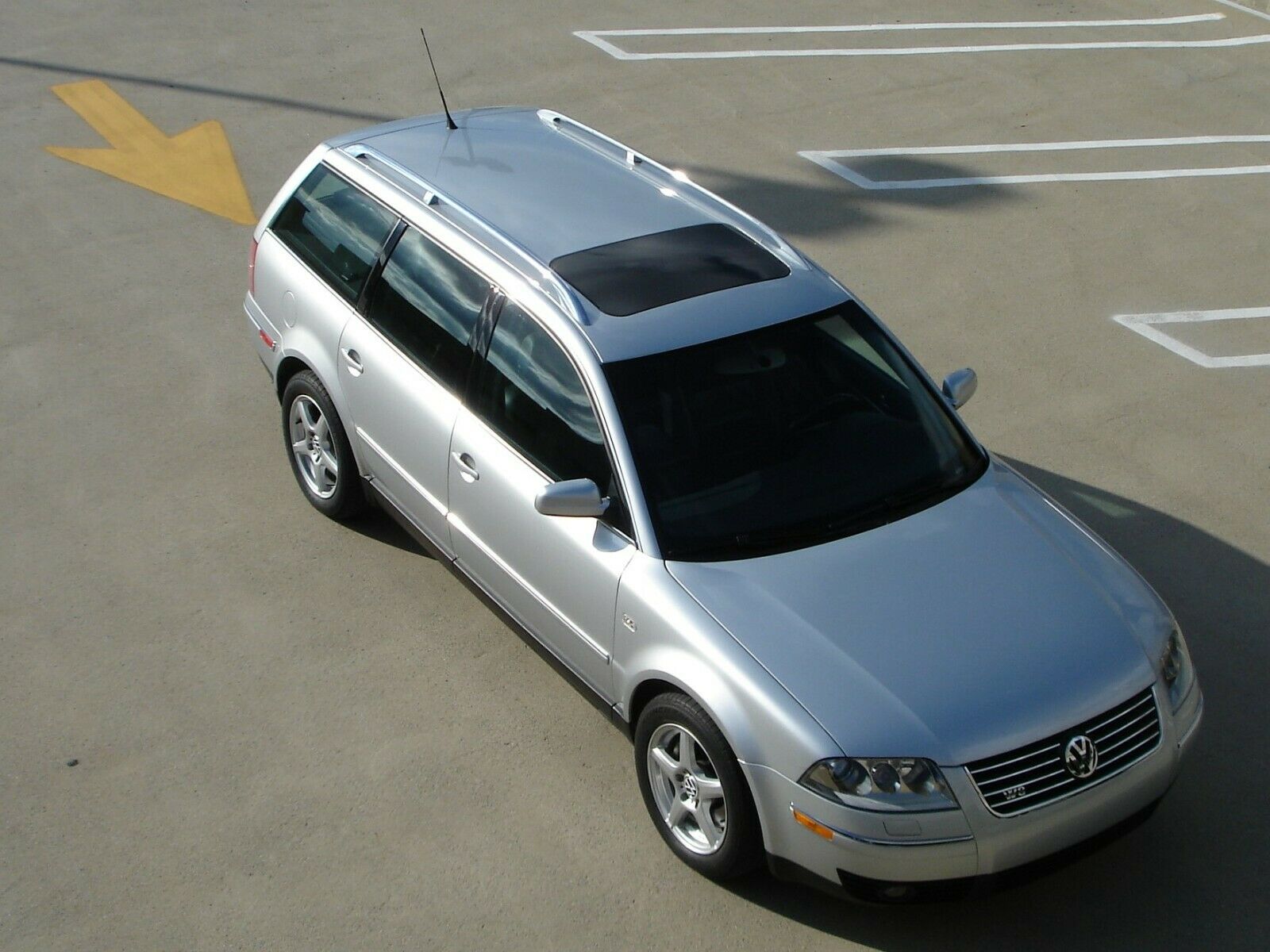 This B5.5 sold for $9,600 on October 18, 2021.
There's always been a fascination for me with the W8 Passat. Not only did Volkswagen take the B5 and B5.5 models upscale by offering the Audi-based chassis, but they pioneered the new engine configurations that would be the top-tier mills in the Passat. Truth told, the "W" configuration had been around for a few years before it finally entered into the mid-sized sedan and wagon. It was first floated in the Bugatti EB116 16/4, but really came into the minds of enthusiasts with the Volkswagen W12 Nardo concept. Now in appropriately named W12 configuration and powering all four wheels, the 600 horsepower mid-engined Volkswagen captured headlines with its 200 m.p.h. 24 hour run and Italdesign-penned Group C for the road looks. While the Nardo was the prototype for what would become the Veyron after some heavy revisions, the W12 would be an exotic engine only powering the most elite of the VAG range. However, Volkswagen also launched a smaller version of the engine for 2001 in the Passat. It was the first introduction to U.S. customers of the W configuration that would later appear in Bentleys, the D3 Audi A8L, and the Phaeton. There was something unique about the Passat's package, though. First, you could option the mid-ranger in long-roof 5-door configuration. More importantly for enthusiasts, you could select a manual 6-speed, too. The combination of these items coupled with the stratospheric price tag of the model meant very few sold. But briefly, until the new S4 launched in 2004, this was the most powerful manual VAG product you could buy in the U.S.: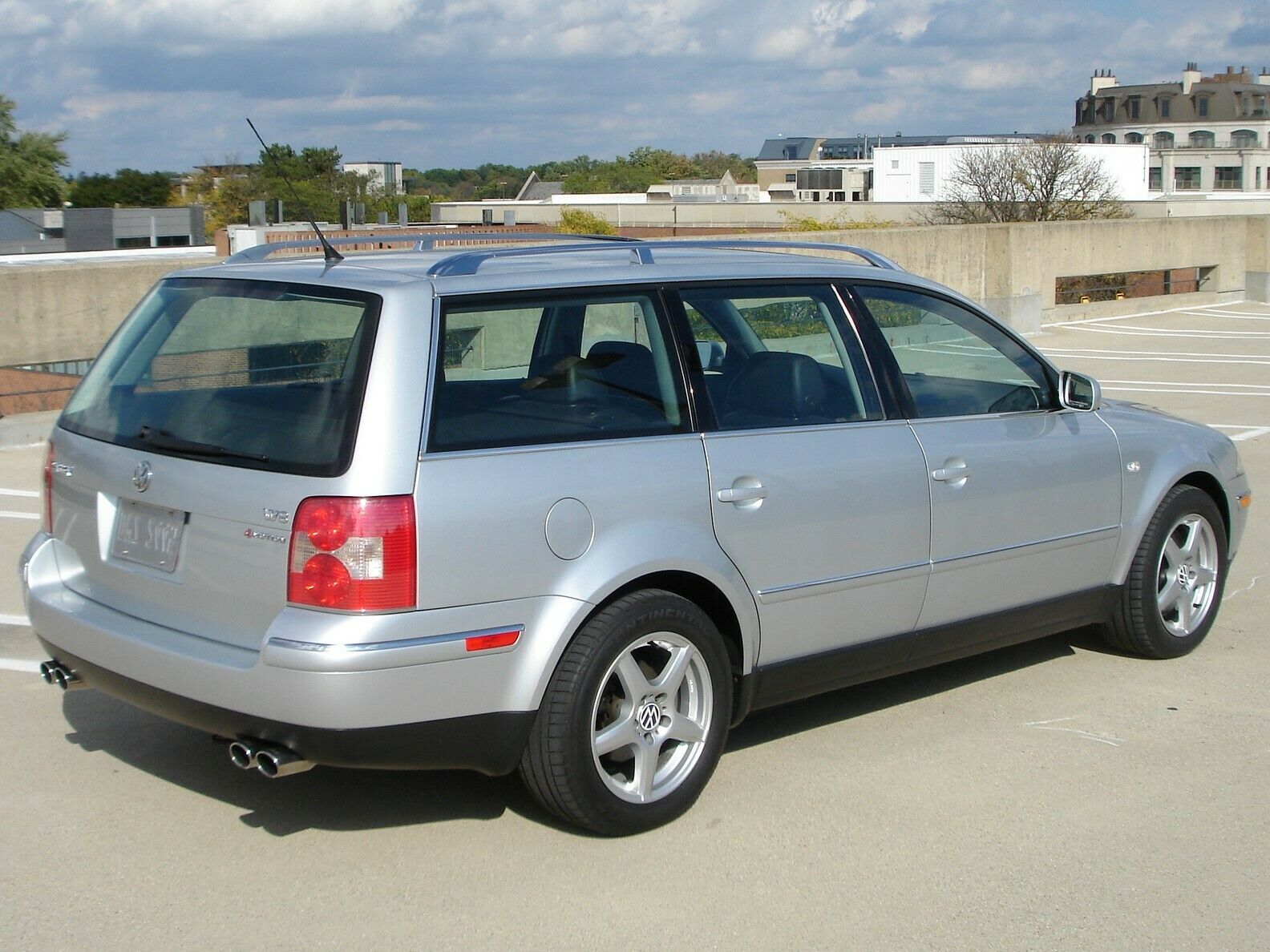 Year: 2003
Model: Passat W8 4Motion Variant
VIN: WVWLK63B23E413195
Engine: 4.0 liter W8
Transmission: 6-speed manual
Mileage: 88,000 mi
Location: West Bloomfield, Michigan
Price: No Reserve Auction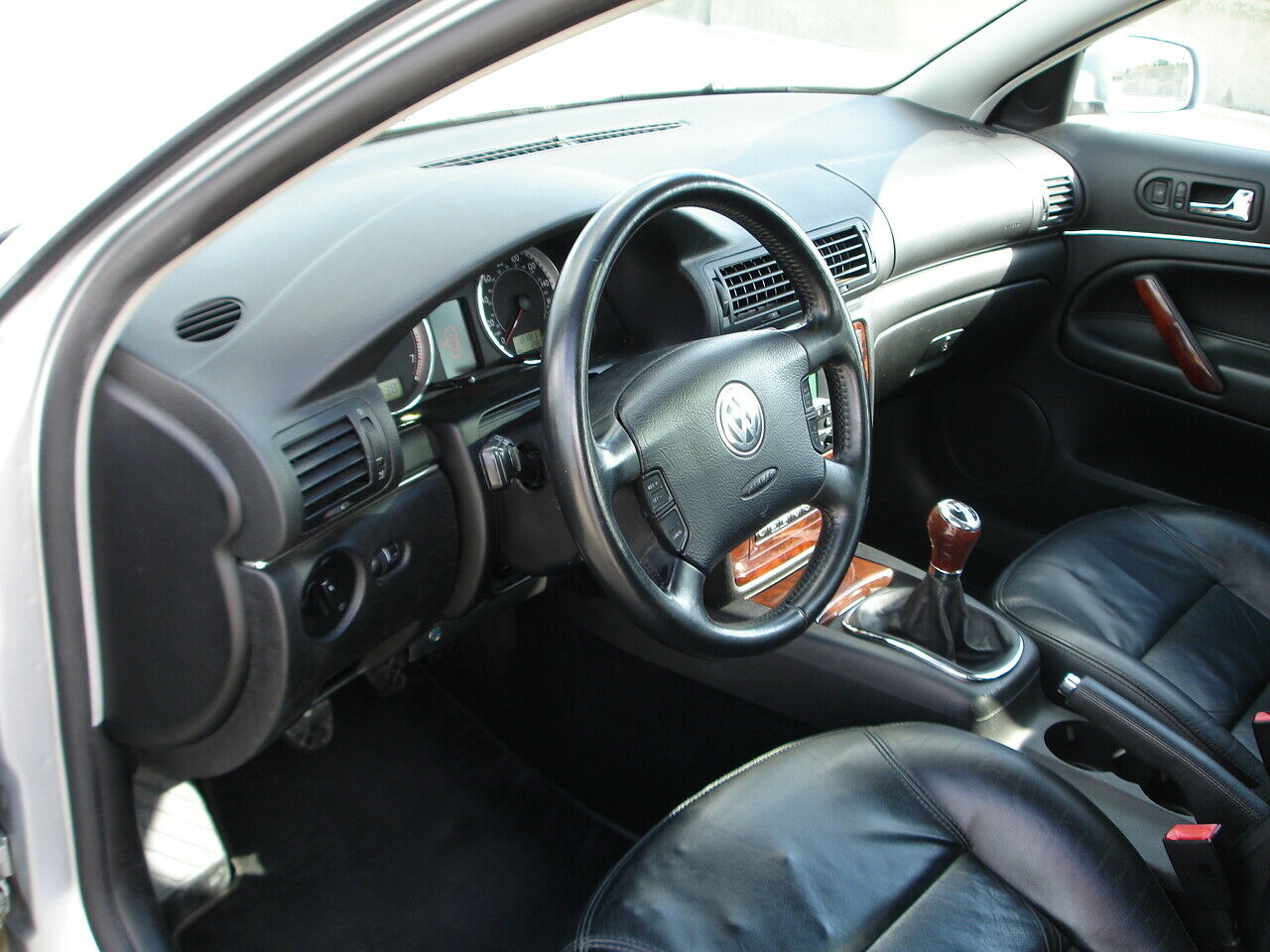 2003 Volkswagen Passat Wagon W8 6-speed

VIN: WVWLK63B23E413195

One of only 424 Passat W8s with manual transmission claimed sold in the US

87,811 miles

Offered by the third, long-term adult enthusiast owner

Few modifications from new

Never abused in any way

Extra clean

Never smoked in

Please note: more than 300 photos follow. On slow Internet connections, they may take time to load.

You can also Click here for high-resolution slideshow
About the Passat W8:

AutoWeek

Volkswagen AG has stopped producing the Passat W8 model because of slow sales, says CEO Bernd Pischetsrieder. It was the only vehicle to use the compact W8 engine, which was championed by former VW CEO Ferdinand Piech…

U.S. sales of the Passat W8 fell far below VW's goal of 5,000 units annually. The company sold 2,182 W8s in 2003 and 268 through the first eight months of this year. The W8's 2004 base price is $40,735, including a $575 destination charge…

The Passat W8 was intended to bridge the gap between V-6 versions of the Passat and the Phaeton luxury sedan. But since 2001 only 11,000 units of the W8 have been built…

Volkswagen denies the Passat W8 was a flop…

By JENS MEINERS | Automotive News Europe

Read more here

PassatWorld

Only 4,931 W8's in the US. Of those, 1,227 are variants and 3.704 are sedans. Also, you're looking at 424 M/T and 4,507 tips.

Read more here
Options as built:

· Engine Code BDP

· Transmission Code FRR

· Paint Code LA7W Reflex Silver

· Interior Code VA Black

· Options

· X9A National sales program USA

· B0D Component parts set, complying with vehicle type for USA (without California), various parts

· CG6 Alloy wheels 7.5J x 17

· G0L 6-speed manual transmission for four-wheel drive vehicle

· HG9 Tires 225/50 R17 94V (polymer coating)

· J0R Battery 380 A (80 Ah)

· M3E 8-cyl. gasoline engine 4.0 L/202 kW 32V WR8 base engine is T9H

· Q2J Comfort front seats

· 1AT Electronic stabilization program (ESP)

· 1G9 Space-saving spare wheel for temporary use, radial tire (5-hole)

· 2ZB Leather multi-function steering wheel

· 5RR Right exterior mirror: convex (US)

· 5SH Left exterior mirror: flat (US)

· T9H 8-cylinder gasoline engine 4.0 L unit 07D.1 (aluminum)

· 3FE Electric tilting and sliding glass sunroof with sun screen/sunblind

· 3S1 Bright roof rails

· QG2 No possibility of activating service interval prolongation

· 8US Radio "Premium" (double-size standard radio)

· 8GR Alternator 150 A

· 9VG Sound system with subwoofer "branded" design 2

· 1ZG Disc brakes, front (Geomet D)

· 0JL Weight category front axle weight range 11

· 0YS Weight range 17 installation control only, no requirement forecast

· 1BE Sports suspension/shock absorption

· 0GM Emission standard LEV 1
Current owner since April, 2016:

· Built: April, 2003

· Delivered to: Schmelz Countryside Volkswagen; St. Paul, Minnesota; Dealer Number402-420

· First Sold: December 9, 2003

· Titled in Nebraska

· Second Owner purchased November 3, 2014 with 40,000 miles reported

· Purchased by current owner/seller: April 25, 2016 in Nebraska

· Now titled in Michigan

· You can see the CARFAX free here

· Note: CARFAX is incorrect, stating four owners. There have been three owners

· You can see there are NO open recall campaigns here

· Always adult-driven

· Never smoked in

· No child seats or pets

· Heated garage storage since 2016
Engine:

· 4.0 liter W8, 270 horsepower, 273 foot pounds torque

· EPA MPG 17 City/ 24 Highway

· Starts, idles, runs, drives and stops as it should

· Never modified in any way

· New balance shaft belt 2020

· New genuine VW coolant, 2020

· Custom, full-stainless cat-back exhaust

· Gauge shows normal coolant temperatures

· No oil consumption, noises or smoking concerns

· No fluid leaks of any kind

· No Check Engine light on or faults stored in Engine Control Module

· Always run on 91 octane fuel, or better, without fail, by current owner/seller

· Full maintenance services always per VW schedule with genuine VW parts

· Oil changes always per VW schedule with Liquimoly Molygen or Castrol Syntech oil meeting VW 502.00 spec

· 90,000-mile service just completed, in preparation for sale
6-Speed manual transmission:

· Shifts smoothly up and down to all gears with no noises

· JH Motorsports short shifter and delrin bushings, 2016

· Transmission oil changed with genuine VW, 2016

· No leaks

· Clutch operates as it should, with no shudder or slipping
All-wheel drive:

· 4MOTION all-wheel drive system

· Torsen center differential and all other components work properly

· AWE Drivetrain Stabilizer transmission brace with polyurethane mount

· Maintenance services always per VW schedule with genuine VW parts

· New genuine VW rear differential oil, 2016

· No fluid leaks

· No clunking or shuddering

· All CV joints and boots in good condition
Suspension, brakes, steering:

· Sports suspension, as-built

· Front and rear suspension never modified

· Original shocks and struts all firm with no leaks

· ABS, ESP and brake assist all work as designed

· New pads and rotors all around, 2016

· DOT 4 brake fluid with full flush, 2016, 2018, 2020

· Brakes are firm with no pulsation, warning lights or faults in control module

· Parking brake operates properly

· Continental Extreme Contact DW Max Performance Summer tires, size 215/55-ZR16 93W with 2011 date codes

· MSW Type 14 alloy wheels, size 16" x 6"

· Custom "new" VW logo center caps

· Wheels are clean and straight, with no curb damage

· Does not pull or have uneven tire wear

· No noises or looseness. No steering vibration.

· Steering wheel is level when driving straight ahead
Body:

· Reflex Silver paint

· Front bumper cover refinished and license plate mount removed, 2016

· LF door scratch repaired and refinished 2021

· No body or other structural rust whatsoever

· All panel gaps as-new. Doors and lids all open and close easily and with no noises or rubbing.

· Hood and hatch gas struts are original-type with aluminum bodies and all function correctly

· Super clean top and bottom

· Undercarriage and wheel wells are undamaged

· Lower engine cover is 100% complete with all fasteners

· Windshield wipers and washers front and rear work as-new

· HID Headlights and all other exterior lights operate properly

· Power windows operate correctly

· Power sunroof operates correctly

· Power, heated, folding mirrors work correctly

· All glass is original and in good condition

· All new, genuine VW wiper blades, 2021

· All seals in good condition

· All bright trim in very good condition
Interior:

· Black / Anthracite trim

· Black Leather

· Minimal wear on seats

· Steering adjustments for reach and tilt work properly

· All plastic, vinyl and wood trim complete, in good condition

· Inner door trim panels are undamaged and have tight-fitting armrest material

· Carpet in very good condition with no fraying

· Original gray front and rear floor mats in good condition with correct hold-downs

· Headliner is near-perfect

· Cargo area carpet and trim shows little wear

· Cargo cover in very good condition operates correctly

· Climatronic climate control A/C cools cold, heats hot, functions as-new

· Rear defroster and side mirror defrosters work properly

· Seat heaters heat backrests and bottoms of both front seats as-new

· All instruments work properly

· All interior lights work properly

· All seatbelts clean and undamaged

· Self-dimming mirror is undamaged and functions as-new

· Homelink built-in garage door opener works as-new

· Premium 6 AM/FM/cassette/CD sound system with Monsoon amplifier, as-built, functions as new

· Diversity antennas in quarter windows work correctly

· Three removable rear headrests fitted, as-new

· Turn signal switch operates and self-cancels properly

· Speedometer and both odometers accurate as compared to GPS on road tests

· Cruise control operates correctly

· All four 12V power outlets work

· Ashtrays have never seen ashes

· No warning lights on

· New battery 2020

· New cabin air filter with charcoal layer, 2020
Modifications:

· JH Motorsports short shifter and delrin bushings, 2016

· Custom, full-stainless cat-back exhaust, 2016

· AWE Drivetrain Stabilizer transmission brace with polyurethane mount, 2016

· 16" MSW wheels and tires

· VW Tiguan aero rear wiper
Also included:

· Clear Michigan title

· You can see the free CARFAX here

· Complete set of original black carpet floor mats, installed

· Second, new complete set of original black carpet floor mats, with round and oval hold-down

· Set of Continental Viking Contact 7 winter tires, size 205/55-R16 T XL, with "0119" January 2019 date codes

· Tread is evenly, lightly worn on all four tires

· Winter tires mounted on MSW Type 14 alloy wheels, size 16" x 6"

· Spare brand-new MSW Type 14 wheel

· Four spare center caps

· Over a dozen spare wheel bolt covers

· Original compact spare with 2002 date code has never been installed

· Spare VW logo adhesive emblems for center caps

· Front license mount, in matching Reflex Silver finish

· New, genuine VW front wipers

· Take-off original rear wiper blade

· Pair of good, used, aluminum rear hatch struts

· Spare headlight switch

· Spare headlight range control module

· Set of VW touch-up paint pens, new in 2021

· Original take-off exhaust, complete, clean and fully functioning

· Original shifter

· Original front suspension mounts, removed for Drivetrain Stabilizer installation

· Removed air filter housing pop-off valves and snow screen

· Spare set of four inner door trim panels in very good condition

· Armrest trim is tight and undamaged on all four panels

· Spare cargo area original carpet mat in very good condition

· Two spare Volkswagen Premium 6 AM/fm CD Cassette head units, fully working, with security codes

· Spare left sun visor with working Homelink remote

· Spare front ashtray, never used

· VW first aid kit, in original packaging, never opened

· Original window sticker

· Set of three W8 Passat Volkswagen Self Study Program technician's training manuals

· Two keys with built-in remote

· Owner's manuals, complete in binder

· Radio security code

· Front license plate mount

· Complete tool kit

· Original wheel locks with key

· All parts for original shifter

· Receipts since 2016
Also available at no extra charge:

· Buyer's choice of custom or original exhaust, installed

· All spare parts and accessories carefully packed inside car for transport

· Free disposal of any parts not wanted by buyer

"The large print giveth and the small print taketh away"- Tom Waits:

Please remember, this is a used car, which, as nice as it may be, is not perfect. I strive to deliver accurate descriptions, but it is possible to miss small deficiencies and will not be held liable for these minor misnomers. This vehicle is sold AS IS/WHERE IS and comes with no warranties by the seller, expressed or implied, whatsoever.
Known issues:

· Stone chips, scratches and dings around the car from 18+ years and 87,811 miles of careful use

· Rear bumper cover scuffed on top surface

· Clear protective decal on rear bumper is missing

· Original windshield has one stone chip at center left from years ago. Some light pitting. No cracks or delamination.

· Bright trim around the windows has some water-spotting/stains

· Driver's seat left bolster worn from entry/exit. See photos.

· Driver's seatbelt is slow to retract completely, but otherwise operates correctly

· Some wear to driver's floor mat, shifter and interior trim from normal use

· Wood trim on inner door handles cracking lightly

· Headliner is very slightly loose above left sun visor

· Right daytime running light does not always come on when parking brake is released. Have to pull handle up/down three times to make work. Very intermittent

· Continental Extreme DW summer tires have 2011 date codes, should be replaced due to age
Not included:

· NO ADDITIONAL PARTS OR RECORDS NOT SHOWN IN PHOTOS ARE INCLUDED

· NO PARTS ARE AVAILABLE THAT ARE NOT IN PHOTOS, SORRY
Pre-purchase inspection is welcomed. Please contact me through "Ask a question" to arrange inspection and for any additional information.

Offered with NO RESERVE. There is no "Buy It Now" price. Auction will not end early. Car will be sold to the highest bidder.
Terms:

Buyer is responsible for vehicle pickup or shipping.

$500.00 deposit required within 48 hours of auction close.

PayPal accepted for deposit, only.

Payment methods accepted:

-Wire transfer in US funds.

-Cashier's Check (certified from US or Canadian bank) or money order.

-Cash (in person).

PayPal not accepted for full purchase payment.

Vehicle and title will be released to the buyer only after funds clear. There will be no exceptions.

Bid with confidence! See my overwhelmingly positive feedback.

Please note: more than 300 photos follow. On slow Internet connections, they may take time to load.

You can also Click here for high-resolution slideshow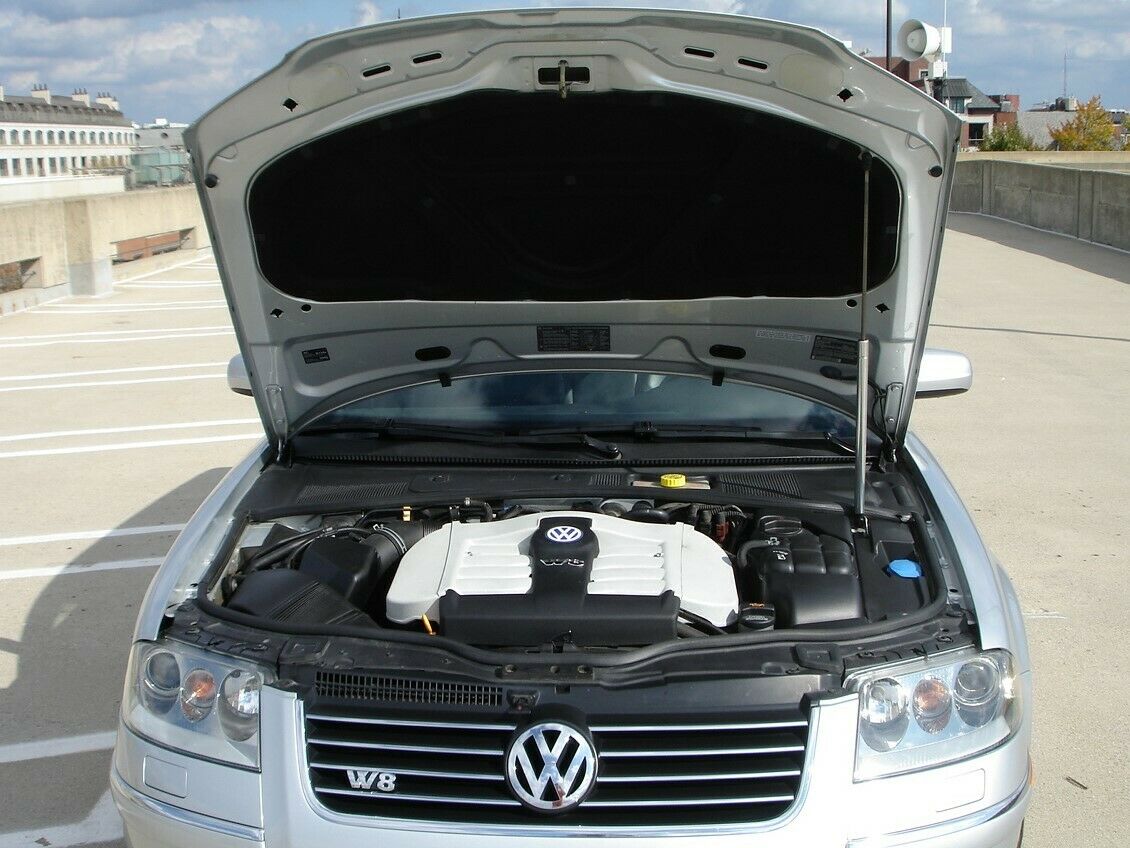 Quite the description and presentation. Frankly, if you want one of these, this is probably the one to get. It's got lower mileage, a fastidious owner, a bunch of spares, records, and some nice upgrades. Having just sold my Passat as it neared 200k miles, I can't help but feel the itch. They're great cars, and this one should be a lot of fun – presuming you like something different and don't mind higher-than-average VW repair bills. It's currently priced right around the asking price of the automatic I looked at in 2020, but I'd expect it'll go up from here.
-Carter