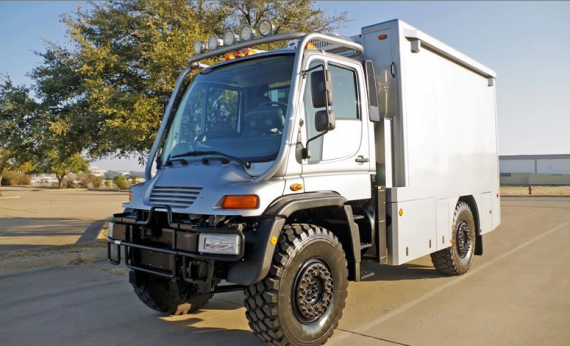 Usually when we feature the Unimog on this site, they are of the older variety that are used as absolute outdoor workhorses. Snowblower, construction equipment, military special forces and the list goes on. With six-figure price tags when new, these beasts were often overkill and over-budget for the majorty of the population who need work trucks. But for those who need a massive truck that offers everything and more, this U500 in Texas spec'd out with a massive box and a handful of goodies inside, this Mog should be right up your alley.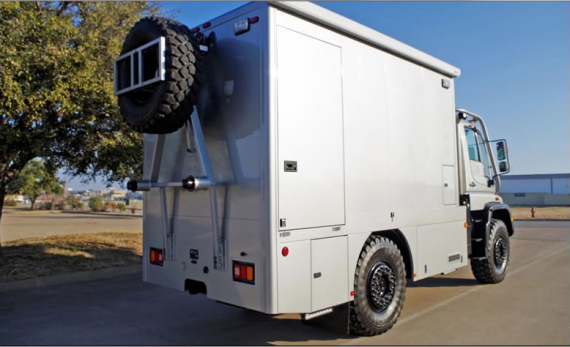 Year:Â 2004
Model: Unimog U500
Engine: 6.4-liter 6-cylinder diesel
Transmission:Â Electronic-manual
Mileage: 12,007Â mi
Price:Â $134,900 Buy It Now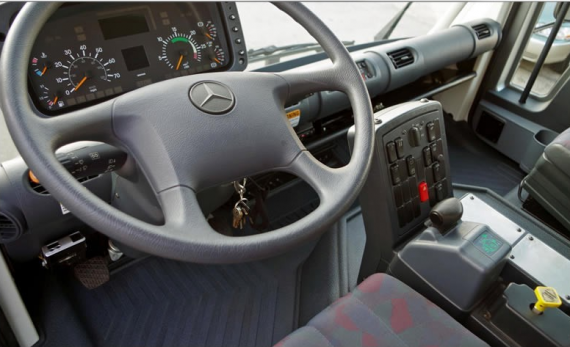 This Magnificent Low Mileage Mercedes Unimog U500 Is Simply Like New In Every Way Right Down To The New Car Smell.  An Immaculate Meticulously Cared For Vehicle That Will Exceed Every Expectation.  Driven Just 1,000 Miles Per Year Since New, It Has Been Used By A High Profile Race Team And Is A Total Show Stopper.  Equipped With Mercedes 6 Cylinder 260 hp Turbocharged Diesel Engine And Hayes Electronic Brake Controller. The Box Has Carrier Transport Air Conditioning And An Onan QD Generator With Only 25.5 Hours.  It Also Has A Porter Cable 150 PSI Air Compressor.  This Amazing Truck Is Equipped With 20″ Wheels And Was Just Re-Fitted With Brand New Michelin Tires.  The Fit And Finish Of This Is Mind Blowing.  The Box Alone On This Truck Cost $300,000.00.  To Build Out Another Truck Like This You Could Easily Spend $500,000.00.  This One Is Still Just Like New And Has Always Been Garage Kept.  You Can Buy This One With Complete And Total Confidence.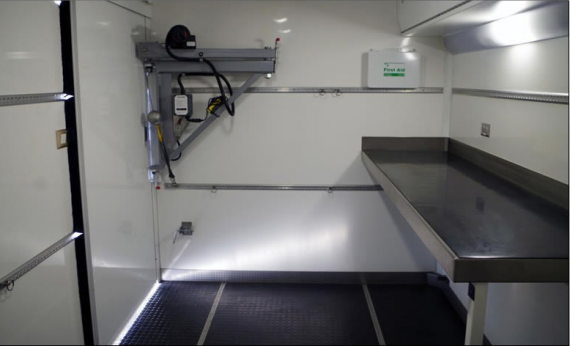 If this was just a standard U500 with a truck bed on it, this thing would still be extremely impressive. It has enough torque to pull a house off it's foundation but still can cruise down the highway at 65mph. It's comfortable, has air condition, visibility is second to none while not being so large that you can get into spaces that regular semi-trucks can not. The real winner here is the custom box made by Oxford Specialist Coachbuilders out of Oxfordshire, England. The auction description is vague at best, but by the looks of it this box was setup to be a mobile support station for a motorsports team.
This pricing on this Mog has been a little bizarre. A few months ago it was listed at $249,900 then out of nowhere dropped to $138,900. Now it's at $134,900. If I were to guess, this is probably on consignment with the seller judging on the massive price drop and real lack of information about it. If that's not the case, someone brought a real giant elephant into their inventory that probably isn't going anywhere fast. As far as the price goes, it's well worth the almost $135,000, if you actually need something like this.
-Andrew