In the past I've sung the praises of the W201 as a classy yet affordable daily driver (see here and here). But for some, the compact Baby Benz is just a little too small. The good news is that all the best features of the W201 – the classic styling, bank vault build quality and over-engineered platform that yields surprisingly high levels of crash protection  – can all be had in the roomier W124. Produced between 1984 and 1996, this generation of the E-class is in many ways the definitive 80s-era Benz: handsome, practical and built to outlive its owners. Indeed, since these cars are so long-lasting, there's no shortage of them out there for sale, with a wide variety of examples available to suit all manner of tastes and budgets – sedans, wagons, coupes and convertibles, gas or diesel engines, hoopty or minter. Most of these fall on the affordable side (with the exception of the 500E super sedan), offering a lot of substance for very little money. This particular car is a fairly basic 300E, but it caught my eye because it ticks all the right boxes: a nice color, low miles and a good price.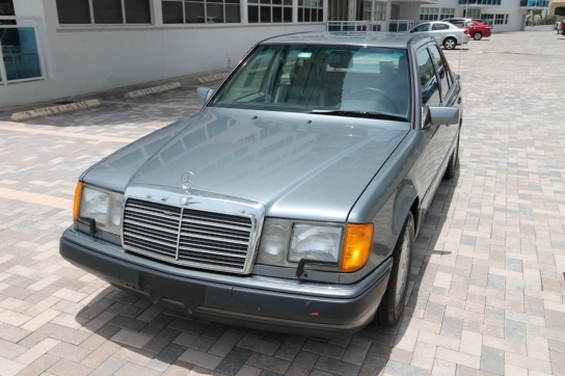 Year: 1991
Model: 300E
Engine: 3.0 liter inline-6
Transmission: 4-speed automatic
Mileage: 50,500 mi
Price: $4,900

For sale is an Excellent condition Mercedes-Benz 300 E: – Interior and Exterior in Excellent almost mint condition! – Looks & drives great! – One owner – Always garaged – All scheduled maintenance – All records – A/C ice cold – New tires – Title in hand – No accidents – Must see!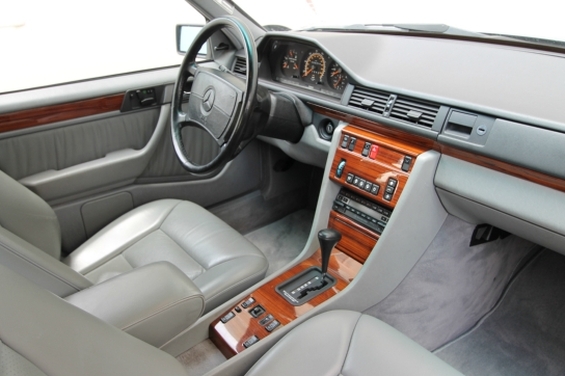 Perhaps it's because these pictures were taken in the Florida sun, which makes the paintwork pop, but I think this car looks absolutely stunning. The relatively uncommon color of pearl gray (paint code 122) sits over matching gray leather instead of the usual MB-Tex. The paint looks to be shiny and free of imperfections, while the plastic lenses on the front fog lights, which usually cloud with age and exposure to the sun, look clean and clear (although if I were buying this car I'd probably swap them out for the nicer Euro-spec headlights anyway). The interior appears to be in similarly mint condition, with leather seats that look barely used, while the wood on the center stack and surrounding the gear lever appears to be glossy and crack free. Even the radio is still the stock Becker unit. The car presents as nicely as one would expect for a garage kept vehicle with an incredibly low 50k miles indicated on the odometer.
Powered by the 3.0 liter version of the M103 engine, generating about 180 hp and allied to a four speed automatic gearbox, this car will make for one pleasurable highway cruiser. The only major issues to watch out for are the various oil leaks to which the M103 engine is prone (and which usually culminate in a headgasket replacement at around 150k miles) and the biodegradable wiring harness issue that is peculiar to W124s – these harnesses degrade with time, not use, so the mileage is neither here nor there, and they are quite expensive to replace. Assuming it passes a PPI and is as clean in person as it appears online, for $5k this could be a very classy commuter that feels and drives like a much more expensive car.
– Craig