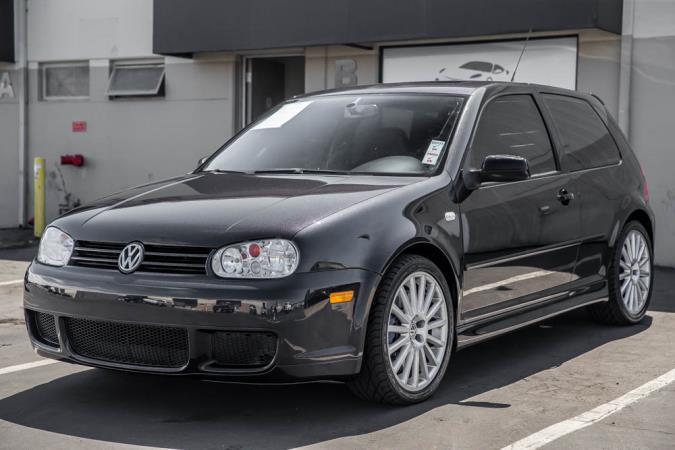 The Mk.4 GTI lineup got progressively better through the early 2000s and culminated with the U.S. finally getting the Super Golf. All-wheel drive was nothing new to the hatchbacks, as they'd had it in the normal run starting in 1986 and it was offered pretty much straight until today. But for U.S. customers, models like the Golf Rallye, Golf Limited and VR6 Syncro models were forbidden fruit until the fourth generation of Golfs.
In late 2003, the model with so much promise was finally added to the U.S. lineup. The underpinnings were shared with the Audi TT, which meant a transverse engine utilizing a Haldex hydraulic controller to drive the rear wheels. Power came from a double-overhead cam 24 valve narrow-angle VR6. Displacing 3189 cubic centimeters, it generated 237 horsepower and 236 lb.ft of torque and for the first generation it was mated solely to a 6-speed manual transmission. Outwardly there were a few clues that it was more potent than yesterday's 20th Anniversary GTI; revised front and rear bumper covers with dual exhaust and gaping intakes. The wheels were the same 18″ OZ-made Aristo wheels from the 20th, but the calipers were painted blue and grasped rotors a full 1.3 inches larger than the GTI. As with the signature model for performance in the hot hatch category, the R32 received larger anti-roll bars and 1BE sport suspension, good for a 1″ drop. Tires were meaty 225-40-18 ZR-rated rubber. All of these things helped to keep the weight of the R32 in check, and there was plenty of that to manage. The addition of heavier-duty running gear, two more cylinders and all-wheel drive meant that the R weighed in a full 3,350 lbs – about two full-sized adults north of a GTI. It was more powerful, but it wasn't really much quicker in a straight line. Of course, it had great torque and even greater noise, along with the mystique of being the head honcho around the VW scene. Consequently, the R32 has maintained near-cult status since new and examples still demand a serious premium over the rest of their contemporaries from Volkswagen: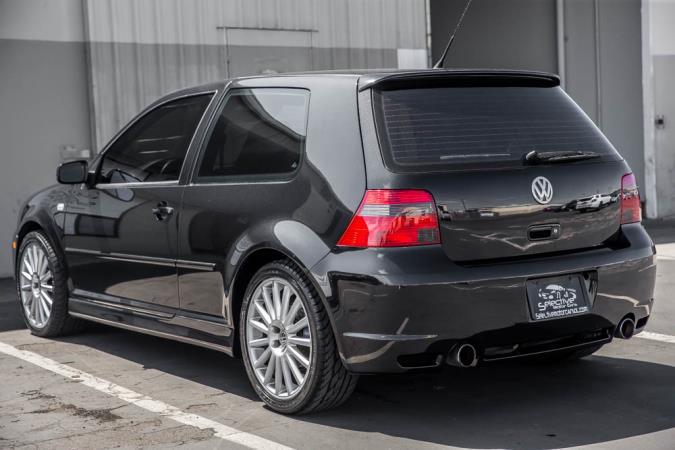 Year: 2004
Model: Golf R32
Engine: 3.2 liter narrow-angle VR6
Transmission: 6-speed manual
Mileage: 75,698 mi
Price: $21,888 Buy It Now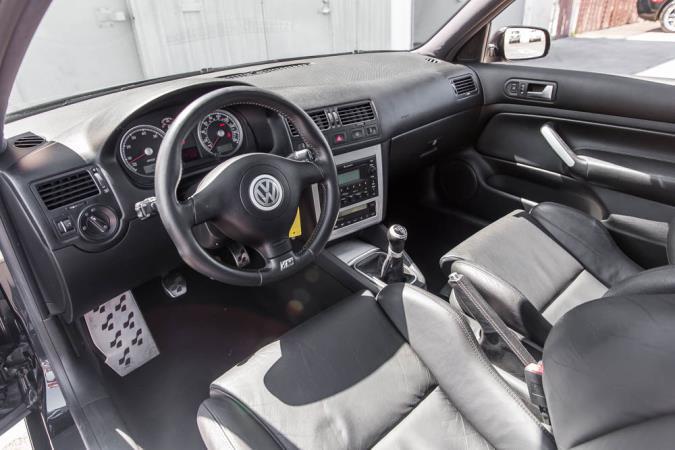 SELECTIVE MOTOR CARS is proud to offer this beautiful BLACK 2004 VOLKSWAGEN R32 2 DOOR HATCHBACK with 75698 miles available for sale. Here at SELECTIVE MOTOR CARS we take pride in our inventory. All of our vehicles are hand picked and go through a rigorous multi-point safety and smog inspection before they are put up for sale to insure your satisfaction. Please feel free to contact SELECTIVE MOTOR CARS for more information at 949-201-1372. Our enthusiastic staff members would love to speak to you. Financing is available on approved credit. Feel free to fill out a credit application on our website.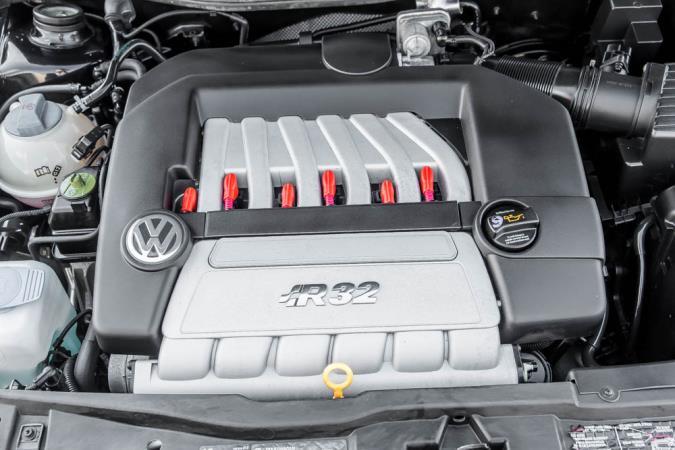 I'll be honest: I love the concept of the R32. And I really love the sound of the R32. It sits just about perfectly and looks neat too, though I really do think that the Votex-kitted 337 and 20th AE look slightly neater in a classic GTI way that gets lost in the bulky look of the R32. That's carried over inside, where instead of the cool Recaros in the other models, VW outfit clumsy-looking König seats. It's as if this was a GTI bro who spent a little too much time in the gym. It's wearing a flat-brim cap, reaching for the vap, talking about protein shakes. The dead pedal even wears a tribal tattoo.
Deep Blue Pearl was the signature color on these, but the Black Magic Pearl looks nice and really pops in this presentation. Condition of this particular example looks above average and mileage is below, though both fall far short of yesterday's 1.8T. Despite that, and a lack of detailed history or mechanical information in this example, the asking price is nearly a full $4,000 more than the 1.8T, pushing this R32's value in line with cars like the ZCP Competition Package E46 M3 with slightly more miles. Think I'm joking? I'm not – here's a 2005 Interlagos Blue Metallic for $20,900 with a 6-speed manual and 120,000 miles. Not your thing? Okay, how about a Porsche 911 Carrera Coupe with only 55,000 miles for $4,000 less than this R32? Still not convinced? How about this lower mile convertible 2007 Mercedes-Benz CLK63 AMG for only $12 more? That's not a typo. TWELVE DOLLARS MORE. Rather stick with all-wheel drive? No problem. Here's a better driving second-generation 2008 Audi TT 3.2 Coupe with only a few more miles for the best part of $10,000 less. Really have to have a squared hatch? No problem, here's a 2008 R32 for about the same price.
Are you getting my drift? These things are ridiculously priced for what they are. Neat? Yes. $22,000 neat? No way. And this car isn't even that much of an abortion, because you could easily say that I just picked the most expensive one out there. True enough. But then consider the others on the market at the same time. There's a 2004 Tornado Red one with 106,000, another Black Magic Pearl with 116,000, and a Reflex Silver Metallic one with 129,000 – all priced a little too conveniently at $16,300. Not only is this lower mile one not that much better than the others to justify its $5,500 premium, but none of them are good enough to demand the money being asked to me. The 9,800 mile GTI is a much nicer car at the same price point, and more collectable than any of these are as they sit.
-Carter