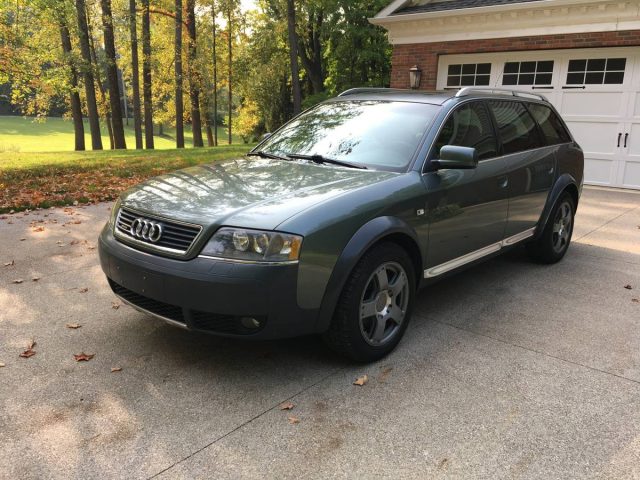 The C5 Audi Allroad, a car that can't be talked about without someone bringing up the photo of MacGyver being thwarted by one. Now a punching bag by many in the automotive world, I personally don't think it is worse than any other German car that is over 10 years old. Yes, a twin-turbo V6 and air suspension do make things a little more complicated, but if you stay on top of potential issues, I don't see the a giant problem with owning one of these. Fortunately, the owner selling this 2001 outside of Cleveland gave this green machine all the love it needs — and maybe even a little more.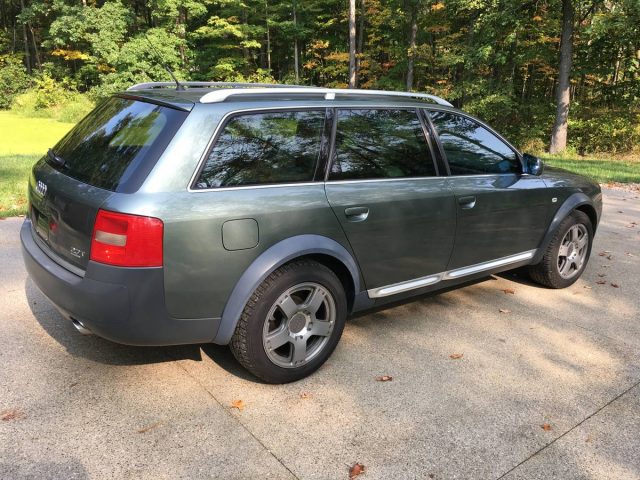 Year: 2001
Model: Allroad 2.7T
Engine: 2.7 liter twin-turbocharged V6
Transmission: 6-speed manual
Mileage: 162,000 mi
Price: $5,500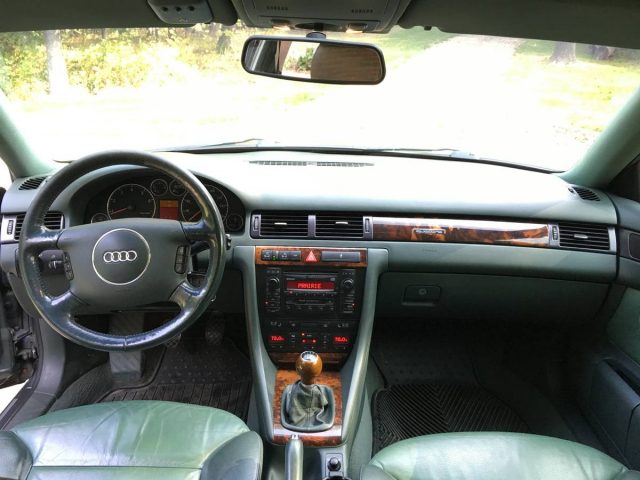 We are selling our beloved Audi allroad. This has been the most comfortable car we have ever owned. Even more comfortable than the newer Mercedes we replaced it with. The wagon has tons of interior space making it practical and the 6-speed transmission with twin-turbo V6 keeps things fun. We travelled South to Virginia to buy this car – specifically to find one this clean, unmolested, 6-speed and with the highland green interior/exterior color combination.

 

100% stock – not modified or chipped.
6-speed! (faster, more fun and better mpg than the automatic)
162000 miles
Suspension is in good condition and fully functional. (lifetime warranty Arnot airbags & Bilstein shocks)
Heated seats (front & rear)
Heated steering wheel
Bose stereo
Maintenance records on hand
Powder coated stock wheels (fully disassembled and professionally powder coated with UV-protectant gunmetal powder coating)
Falken all-season tires mounted and balanced with 80% tread (8/32nds)
Extra Nokian Hakkapeliitta snow tires in good condition (the best snow tires I could buy)
3rd row seat (stored inside – we have never used it)
No rust!
No check engine lights
New brake pads and rotors at all corners
Title in hand

 

The car is incredibly clean both inside and out. The few things that the new owner might want to fix would be the instrument cluster LCD (common), the lower cup holder (by the shifter) doesn't stay closed although it does still hold a cup and the little cover on the rear hatch interior which covers the tool kit and reflective triangle is missing (you can only see this when you open the rear hatch and look up at the underside).

There are many ECU "tunes" that you can install on this car to increase the power, but because we used this car for our highway work commutes and road trips we never found the extra power necessary. We did have the 320HP/380TQ APR tune on our 2000 Audi S4 which had the same 2.7 twin turbo and 6-speed drivetrain as the allroad – it really does transform the car into a monster but we never got around to it on the allroad.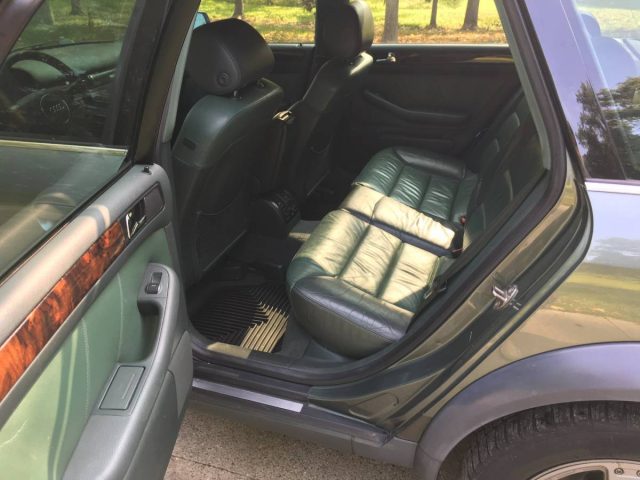 In my eyes, this is the combination to get on the Allroad. The 6-speed manual is far easier to live with long-term over automatic that most have issues with at some point. The 2.7t isn't perfect by any means, but as long as you aren't cranking the boost and keeping an eye out for any broken coolant pipes, this engine isn't the monster its made out to be. I am a big fan of odd-ball color schemes and since the Allroad is a kind of unique car to being with, the Highland Green with Fern Green/Desert combination doesn't bother me at all. The lighter wood contrasts nicely with the rest of the leather interior that doesn't look to be in bad shape at all. Yes, this car has the typical broken LCD center display and cup holder that doesn't function correctly, but that's to be expected in basically ever Audi from this era.
For $5,500, this is a hell of a lot of value. The air suspension has been sorted and functions as it should. It has all the maintenance records and even comes with amazing Nokian Hakkapeliitta snow tires. Allroad values are currently in tank because frankly if you aren't someone who loves these, you probably even forgot they exist. If you are an Audi-ophile, you probably look at these as not worth the trouble, but for $5,500, there are much worst choices out there for a do it all wagon.
– Andrew