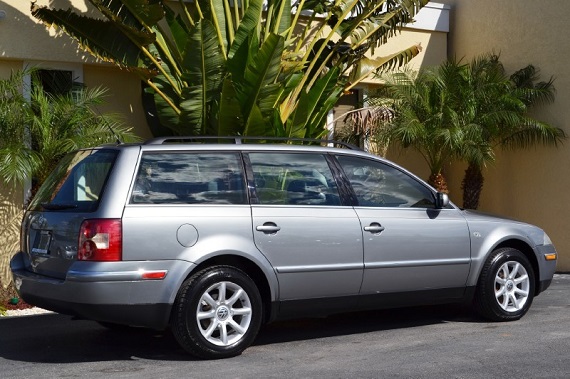 Off the bat, I'll admit that the B5 and B5.5 Passat is not the most exciting or best looking car in the world. It was, however, a serious step up in quality and design for the company. As they had with the B2, Volkswagen turned to partner Audi for the platform for the B5 and B5.5 Passat. It launched after the Audi A4 by one year and was decidedly more conservative in styling, at least originally. As it had been in the B1,2,3 and 4 platforms, the B5 was available initially in two configurations – sedan and Variant wagon. Motivation was provided either by the new 1.8T turbocharged inline-4 or the standby 12 valve V6. In 2001, Volkswagen refreshed the package with styling that brought the Passat closer to its B6 Audi cousins; new projector beam headlights were the largest notable change, though truth told most of the exterior trim changed in between the B5 and B5.5. Engines were also upgraded; the 1.8T changed to the newer, higher output 170 horsepower model shared with the A4, the V6 sprouted 18 more valves for a few more horsepower, and the new W8 engine was mated to the Audi all-wheel drive now badged 4Motion instead of Syncro. You could also get the frugal TDi motor again; something that was left out of the U.S. Audi lineup at the time and had skipped the B5 generation. What the Passat gained by these interactions with Audi was a level of build quality and refinement that hadn't previously been seen in the top of the range Volkswagen; if you knew what you were looking at, it was indeed as nice as the Audis, had slightly more leg room and was just as nice to drive. While they weren't the headline grabbers, my favorite of the model run are the 1.8Ts in upscale GLS trim – and of course, you had to get a wagon: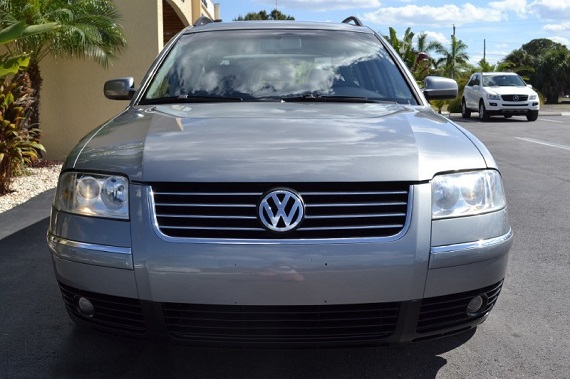 Year: 2004
Model: Passat GLS Variant
Engine: 1.8 liter turbocharged inline-4
Transmission: 5-speed automatic
Mileage: 69,002 mi
Price: $ Buy It Now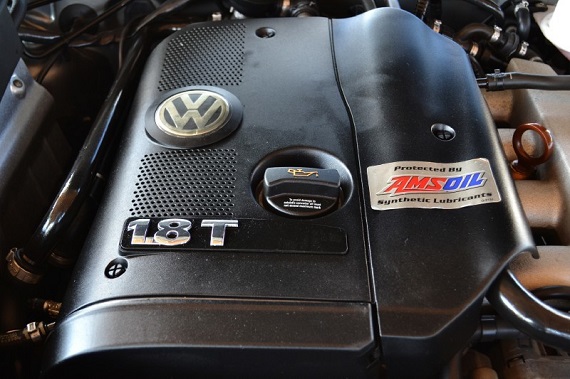 2004 Volkswagen Passat Wagon GLS

Call me (Tom) at 239-693-4000 9AM to 10PM 7 days a week!

Auto Express South, located in Sunny Fort Myers, Florida, proudly offers this 2004 Volkswagen Passat GLS Wagon with only 69,002 original miles. This Passat had an original MSRP of $26,485.00 and is shown in Silverstone Gray paint on Black Leather seats. It is an absolutely beautiful color combination and really sets this Wagon apart from the rest. The previous owner took meticulous care of this VW, it has been regularly serviced since it was purchased new and is in outstanding condition. It has been thoroughly inspected by our service department and is a Carfax Certified vehicle with no accident history as well. You could confidently get in this vehicle and drive it across the country if you wanted to!

This 2004 Volkswagen Passat Wagon is special; due to the fact that is a highly optioned Wagon with very low mileage. It has been well kept and would make the future owner very happy! It comes optioned with:

1.8L L4 PFI DOHC Turbocharged Engine

Cold Weather Pkg $325.00 Option

*Heated Front Seats

Electronic Stabilization Program (ESP) $280.00 Option

Leather Pkg $1,500.00 Option

*Steering Wheel Audio Controls

*Leather Seats

*Cruise Control

*Leather Steering Wheel

Power tilt/slide sunroof with tinted glass, sunshade, pinch protection, and driver door convenient closing

Power Heated Side Mirrors with Integrated Turn Signals

60/40 split folding rear seat-inc: adjustable headrests, fold-flat feature, folding center armrest w/storage compartment, cup holders

Audible/visible anti-theft vehicle alarm system for doors/hood/hatch/radio/ starter

Central pwr locking system-inc: automatic door locks, key-operated window open/close, selective unlocking at driver door, key-operated closing for pwr sunroof

4 power outlets-inc: 1 in front center console, 1 in rear center console, 2 in cargo area

Premium V AM/FM stereo with cassette/CD player-inc: 8 speakers, Monsoon sound system

And Much More!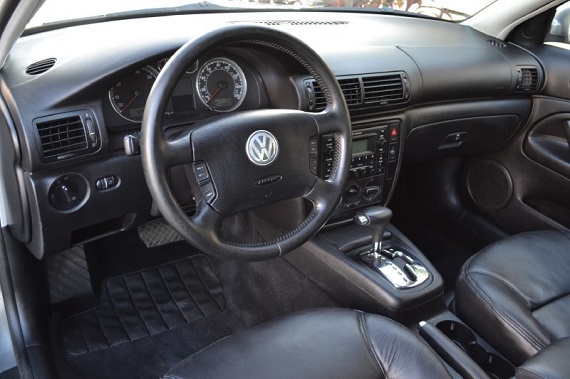 This 2004 GLS model is configured nearly the same as my 2002 with two exceptions; the color combination and the transmission. 2004 saw some minor changes; if you're clever, you'll note the rear wiper changed sides to the right (earlier cars the wiper rests on the left), but the most notable change is the swap in wheels – from the "Wellington" Ronal made model that GLS models got from 2001-2003, BBS now made the new flush cap model called the "Michigan". It was a minor change but did make the Passat look slightly more upscale, in keeping with it's quite expensive pricing. Indeed, looking at the sticker price, it's possible to get a brand new well equipped Passat for LESS money over a decade on. My handy Passat configuration tool tells me this was a pretty popular combination; no less than 320 2004s were sold in this exact configuration – a massive leap over the 7 total (over two years) that match my car. Indeed, 1,179 were sold with this setup between 2002 and 2004. That makes it not particularly rare, but the condition of this example is far above normal owing to its Southern life and low miles. It's also pretty well equipped, with the cold weather package, ESP (back when you could actually shut it off!) and the Monsoon sound system; all of which are nice additions to live with in the car (mine has the same options). With only 69,000 miles on the clock, this car hasn't even reached the timing belt change interval yet, though you'd probably want to complete it if it wasn't done. The 1.8T is a reliable powerplant, though the AWM suffers from being a little too complicated – I'm in the midst of rebuilding the PCV system which contains in the vicinity of 20 parts. The power isn't shocking, but the car has plenty of motivation and returns excellent fuel mileage. What's really nice about the 1.8Ts, though, is that they were lighter than the V6, TDi and W8 models – making them a fun drive, too. And with ESP, ABS an electronic locking front differential and some decent snow tires, they're actually super to drive in the snow as well. This car is priced above the market by a bit, but the wagons do hold much more value than the sedans and this configuration – while not for enthusiasts – is probably more in keeping with the crowd that brought them originally. Nearly 86,000 Passat Variants were delivered in Tiptronic form versus just shy of 16,000 manuals in all configurations. If this car could be bought for around $6,000, I'd say it was a good value for a great condition, great looking car that would last for many years to come if properly cared for.
-Carter