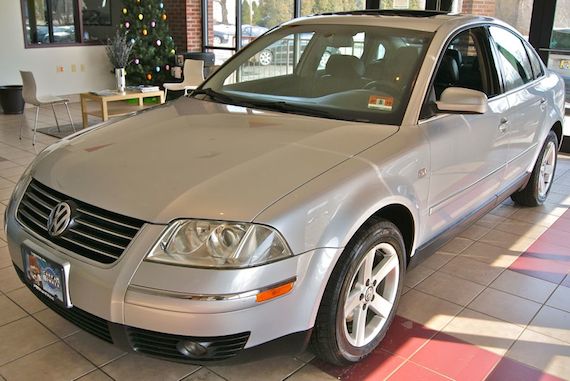 Growing up, my parents had an affinity for Hondas. I think years of Fiats wore my father down and the reliability of Japanese subcompacts was too attractive. But then, in the late 1990s, Volkswagen changed the mid-sized sedan game with the B5 Passat. Sharing architecture with the Audi A4, the new Passat brought a lot of luxury and refinement to what was becoming an otherwise lackluster vehicle segment in the US. Sure enough, my parents traded their 1997 Honda Accord EX for a 1999 Passat GLS V6 with a 5-speed manual gearbox. It took a while to have the car delivered, since the manual gearbox was a bit of an oddball request, but once they got the car, it was leaps and bounds more engaging than the four cylinder Accord ever was. My parents kept the car for about three years before trading it for a 2000 Mercedes-Benz C280 (which they still have), but I was a big fan of that Passat.
This silver on black leather 2004 Passat for sale in Pennsylvania is the later B5.5 generation, but has the same color and drivetrain combination as the Passat that was in our family, one that I have fond memories of. It was one of those cars that should have stuck around in the garage a bit longer.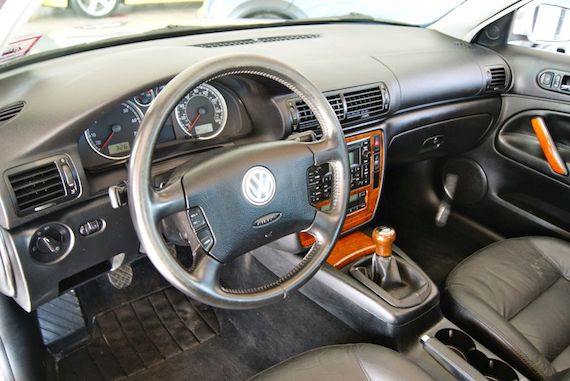 Year: 2004
Model: Passat GLX V6
Engine: 2.8 liter V6
Transmission: 5-speed manual
Mileage: 110,567 mi
Price: $5,995 Buy It Now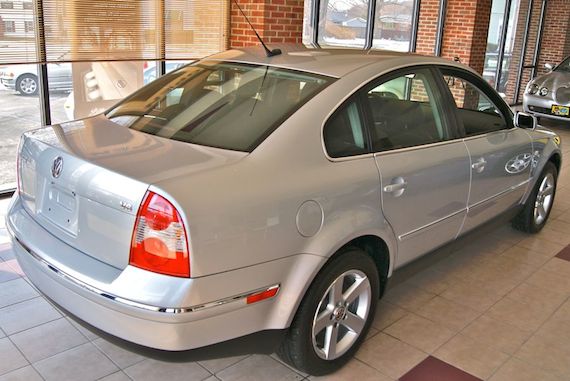 We are pleased to present this absolutely amazing 2004 Volkswagen Passat for your consideration. We recently acquired this Passat from a car dealership where it was traded in by its second owner on a brand new car. This Passat has had just two loving owners since it was new, and they took remarkably good condition of this car. In fact, I would say that this is probably the nicest Passat we've ever sold! The exterior and interior of this car are nearly flawless. Thare are hardly even any dings or scratches on the car! It is getting very difficult to find these cars in such good condition, and this is the absolute top of the line for 2004. It has every possible option, except for the automatic transmission. The 30V 2.8 V6 combined with the 5 Speed manual transmission is a completely bulletproof combination. With just minor maintenance, these cars will run forever and ever. These are the cars that I personally recommend that my friends buy because of their reliability and their "bang for the buck" factor. There is no other car on the road where you can get all of the features for such little money.

The interior of this Passat is in very good condition. In fact, overall, this is one of the nicest interiors we've ever seen in one of these cars. The black leather seats are in nearly perfect condition for the car's age with no tears and minimal cracking. They're still very soft, and feel great. They're also heated for your comfort. Everything in the interior works. Even both cup holders aren't broken! The car has a fancy upgraded "Monsoon" stereo system that includes a CD and Cassette player. It's easy to use, and sounds excellent. It also has a power moonroof. There is a cup holder that accommodates two beverages. This VW has dual front airbags, as well as front side airbags and curtain airbags for the front and rear passengers. Because it has the climate package, it does have heated front seats, as well as heated exterior mirrors, heated windshield washer nozzles, and heated door lock cylinders. The rear seats do fold flat for hauling large cargo. There is a set of carpet floor mats included which are in nice condition, though there is some wear on the drivers front floor mat. Even the carpet in the trunk is VERY nice inside. There is a retractable sunshade on the rear window which is ideal for shading the rear seat passengers. It also adds a bit of privacy. This Passat also has On*Star which only came on 2004 and 2005 Passat GLX models.

The exterior of this Passat is in remarkably good condition for the year and miles, and is Reflex Silver in color. We could find literally no scratches or dings anywhere on this car. The interior AND exterior are nearly flawless. Even the wheels are in perfect shape. It has very nice 5 spoke alloy wheels which are in very good condition. Overall, this car could easily pass for a new car! It' is incredible.

The tires are all in nice shape with excellent tread life remaining. The brakes are newer and in good shape and the car stops as it should. The legendary 2.8 Liter 30Valve V6 cylinder engine runs flawlessly and is very smooth. This is one of the smoothest engines made by Volkswagen, and it is likely the first thing you will notice upon driving the car. The transmission also operates properly. It's very smooth shifting with no abnormailities, and the clutch feel excellent with no slipping. All of the car's accessories work including the power windows and moonroof. These cars rarely have major mechanical problems. The timing belt service has been completed.
I'll be blunt. I'm not a fan of the current generation Passat. It's just too big for my tastes. Sure, the one we receive here in the US was designed with the American market in mind, but it doesn't give off that vibe that German car enthusiasts are looking for. It's encouraging, at least, that VW is offering the TDI engine in this platform, even with a 6-speed manual gearbox. But for me, the magic that was the B5 and B5.5 Passat is gone. These were sedans that moved the chains in the mid-sized segment and now it seems that VW is content in resting on its laurels. For those who want a little more power than then 1.8 turbo engine but seek to avoid the W8 engine's complexity, the V6 coupled to the manual gearbox is a great compromise.
-Paul