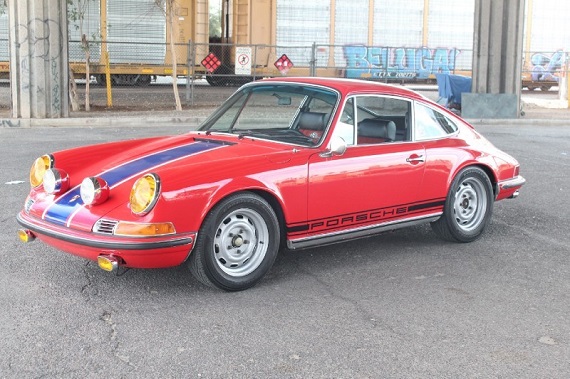 Porsche is well known for its long and storied road-racing history. That history defines the marque and in many ways serves as its guide. But there is a portion of their racing history that also includes forays into rally racing, most notably their entry in the Paris-Dakar Rally with the 953. While certainly a small part of their overall racing heritage, rallying provided another means for Porsche to display its racing prowess during the manufacturer's early days, even if road racing ultimately would remain its primary venue. The car we have featured here found inspiration in some of those early rally cars: a 1970 Porsche 911T Coupe with a few exterior modifications to give it a distinctive, rally-esque, look.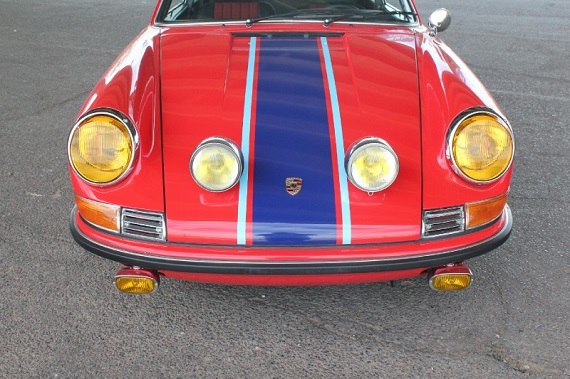 Year: 1970
Model: 911T
Engine: 2.2 liter flat-6
Transmission: 5-speed manual
Mileage: 14,000 mi
Price: $69,900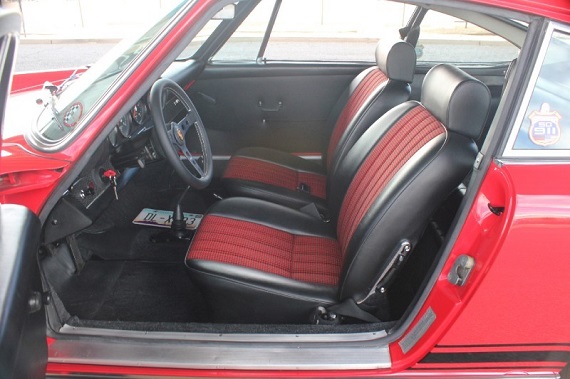 EMGCARS is very pleased to have the opportunity to offer this one of kind 1970 Porsche 911T Coupe!! This highly unique 911T has been updated and customized to a very cool factory/ Rally style! Re-sprayed in factory Guards Red with an updated interior of Red hound's-tooth and Black Leather seats. Further personalized with Blue Race Stripes, Rally style driving lights with yellow lenses, more aggressive stance and Factory Steel Wheels complete the overall look! This Vintage Porsche is equipped with a Carbureted flat 6 paired to a factory Dog Leg 5 Speed Gearbox that sounds fantastic whether just cruising around town or bombing down mountain roads!! This 911 is not fully matching numbers as the motor has been changed but it is the correct motor for the car. This Classic 911 runs and drives excellent and is ready for a new enthusiast to enjoy for years to come. I have driven this car to a couple of local cars and Coffee events and the reception this car receives is awesome with tons of onlookers snapping pics and just admiring the care of ownership that has been bestowed upon it!! We have the Porsche Certificate of Authenticity to accompany the sale of this car. We encourage you to inspect the car in person or by PPI. Please give us a call at (480) 922-6242 with any questions or to arrange an appointment. We believe in making the exotic car buying experience fun & painless. Our experienced team carefully selects our inventory from the ideal conditions of the dry southwest. Thank you for viewing this vehicle, we look forward to hearing from you!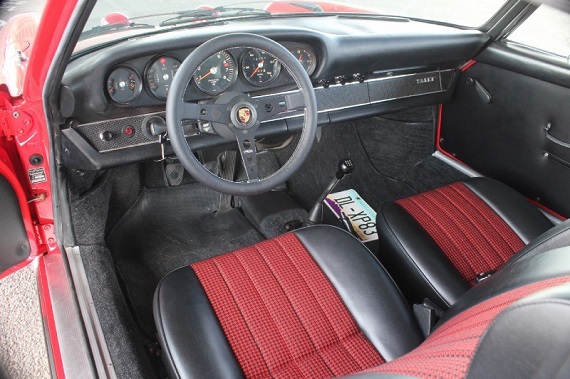 The car is advertised as "rally style" and that is basically what we get. It isn't modified for performance, but offers a particular look and a degree of uniqueness that is sure to appeal to some and be a turn off to others. The exterior possesses the basic rally cues we might expect, and the paintwork appears to be in good condition and is distinctive without being over the top. I really like the interior and while there isn't anything that particularly screams "Rally!" about it, the contrast of the red hound's tooth seat inserts with the black leather is pretty great and overall the interior looks well done and in very good condition. The car isn't numbers matching and should definitely be put through a thorough PPI in order to get a sense of it's mechanical condition, but otherwise it appears in very good shape and would make for an interesting conversation piece at any car show. It's priced a bit too high, given that $70K could probably fetch a 911T in decent condition that retains its originality, but this particular car at least provides for something slightly different.
-Rob