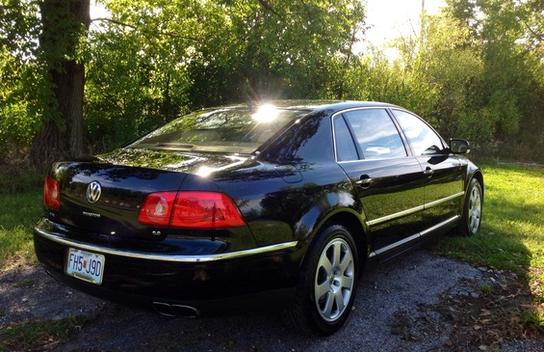 Years ago, the thought of a twelve cylinder Volkswagen would have been unthinkable. What was devised as the "People's Car" during World War II has now turned into a dominant force in the global car market, controlling a number of different brands spanning almost every market segment. The Phaeton was the car that took the battle to the luxury car segment directly to the competition's doorstep, mainly Mercedes-Benz, BMW and even in-house brand Audi. While it is still on sale in Europe, few noticed on these shores and the car disappeared from the lineup after three model years. Now these large sedans represent a bargain if you are, of course, brave enough to battle the potential pitfalls and repairs that comes along with such a complex machine.
While most Phaetons had the 4.2 liter V8 under the hood, this W12 for sale in Missouri is the pinnacle of the flagship line for Volkswagen, with an engine similar to the one found under the hood of certain Bentley models.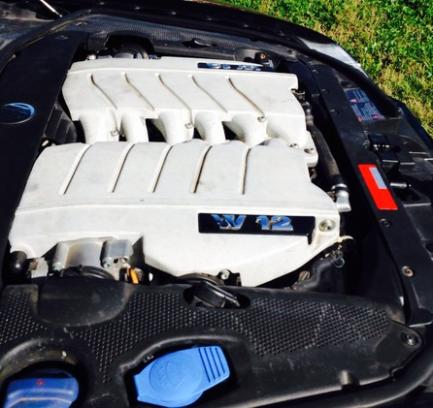 Year: 2004
Model: Phaeton W12
Engine: 6.0 liter W12
Transmission: 5-speed automatic
Mileage: 61,120 mi
Price: $31,499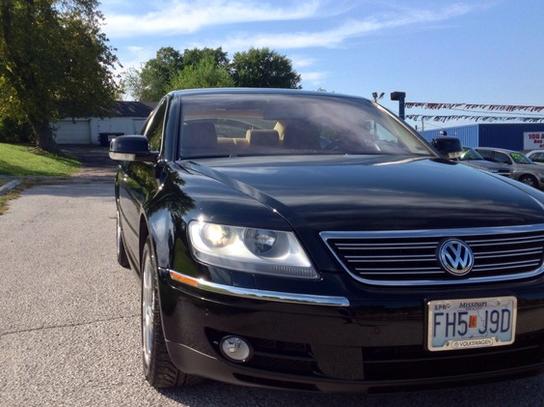 It's all about the car and With VW Platinum Warranty – until 102,000 miles or 9-2017. This car is one of the 300 W12 black/tan Premium Editions that was marketed by Volkswagen in North America. It has the rare and expensive W12 engine. It is a great running and looking car. It has NO dings, scratches, etc that I know of. It has the power opening and closing trunk, parking proximity sensors, heated, cooled, and massaging seats for both front and rear passengers. Of course, it also has a navigation system, the factory upgraded high-end audio system and almost everything else you can think of. This car has high end Italian leather and the same quality woodwork as the Bentley. The rear passengers have their own climate controls, seat adjustments, etc. The rear legroom is limo-like.

The ride is incredible and it adjusts in firmness and ride height through the console controls. It also has standard AWD like the Audi A8 for safer driving in wet or slippery conditions or just better dry grip. The electronic components on this vehicle are in working order. No defects. This vehicle does not have ANY door dings. The engine is mechanically sound and can be driven anywhere with confidence. Has an extra clean exterior. Extra clean interior. Absolutely no rips, odors or abuse. Only two owners the original buyer and myself. Have Carfax and extended VW platinum warranty with $100 deductible coverage that can be transferred to you. Coverage to 9-9-2017 or 102,000 miles whichever comes first (I was able to buy the extended warranty, because when I got the car it had less than 35,000 miles on it, it is what will allow you to own and drive this car without worries). Have all service records. It has almost new Michelin Sports tires on it and comes with a new spare wheel that is still in the shipping box. The W12 engine is difficult to describe. It just keeps pulling so smoothly and quietly.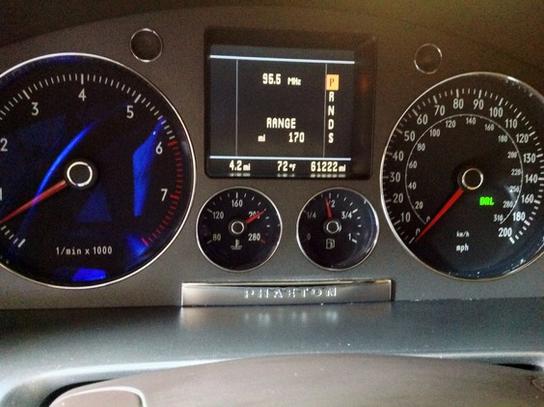 If I was in the market for a Phaeton, I tend to doubt that I would have the nerve to go the whole hog with a W12. Like most folks, the V8 would be enough for my purposes. A diesel would be nice as well, but that's another piece of forbidden fruit for US customers. But, for those who have to be different, this is a curious beast. W12 values tend to run a bit higher than the V8s, understandably, with good ones fetching in the 20k to 30k range. This one is probably closer to the top end of what you could expect to pay.
-Paul