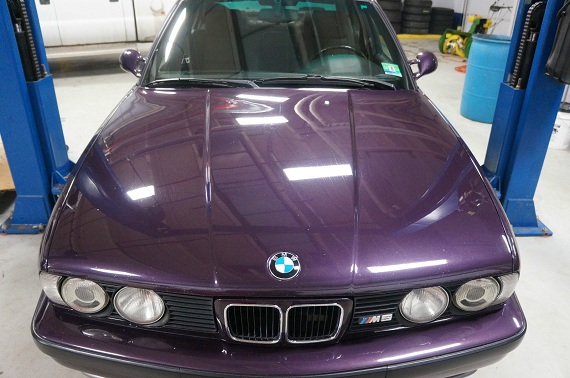 We saw this stellar looking Daytona Violet European-spec M5 here in the U.S. last September. We loved the 3.8 motor, rare color and M-cloth interior – items not found on U.S. versions in general. Interestingly the car has moved to Wisconsin and has re-appeared on Ebay from a new seller with a new description, now at $15,990 "Buy It Now". It's about on par with good examples of the E34 chassis in terms of pricing, but this car has an interesting history; it makes me wonder why the new owner is flipping it so quickly and having added only a few miles. Second time's the charm?
-Carter
The below post originally appeared on our site September 11, 2013:
Daytona violet, hurricane cloth, European motor: few features get the blood pumping faster of M-enthusiasts everywhere than those three. From a rare exterior color to even rarer interior fittings, all strapped to a higher horsepower motor than what came stock in the USDM versions, this 1993 M5 on offer is a rolling tribute to what the BMW faithful lust after, despite being draped in a color the uninformed would merely regard as "purple" paint. This car was legally imported from Japan with the requisite EPA/DOT paperwork in order, making it far easier to jump into a classic E34 M5 equipped with the more powerful S38B38 motor.
This car featured today has low miles for the year and what looks to be stunning paint and interior quality. The seller claims the Active M-Suspension is still working, which was a Euro market option offering an M-tuned version of the Electronic Damping Control system. Although pricey to repair, it's nice to know its functional for the moment. The 3.8 liter inline-six is a nice step up from the 3.6 liter mill that the U.S. received, with 340 b.h.p. on tap. Overall, I personally can't think of a better way to wear purple while going fast.
Year: 1993
Model: M5 European model
Engine: 3.8 liter inline-six
Transmission: 5-speed manual
Mileage: 116,042 mi
Price: $15,990 Buy It Now
This stunning European Specification 1993 BMW M5, VIN WBSHC91020GD63657, is 1 of only 2,776 LHD units with the larger and more powerful 3.8 liter engine hand-built for the entire world at the BMW Motorsport facility between 1991 and 1995. This particularly example was legally imported into the USA in with all EPA/DOT releases in February 2001. The opportunity to acquire this rare sports sedan has become available as the current enthusiast owner wishes to make room for a Rolls-Royce Silver Shadow II or 1987-1989 Silver Spur in his collection (will consider trading for these). Below is a detailed description covering different areas of this Euro M5:

Exterior: This Euro M5 is painted in its beautiful, original, and rare Daytona Violet Metallic (283) with contrasting Granite Silver metallic (237) front air dam, side valances, and rear diffuser. The paint shines beautifully and is in excellent condition overall. This M5 is equipped with the M-Technic side rear-view mirrors in place, Shadowline (satin chrome) exterior trim in place of chrome, and front exterior door handles embossed with "BMW Motorsport" text, all of which were cosmetic updates not found on US specification M5s until the 1993 model year. The exterior is fitted with the original M System II "throwing star" two-piece wheels with forged five-spoke centers that had brand-new Dunlap 235/45/17 tires mounted on them on 11/11//2013.

Interior: The interior is upholstered in European specification Silvergrey M cloth with Amaretta (synthetic suede) seat bolsters and stunning birds-eye maple wood trim, which is an excellent condition as seen in the photos. The leather steering wheel rim has the M tri-color stitching and the leather-wrapped shift knob has an illuminated shift pattern and the M tri-color stripe, both of which give the interior an aesthetically pleasing appearance. A terrific sounding Nakamichi CD-400 High Performance In-Dash CD Player / Receiver and custom subwoofer has been professional installed as well as a remote Passport radar detection system. The air-conditioning blows cold and all electrical items/switches are functional.

Engine: This M5 is equipped with the European-specification is the 3.8-liter M5 engine (S38 B38), which is larger and more powerful than the USA specification 3.6-liter version (S38 B36) as well as greatly different in the following ways:

-Cylinder bore was increased (to 94.6mm) and the stroke lengthened (to 90mm), raising the displacement to 3,795cc, making it the largest six-cylinder production BMW engine of the modern era

-Larger intake and exhaust valves

-Lighter pistons

-Shorter connecting rods

-50mm throttle bodies (increased from 46mm)

-Increased compression to 10.5:1

-Bosch Motronic 3.3 engine management system

-Distributorless ignition with six coils

-Redesigned intake and exhaust manifolds

-Revised throttle butterfly linked to Motronic engine control

-Dual-mass flywheel with harmonic balancer

-Metal catalysts for reduced backpressure and better heat conduction

The engine has been freshly serviced with new spark plugs on 11/11/2013, idles smoothly, and provides the thrilling pull the S38 B38 inline 6-cylinder engine is known for.

Transmission: This Euro M5 has a Getrag 280/5 five-speed manual gearbox that is mated to a 3.91:1 final drive that empowers it to accelerate faster than USA Specification M5s, which are equipped with a taller 3.73:1 final drive. The gearbox shifts tightly and is quiet.

Brakes, Steering and Suspension: As a 3.8-liter model, this M5 is equipped with the BMW Motorsports Adaptive M Suspension, an M-tuned version of the Electronic Damping Control system that electronically chooses the optimum shock rates based on sensors that gather road speed, steering input, acceleration/deceleration loads and lateral body movements The brakes, steering and suspension are all in excellent functioning condition, tight, and no known repairs are needed at this time.

Summary: This 1993 BMW M5 Euro is a rare opportunity for a BMW enthusiast who desires a unique M5 that stands out from others and who understands that a M5 that has been owned and cared-for by well-heeled enthusiasts will likely offer a much more enjoyable and lower overall ownership cost than a neglected or tired project car. This M5 should easily pass any rational pre-purchase inspection with flying colors.

Please note that the following items will be included with the car:

· Clear Wisconsin title that is free of all liens

· All EPA/DOT importation documents

· Complete trunk tool kit

· Owner's manual set

· Spare tire and jack kit

· Two sets of keys

Terms: The owner will happily assist interested parties with arranging a pre-purchase inspection at their expense; however, this must be completed prior to buying the car or submitting an offer on eBaymotors. A $500 non-refundable Paypal or wire transfer deposit is due within 24 hours of the auction ending with the remaining balance paid within 3 business days. The owner will provide the winning bidder with up to 14 days of free storage so that they will have sufficient time to make delivery/shipping arrangements.
Having seen this interior in the flesh in an equally-rare 325is M-Technic, I can honestly say that I get it. It's a very trick interior and cloth, in some cases, is preferable over leather. This is one of those times.