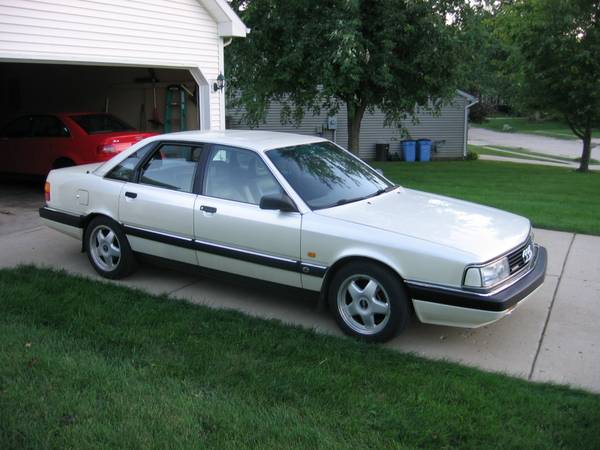 Though produced in similarly small numbers and both enjoying their own separate and unique fan base, we seldom see both V8 quattros and 200 quattros for sale at the same time anymore; it's generally one or the other. So is this car the start of a 200 trend after our string of 4 in a row Pearlesant V8 quattros? Either way, I'll be happy. It's interesting to me how similar and yet different the V8 and 200 20V are; they executed the same goal in such a different way you'd be forgiven for thinking they were from different companies entirely. While both shared many body panels, wheels, brakes, nearly the full interior and major drive train components, the engines weren't the only difference and there are surprisingly a large amount of them. As such, while it's rare to see a modified V8 quattro, it's quite rare to find a stock 200 20V; but this particular model has some fairly subtle modifications that don't detract from the overall package: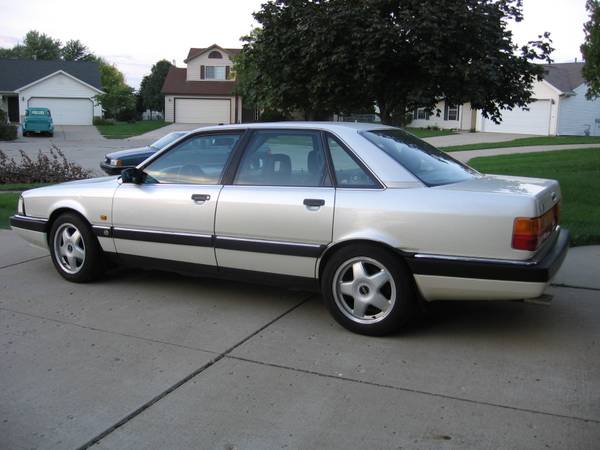 Year: 1991
Model: 200
Engine: 2.2 liter turbocharged inline-5
Transmission: 5-speed manual
Mileage: 236,000 mi
Price: $3,300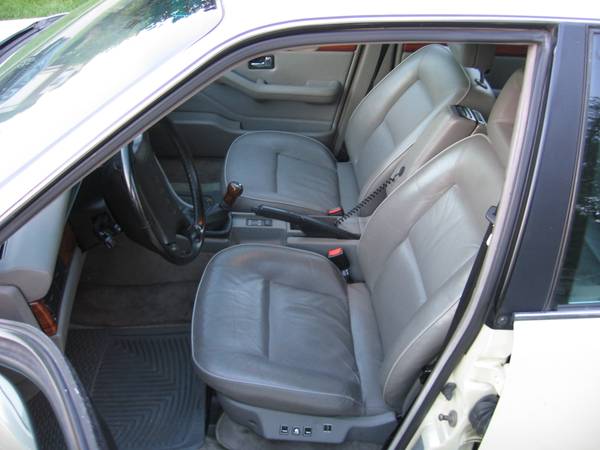 If you are an Audi fan, and looking for a rare and beautiful older one, you need to see this one. This is a mint 1991 Audi 200 TQ that was meticulously maintained. Tastefully modified with Audi V8 front brakes, custom exhaust, lowered and stiffened suspension, S6 wheels, and ECM mod. Quick and tight, a very nice example of an older Audi. It's a Quattro with 4WD, and it's a 5 speed. Pearlescent Metallic White with grey leather interior. It has over 236K miles, but you would never know it. See it before you make a judgment on mileage. Contact via email please. Thanks, and I hope you'll take a look at it. $3300
If you're serious about a 200 or V8, buying one that was meticulously maintained is the only way to go. Having done it twice the other way, it's a ride few bank accounts can handle. This car has been reportedly well maintained and turned up a notch with engine and suspension modifications that are pretty typical in the 200. The claim of V8 front brakes is interesting since in 1991 they ran the same "UFO" brakes, but my guess is they've swapped in the later and American-friendly G60s from the 4.2 V8 and S4/S6. My favorite modification, though, has to be the S4/S6 spec Fuchs forged wheels – a touch heavier than the original BBSs but much more aggressive in look without being out of place. They make the car appear more sporty without much compromise. Mileage is pretty average for these cars today at over 230,000, but they are well built cars capable of easily double that if properly cared for. All of this goodness comes at quite a low price; $3,300 is cheap money for what is a lot of car, but these 200s still haven't been caught in the wave of increasing values. For that money, you get a solid, comfortable performer capable of running year round and fast. I think these will be appreciating in the not-too-distant future because so many have fallen victim to neglect and engine-swaps, they are just a dying breed. It's certainly nice to see one well kept and nicely modified, and I hope it goes to a good home.
Thanks to our reader John for sending us this listing!
-Carter