Here is an interesting opportunity for those with deep pockets. Factory BMW race cars don't show up for sale on eBay all that often or even in the duPont Registry for that matter. This 2005 factory car was one of the rule benders that fitted a V8 in place of the inline 6, this got BMW in some trouble with the ALMS folks.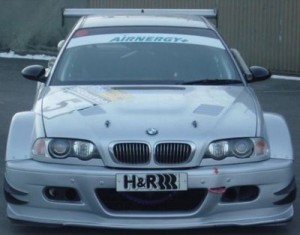 The seller, Scottsdale Motorsports, doesn't list any of the car's race history. Their website, which looks like it definitely isn't a priority for them, also doesn't provide any more info. The auction states that the factory V8 has been sold off and in its place sits a P54B32 inline six in race ready form. If you really wanted the V8 though the seller is including a P65B40 V8 as a spare.
The ask price is $220,000 with a Buy-It-Now of $379,000. You can get as fast a car for less than that, but factory race cars bring big bucks. I suspect the seller is more testing the waters with this listing rather than actually thinking someone is going to bite at that price. The seller has no eBay feedback and they listed the car under collectibles rather than on eBay Motors, but again I suspect the person that buys this will do it directly from the seller, not over eBay.
~Evan