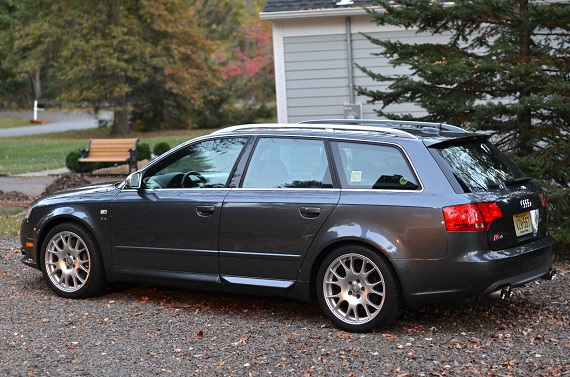 A few weeks back during our "Wagon Week" theme, I wrote up Audi's last stand in the Avant market; a steadily decreasingly number of offerings in the 2000s. I looked at three nice versions of the Avant that were available in 2008. My unfortunate conclusion, though, was that none of them would be the car that I would want. The S4 Avant was certainly tempting, but the automatic wasn't the transmission I'd want in there. However, change a few details and suddenly that B7 becomes much more appealing. Add some great option BBS CH wheels and a manual transmission along with a caring owner, and the B7 S4 was a package that really had no rivals. It looked as fast as it went and remains on the best all-weather people haulers made: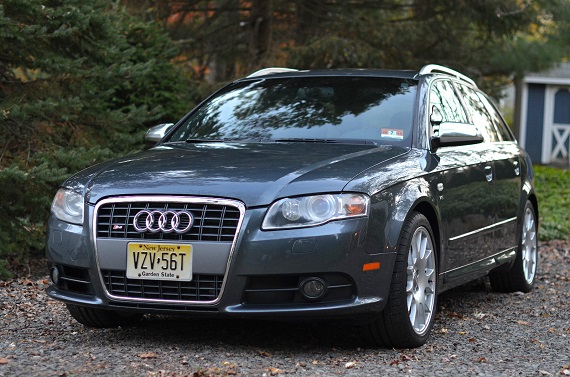 Year: 2006
Model: S4 Avant
Engine: 4.2 liter V8
Transmission: 6-speed manual
Mileage: 72,450 mi
Price: No Reserve Auction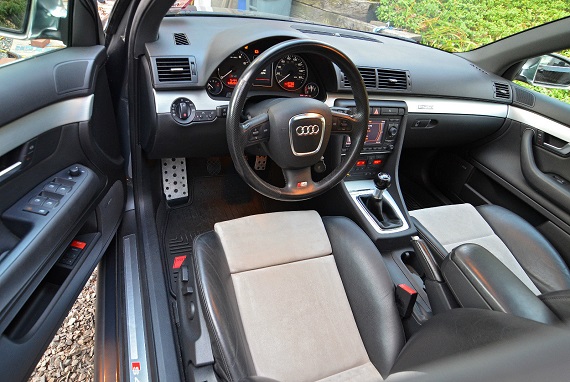 One of 1,002 B7 S4 Avants with the manual transmission brought to North America over its three years of production. I am the 2nd owner and purchased the car in MD in July 2007. The original purchase price for this particular vehicle was $54,200 – as evidenced by a registration document pictured in this listing.

For Audi enthusiasts 'in the know', the Avant version of the S4 is the one to have. There is an unassuming yet subtly special vibe to this car – subtlety that disappears as you get on the throttle. This car is happy to be driven like a proper sports car, with plenty of power, precise and responsive steering, and a firm suspension. And since it has a fresh set of Michelin Pilot Super Sport tires (the OEM high performance summer tire for this car), the road feel and driving experience is as it should be.

If you are considering, or have driven a B6 Audi S4, I can tell you that the B7 S4 has much better steering feel due to revised 'performance' torque splits in the AWD system. It is also my understanding that this improvement is only found in the manual trans equipped cars.

This car is equipped with a Milltek stainless 'cat-back' exhaust system. These cars make great V8 music when stock, but with this exhaust there's just a little more music. According to independent testing, this system also provides approximately 15-18hp gain over the stock exhaust. To hear it… check YouTube for B7 S4 with Milltek non-res catback exhaust. The original exhaust is also available.

My sale price includes a set of four Dunlop Snow tires mounted on black 5-spoke alloy wheels. When installed, the car exhibits great control in snow and can even accelerate up a hill in snow with no effort. With that said, I drive this car as little as possible in snow/salt conditions in the interest of 'protecting' the car. Since I take a train to work, and because my wife drives leased cars (that I don't care about), I have been able to pull this off for many years.

Serpentine drive belt replaced at 65K miles. Michelin Pilot Super Sport tires are less than 3K miles old. All eight ignition coil packs were replaced under a service bulletin at approx 50K miles. Steering outer tie rod links replaced (one boot was torn). Properly maintained with only full synthetic motor oil, and coolant/brake fluid flushes.

In person, the car looks as good as the pictures and reflects the care I have given it. However, if you are interested in a very detailed cosmetic 'inspection', here are my findings (each are pictured): 1. A very small dimple (barely can be called a dent and difficult to photograph) behind the LR door and above the wheel opening. 2. Lower on that panel, there are a couple of medium/small rock chips to the paint at the wheel opening. These have been properly covered with touch-up. 3. A patch of touch up paint on the front bumper cover (to the right of grille) was required because a chip led to some minor paint peeling and I laid on plenty of touch up to stop it. It can certainly be improved upon with care, but since its not a metal surface I never gave it my full attention. 4. On the hood, center towards the driver's side, there is a moderate sized paint chip. There is no associated dent and its approx 3/16″ at widest. This has also been properly addressed with touch up, but can easily be improved upon with small effort. 5. On the roof, and about 2 1/2″ back from the windshield moulding, there is a shallow dent that is approx. 3/8″ inch across. This is the result of a tree branch falling on the car while I was driving in stormy weather. It is a single mark and there are no surrounding scratches, etc. Of all the items mentioned, this is only one that might be noticed without 'inspecting' the car. There are NO other exterior cosmetic issues worth mentioning IMO. Wheels are in amazing condition – though I've used touch up paint on them as needed. On the interior, the only thing I can point out is that the center section of the rear seating area has impressions in the leather from leaving the seatback folded down for an extended time. I do not see any other interior flaws besides what would be consistent with a very well taken care of car that does get used. Leather gets annual Lexol treatment.

Feel free to ask questions. I believe I have a very reasonable listing reserve in place.

On Nov-06-14 at 03:21:28 PST, seller added the following information:

MILEAGE NOTE: Primarily due to test drives and a couple trips to the car wash (brushless!), the car is currently is at 72,485 miles. I cant precisely predict were it will be at auction close, so to be safe lets say 72,550 (100 more than stated in my listing). AJ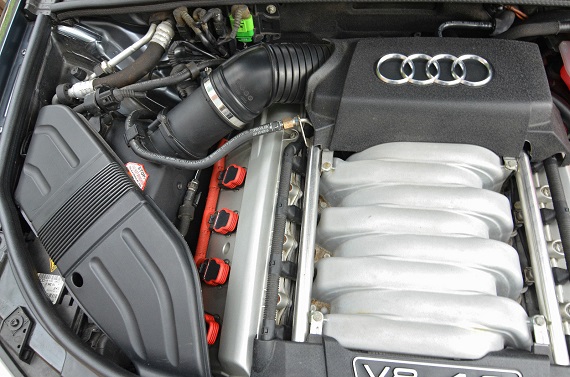 This seller has gone through great lengths to document the few drawbacks; this is a well cared for and desireable package. While it's not a new car, this is the last of the U.S. S4 Avants and arguably the best. The motor has its notorious drawbacks – but hearing these cars on full song through the Milltek exhaust is enough to give you goosebumps. The seller is also correct that the B7 S4 manuals received the updated quattro drivetrain which did a better job pushing more power to the back wheels – not as good as the 25th Anniversary/DTM/RS4 setup, but close. As a lower mile, well cared for Avant that checks all the right boxes, the price won't be low – bidding is already over $20,000 and is likely to continue heading up. That may sound like a lot for what many consider to be a complicated and failure prone car, but it speaks volumes to the appeal of the V8, 6-speed S4 and the incredible package that is the B7 S4 Avant – as well as the pristine condition of this example.
-Carter