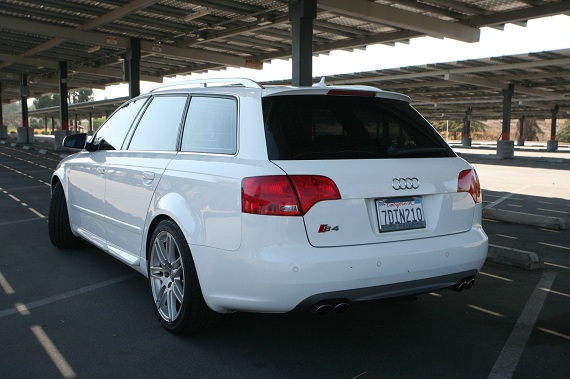 At the risk of sounding a bit like a grumpy old man, I really miss the days of Audi yore. Audi did things differently for such a long time that it's a bit disappointing to see more designs that mimic their contemporaries. I realize part of that has resulted from a realization that the market dictates what is popular, and Audi's huge sales successes in recent years are no doubt the product of producing more mainstream vehicles that sell. But the result of that is that Audi has stepped away from part of what made them such a fan favorite; starting in 1986, Audi began offering fast wagons. At the time, that was unique to the market – BMW didn't even offer a wagon stateside until the E34 Touring, and most of the Mercedes-Benz models didn't really fit in with the fast motorsport enthusiast crowd. Audi furthered its reputation in the early 1990s, expanding the fast wagon lineup from just the large wagons with the introduction of the 20V Turbo version of the B4, the S2 and later RS2. Refining the 200 20V into the S4 Avant in C4 form, Audi broadened the engine range to V8 and turbo 5 offerings – continued in the C4 S6 Avant. There was a brief lull in sport between the death of the C4 and the introduction of the B5 S4, but Audi rebounded in style; the B5 A4 was a popular sporty small wagon and the S4 Avant turned that package up a notch. Then Audi simulatenously offered 4 versions of the C5 platform wagon; regular A6, A6 Allroad (with both twin-turbo and V8 options), S6 and RS6 Avant. The RS package revisited the small wagon in the RS4, and suddenly Audi had no less than 8 different sporting versions of wagons in the early 2000s – the height of their power, they were the undeniable fast wagon kings. While we didn't get all of those cars, we still got a respectably large amount of fast 5-doors; but slowly, over time, Audi killed off its offerings one by one. First to go was the S6 Avant – slow on sales and not as much of a favorite as the C4 had been, that made sense – the similar sized B6 S4 4.2 Avant was, after all, available with a 6-speed and it was silly to offer both. So we soldiered on with a new C6 platform, and I was glad to see the Avant continue on. The C6 was larger and sleeker and certainly a looker; but no S6 Avant made it to the U.S. any more. Audi also killed off the Allroad soon after; a huge sales success, it nevertheless decided to pursue the SUV market instead of bringing the larger C6 Allroad over here. But we still had three different engine choices in the B6 and B7 platform Avants, right? Well, then Audi started killing them off – with the end of the B7, the S4 Avant was pulled from these shores, along with the larger engine A4 Avant. That left us with only the 2.0T A4 and 3.0T A6 Avants – Audi added the A4 Allroad recently, but in exchange we lost both of the last normal Avant holdouts, too. Drive down to your local Audi dealer, and you can no longer buy a normal wagon. They've got 15 different "SUV" options, but wagon fans are limited just to the 2.0T automatic Allroad. It's a shame.
So, for the swan song to Wagon Week, I've selected not the best year or best models for our sendoff – but it's the last stand of when we were offered three sporting options; 2009 would see that number down to two and then one shortly thereafter. Don't shed a tear, but remember the good times: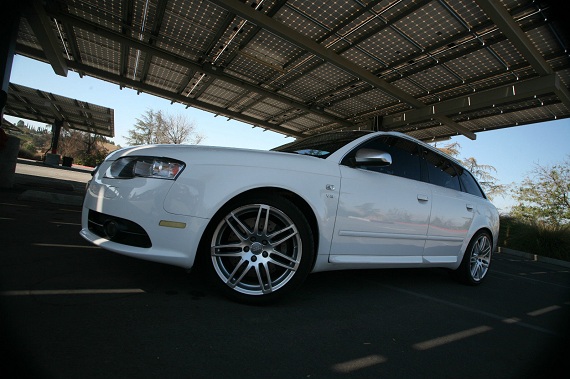 Year: 2008
Model: S4 Avant
Engine: 4.2 liter V8
Transmission: 6-speed automatic
Mileage: 57,699 mi
Price: $29,000 Buy It Now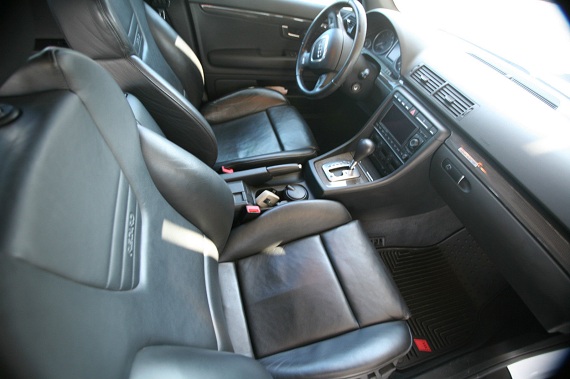 Moving is forcing my toy sale.

Adult owned and driven 2008 Audi S4 Avant.
White
Back Silk Nappa Leather Interior
4.2L 340hp DOHC Aluminum Alloy V8 Engine
6 Speed Automatic Tiptronic Transmission with DSP
Audi Rear Parking System
Carbon Fiber Beltline Trim
Audi Navigation System
Convinence Package
– 18inch Double Spoke Rims
– Summer Performance Tire
– Bose Premium Sound with Auto pilot
– Homelink
– Auto Dimming Interior Mirror WIth Compass
– Auto Dimming Exterior Mirrors
– Memory for Driver Side Seat Adjustment
– Memory For Outside Mirrors
– Rain and Light Sensor
– Adaptive Front Lighting

Slotted and Vented rotors in great condition
Neuspeed 25mm Rear Sway Bar
Hubcentric Spacer set
Tires have less than 5k on them and in great condition

All books and window stickers

Please refer to pictures for dings and scratches on the car

Car is sold AS IS and without warranty
Please ask all questions before bidding.

Feel free to contact me to see the car in person.

Please arrange for shipping.

Car is also listed locally for sale. I will hold the right to sell the car without notice.

$500 non-refundable deposit is due within 24 hours of a successful bid to hold the car.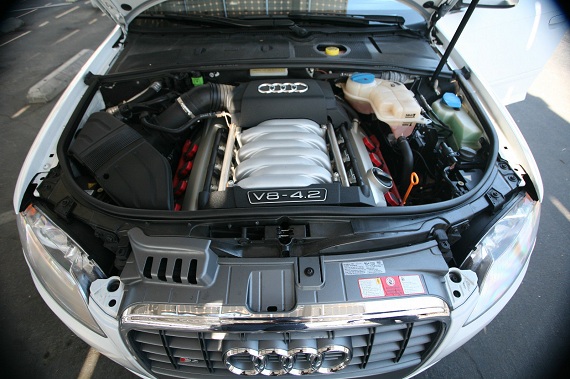 On paper, the B7 S4 is a great fast wagon. It's relatively compact but spacious inside with great seats. The engine sounds incredible and propels the S4 at sport-car pace no matter what the conditions are. Outside it's both understated and aggressive – a perfect combination. I even like this shade of white, a rarity amongst the more recent S cars. But then, as the with downfall of Audi, there are drawbacks – the tiptronic isn't a great match for the character of either the car or the engine. It's a shame that the DCT didn't make an appearance here, as it would have at least been sporty to match the car. Then there's the not-stellar reputation of the V8 – placement of the large engine in the small A4 necessitated the move of the timing belt in front to a chain in the back of the motor. Great, no timing belt change, right? Well, not really – they're noted for wear to the guides and replacement necessitates dropping the motor. This model, the last of the B7, is probably a few years from that occurring, but you're paying a serious premium for that option too – B6 versions of nearly the same car can be had with not many more miles for about half the price. Like the rest of the market, I'll pass by this one this time.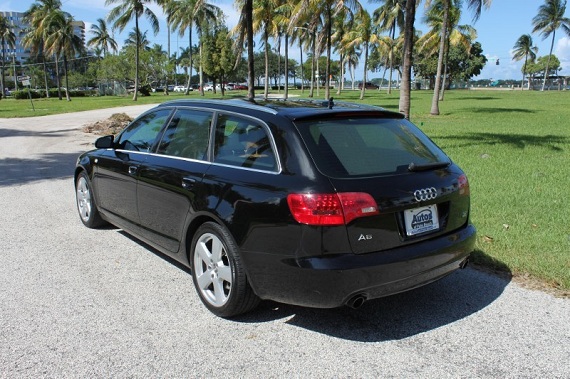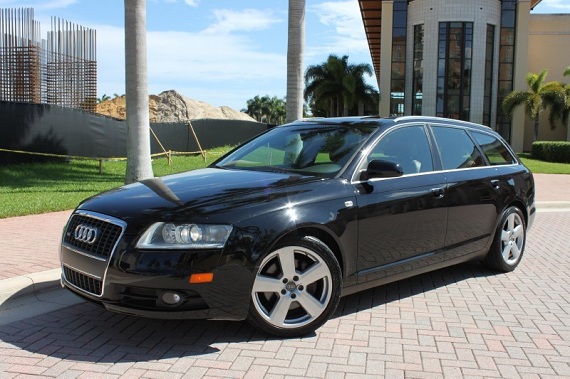 Year: 2008
Model: A6 3.2 quattro Avant
Engine: 3.2 liter V6
Transmission: 6-speed automatic
Mileage: 82,370 mi
Price: $19,490 Buy It Now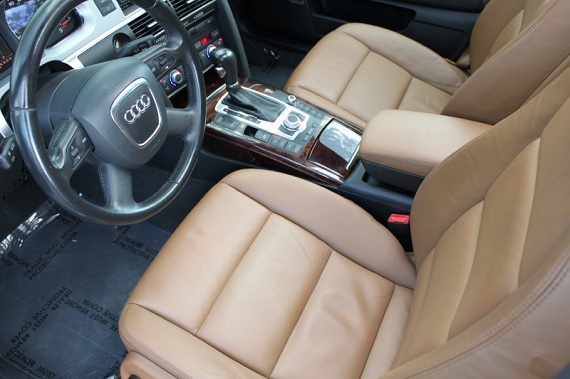 2008 Audi A6 Avant 3.2 Wagon

A great price, shopping convenience, and a beautiful ride. That is what is in it for you. We have been happily involved with thousands of clients on eBay, and we have a proven track record of satisfied customers. We are a small company and enjoy working one-on-one with people for an excellent car buying experience. With our experience and high standard of customer service we can offer something most other dealers on eBay can't: over 830 positive customer reviews! Here is what two of our customers recently said about working with us:

"Thank you and your staff for the excellent service and for going the extra mile…Your Customer Service is A1. You deserve the highest recommendation possible. The car is amazing…just like you said and is a great deal! Thank you again for all your hard work, perseverance and care." – James, FL

"Honest and fair they made the online buying experience easy. When I wasn't sure about how to proceed, they guided me as to what comes next and how: inspection, payment, delivery etc. I am very pleased with the car…it was a fantastic deal in great condition." – Rick, South Elgin, IL

561-249-1433 – Call 7 Days a Week.
Some cars get the "wow" reaction. Others get a "whoa." But few cars elicit as powerful a reaction as the Audi A6. This outstanding Brilliant Black 2008 Audi A6 Avant 3.2 Quattro Wagon with navigation, technology package, heated leather seats, BOSE stereo, S-Line package, Audi music interface, and bi-Xenon headlights is simply stunning. Modeled after its more mature and larger sibling, the A8, this A6 3.2 is certainly a true representation of the type of class and quality that Audi offers. With features that Audi offers such as Bluetooth capability and BOSE premium sound system, this automobile is the embodiment of a high performance luxury automobile.

EXTERIOR: The car is coated in a rich coat of BRILLIANT BLACK paint. This lush paint is extremely complementary. It does an excellent job of adding distinct refinement to this high end automobile. Take a look at the S-line styling. They give the car a unique and sporty appeal. At the pulsing core of its remarkable design you will find a V6 3.2 liter engine that really packs a punch. The beaming eyes of the car are fitted with Bi-Xenon headlights. What could top that? Good fuel economy for such a powerful car: 19 City and 27 Highway! What a lovely wagon.

INTERIOR: Complimenting the superb wood inlays the driver and passenger accommodations offer the comfort of ergonomically formed seats in AMARETTO leather. The front seats are also heated for those cold days of the year. The leather carries over to the center of your control, the steering wheel. This wheel is outfitted with four spoke multi-function controls for the driver information center, stereo, and cruise control. Getting from place to place has never been easier than it is now with Audi's Multi-Media Interface with high resolution 7″ color screen. This unit has displays for the great navigation system, climate, audio, cell phone, and plenty more. The premium sound system will have your ears happy and satisfied with its in-dash AM/FM stereo, SIRIUS satellite radio, and 6-disc CD changer. The rear shades also help keep the car cooler. Rear parking sensors will ensure that you don't bump into anything as you park! What great features. The car comes with mats and one key with built-in remote.

We invite you to enjoy perusing the several photos herein listed as well as your consideration of the history report to get to know your new Audi better. Please keep in mind that while all of our cars are in great condition, they are used and will show some minor signs of wear. You are invited to consider what a great savings you will have in this purchase. So, behold the beauty, and remember Audi's motto that enough is never enough! Prepare for your own intensely great reaction to your new 2008 Audi A6 Avant 3.2 Quattro Wagon!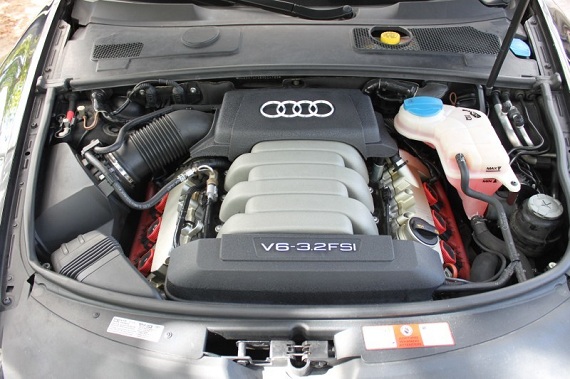 To me, the C6 A6 was a serious improvement in looks over the C5. It managed to look elegant and expensive in a way that the C5 didn't manage to particularly well. Engines were upgraded to the 3.2 FSi V6 motor; more than enough grunt to have fun with, this motor appeared in nearly all Audi products of this age. But stepping inside the C6 is the real treat – a major upgrade in the fit and finish of the interior along with new color combinations not only revolutionized the A6's placement in the market, but forced the hand of the competition as well. It's gorgeous inside, and this Amaretto interior looks great. This car has the S-Line package which included mostly better looking wheels so it looks sharp outside too. But there are drawbacks to the C6 as well – the FSi motors are noted for carbon buildup; a lengthy and expensive repair if you pay someone else. At nearly $20,000 with 80,000 miles, I'm afraid I'll pass on this one too – even if it does look great.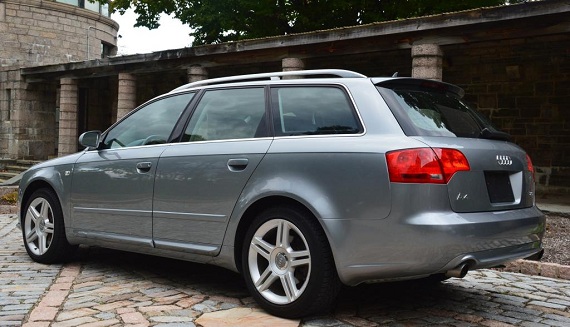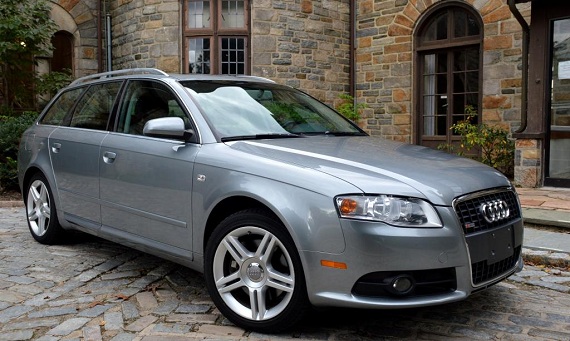 Year: 2008
Model: A4 Avant
Engine: 2.0 liter turbocharged inline-4
Transmission: 6-speed automatic
Mileage: 103,924 mi
Price: No Reserve Auction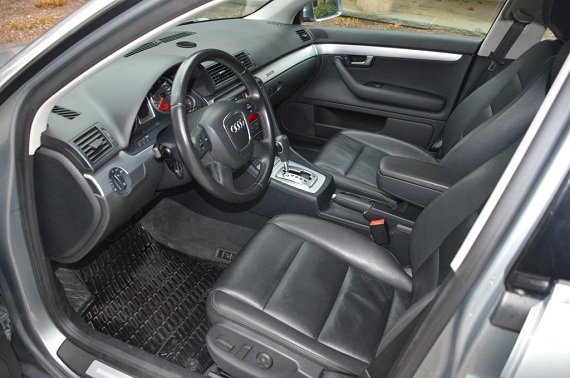 Imports Auto Direct
4320 Torresdale Ave
Philadelphia, PA 19124
Call or Text: 215-554-9142
Fax: 215-288-4999
email: imports.auto.direct@gmail.com
_________________________________________________
Need Financing???
Financing available as low as 2.99%, pre-approval required before placing bids!!!
For financing and details call Dimitri Trascila at 215-554-9142!!!
No Reserve Auction, bid to win!!!
__________________________________

Very nice, S-line, Loaded up Audi A4 Quattro Avant/Wagon. Clean title in hand, accidents free, 100% ready to go!

Vehicle Description: Up for bid is a 2008 Audi A4 Quattro/ all-wheel-drive Wagon. This Sport Wagon runs and drives excellent, it is powered by our favorite, high performance and low fuel consumption, 2.0 Turbocharged FSI powerplant and 6-speed automatic transmission. This luxury wagon has no mechanical problems, motor runs strong and has no leaks. Automatic transmission shifts gears smoothly. Interior is clean and smoke free. Interior panels are clean, have no scratches and no damage. Leather seats have no damage. Body and paint are in great condition, vehicle has no major scratches, dents or dings. Vehicle has clean CarFax vehicle history report, bid with confidence, condition guaranteed!!!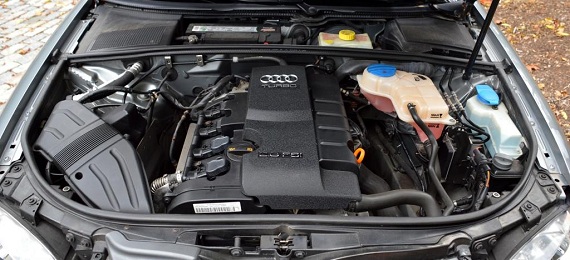 Probably the best choice if you're looking for a more recent quick Audi Avant is the 2.0 turbocharged S-Line model. This one looks nice but typically conservative in one of the many grey/black color combinations offered by Audi. The B7 is a great looking wagon here too – most of the looks of the S4 without the bills of the V8. Especially if you opt to chip and upgrade the engine, they're easily capable of S4-like power, too. But as with the others, there are some drawbacks to this one. First, it's a tiptronic – again, it really dulls the sport of the 2.0T package. It's also got 100,000 miles on the clock – nearly double that of the S4. That'll keep the price down, but honestly were I looking for one of these I'd be much more compelled to hold out for a 6-Speed Titanium Package car with the even more awesome 18″ wheels and, of course, manual gearbox. So, this one doesn't get my vote, either.
It turns out that Audi shut down the market segment it effectively created – ironically, at a time when we saw two of the fastest wagons ever produced available stateside in the CTS-V and E63 AMG. Of course, head to Europe and you can still get the fast Audi wagons – and if you're willing to compromise on space, the A7 represents probably the prettiest Audi design since the D2 and original Quattro. But it's not really a wagon – a reminder of what Audi has lost.
-Carter