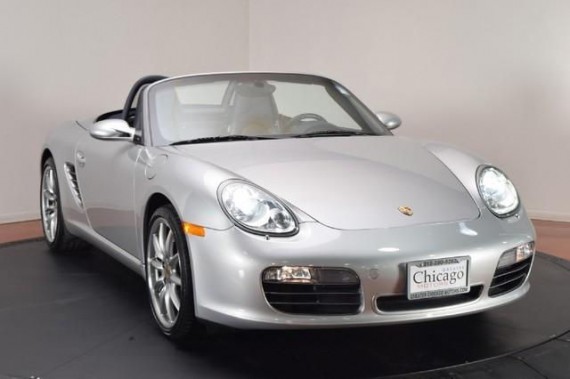 I'm not sure if there is a more under appreciated and oft maligned sports car than the Porsche Boxster. I was quite fond of the original generation, even had a 1:18 scale Maisto model of the original concept version that would become the 986. I think what drew me to the car was the obvious design nod to the Porsche 550 Spyder, which is art on wheels as far as I'm concerned. The majority of people would say the Boxster is just the opposite. They still look at it as the poor man's Porsche or the divorcee mobile or the car you get bait & switched into by a shady dealership when by some divine miracle, you make a hole in one at the tournament with a WIN A PORSCHE gimmick. Look it up, that kind of thing has totally happened.
I actually think that's a good thing because it leaves plenty of these cars out there for those of us who know better than to be swayed by public opinion. The Boxster isn't without its faults but that can be said of all Porsches right up to the very tip top models that like to catch on fire just for the hell of it. The Boxster is a great choice of vehicle for anyone who just loves to drive.  First one I got to pilot was a 2013 base model with the excellent 6spd manual transmission, top down on the freeway in the middle of December on a cloudy day in Los Angeles. I remember everything about that experience vividly and I think that's a true testament to just how good of a machine these are.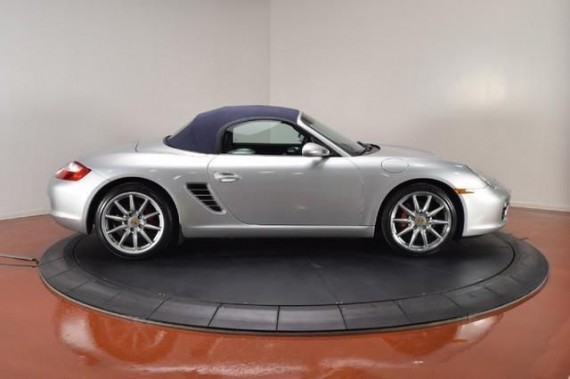 Year: 2008
Model: Porsche Boxster S
Engine: 3.4 liter H6
Transmission: 6-speed manual
Mileage: 34,501 mi
Price: $29,995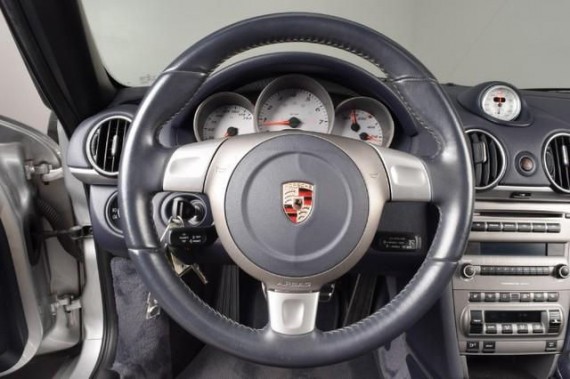 2008 PORSCHE BOXTER S GT Silver Metallic Exterior Over Sea Blue Interior VEHICLE OPTIONS: Power Seat Package ( $1,550.00 ) Memory Driver Seat Power Front Seats Adjustable Front Lumbar Seats Sport Chrono Package ($960) Xenon Headlights Porsche Colored Wheel Caps Navy Blue Top VEHICLE HIGHLIGHTS: 3.4L 6 Cylinder Engine (6 Speed Manual) 295 Horsepower 251 FT/LBS Torque Heated Front Seats Bose Premium Sound System VEHICLE HISTORY: Traded in All Services up to date Excellent Tires Ready for the road *CarFax Certified* 100% Non Smoker 100% Adult Driven Top in Excelelnt Conditon No Ding, Dents or Curb rash INCLUDES: Porsche Floor Mats *2 Remote Master Key* *Owners Manual* Our facility is a state of the art ONE STOP SHOP, located in the heart of Down Town Chicago. Featuring one of the largest showrooms and service department. We pride ourselves in knowing that all our cars are carefully selected in order to present our customers with the greatest value and worry free shopping experience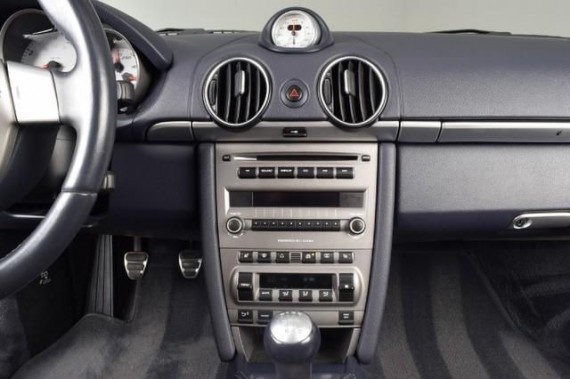 Now this example isn't as aggressive looking as the current line and it's not as powerful either but that shouldn't turn anyone off to it. This car just begs to be enjoyed, it's just so classy without trying, wonderfully simple is a good way to describe it. Classic Porsche GT Silver exterior, Sea Blue top and interior and the exceptional 18 inch 10 spoke wheels that should have a cool name but don't. I love the way the white faced gauges pop next to the blue, especially the sport-chrono clock at the top of the dash. The steering wheel is the smaller diameter sport wheel that is far better than the standard one, so much so that I wouldn't even consider a car with the latter.
This being the S trim level you have 6 gears to row through, 295hp and 251 lb/ft of torque to play with and you get to enjoy doing both with a breeze blowing through your hair or across your scalp depending on your age and/or genetics. If the howl of the exhaust isn't enough to satisfy your auditory needs this example is equipped with the 325 watt BOSE surround sound system, though you'll have to add Bluetooth integration if you want it. After all, this car is from the B.S.P. (Before Smart Phone) period but I say screw it, stash the phone in the glove box and just enjoy the drive. Whether running along the coast or around an auto-X course, the Boxster S will not disappoint. However if you want to do the latter, maybe consider an older model that's a little more beat up. You really don't need to look this good when racing around a parking lot and with just over 34k on the clock I think this example deserves many more years of spirited driving on public roads before being hooned. That's just my opinion though, free country, thrash 'em if you wish I suppose!
-Andrew