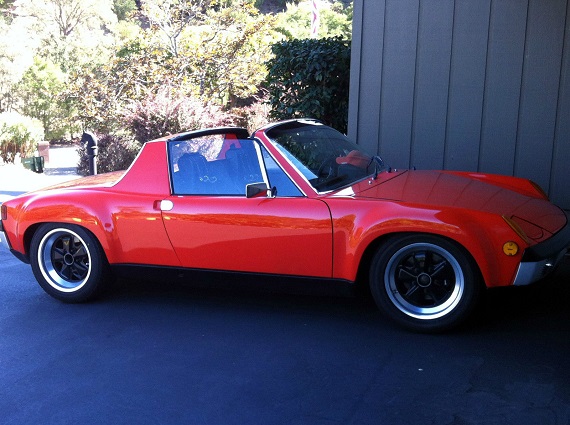 Serving for many years as the entry-level Porsche, the 914 remains a somewhat under-appreciated machine. It never possessed the iconic stature of the 911 and, unlike its entry-level predecessor the 912, it stood somewhat outside the fold within the Porsche catalog. Somewhat at odds with its entry-level nature, Porsche produced the 914-6, which replaced the standard 4-cylinder of the 914 with an air-cooled 2.0 liter flat-six and aligned the 914 more closely with the 911. For racing, Porsche then took the 914-6 to its logical conclusion to produce the 914-6 GT. The 914 itself was always a car lithe in body and light in character. There seemed almost no wasted space and everything was kept only as complex as was necessary. The 914-6 GT added muscle to that package through both a more powerful engine and also a filling out of that minimalist body. The GT still possessed that feeling of lightness endemic to all 914s, but those widened filled out fenders now made clear its very serious pretensions. The car we see here makes an attempt at reproducing the look and spirit of the GT. Here we have a Tangerine over Black 1970 Porsche 914-6, located in California, which utilizes a 911 sourced 3.2 liter flat-six along with the requisite structural and suspension upgrades to help deliver its additional power effectively. As with any car that has seen an engine swap and long list of other modifications the devil is in the details. In many builds the execution can be lacking. The work here, however, appears to have been done quite well and the overall package is absolutely intriguing.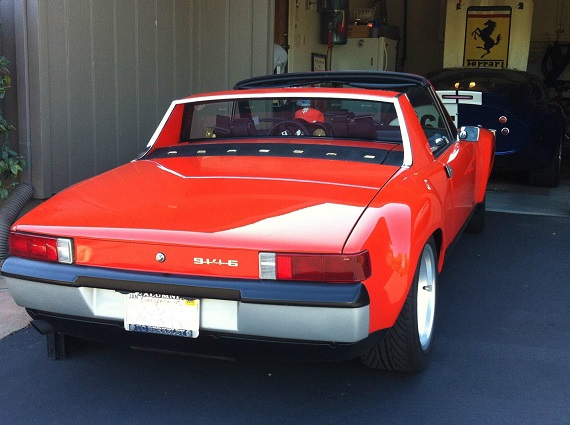 Year: 1970
Model: 914-6 GT
Engine: 3.2 liter flat-6
Transmission: 5-speed manual
Mileage: 32,000 mi
Price: $95,000 Buy It Now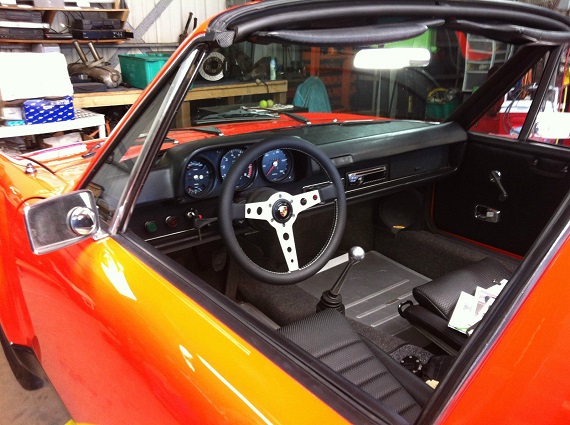 This is a genuine 1970 914-6 Porsche built in the Porsche factory on May of 1970.

Color is Tangerine or Blut Orange with Black basket weave interior.

It has been professionally restored then built up to GT Factory specifications with a Carrera 3.2 closed loop fuel injected engine producing 245 HP with 20/21 Cam that make it feel like a V8, see image. Mated to a freshly rebuilt (documented) Porsche five speed Limited Slip transaxle, with Rennshift close ratio quick shifting and a ton of Patrick Motorsports parts.Carrera suspension / brakes and steel under body reinforcements to increase the structural integrity to take the extreme hp and side loads. This includes steel 914-6 GT fender flares that accommodate the larger 16 X 9 Turbo 930 and 16 X 8 964 Fuchs wheels. Bilstein coil over shocks with 245 lb rear springs, 23mm front torsion bars, adjustable Weltmeister front sway bar, 23mm MBZ Master brake cylinder with Metal braided lines all around to stop this 2200 lb 914-6 GT beauty. A new up to date fuse box. Handmade Stainless Steel headers with Stainless Steel heater exchange. NEW Stock seats, Competitive UK Willians 6 point 3 inch cam lock Racing Harness, Rennline, Momo, Alpine with Boston Speakers, newly refreshed gauges by Palo Alto Speedo, it goes on and on…..

This is not a cheaply thrown together 914. But a professionally built up 914-6 GT that has over $100k into it to make it what it is today. It accelerates, brakes, handles, performs and sounds like a real Porsche 914-6 GT. If you are not familiar with what a 914-6 GT is then search 914-6 GT under IMAGES category to see what they are and how they should look.

Mileage shown is 32k but true mileage may be different. Engine mileage is 50k. This car comes with a clear California title and two binder and four inches of receipts and documentation. Certificate Of Authenticity certificate from Porsche.

This is my car and I am a private enthusiast.

Priced fairly at $95,000. I am open to creative trades but be mindful that if you want to pursue a TRADE option then this car should be priced at or well above $149k.

If you are interested and capable of buying this car and have a question just respond via email or call 415-501-0595 which goes through Google Phone then switches to my cell # for security. If I do not pick up leave your name, number and best time to call you back .

Please do not contact me in any way about assisting in selling, auctioning, listing or marketing of this vehicle.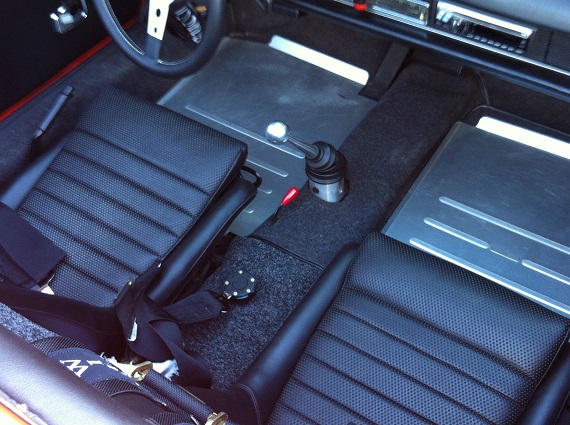 Beautiful car, I love the tangerine and black contrast, and it looks well put together. I can imagine this would make for one serious driver or, were someone so inclined, a heck of a track car. But man is this a lot of money! Like most builds of this nature even this high asking price likely sits below, perhaps well below, the cost of replicating one for yourself. But at $95K we are well into 930 territory and as long as you stay away from the '89 you'd even have a good chunk of change to spare. There is a uniqueness to this car that has its own value, to which it is extremely difficult to attach a dollar figure, and we can appreciate that this wasn't a half-hearted job. Every aspect of the car has seen attention from the body to the engine, suspension, braking, and interior. It isn't an original 914-6 GT, but it appears to play the part fairly well.
-Rob