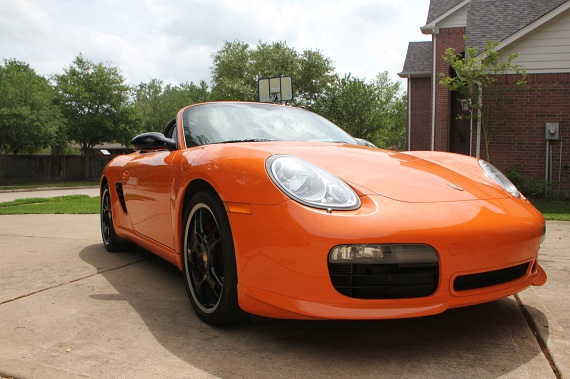 Orange! I share this seller's exuberance over the color of this 2008 Porsche Boxster S, located in Texas. This is one of the 500 (half of which were the standard Boxster and half the Boxster S) limited edition Boxsters produced in 2008 whose primary attribute was this not-so-subtle Orange exterior. The appearance of these limited edition Boxsters drew its cues from one of my 911 favorites: the Orange over Black 997 GT3 RS. Unfortunately, unlike the GT3 RS this Boxster is not a lightened and more powerful racing version of the standard car. Underneath that paint sits the same 3.4 liter flat-6 found in the regular Boxster S all mated to, in this case, a 6-speed manual transmission. There are a number of details here and there to separate these editions from the rest of the Boxster lineup, including a sportier exhaust, but really it is the Orange paint that is tasked with carrying much of the weight here. And, frankly, that's ok with me. The 2008 Boxster S is already a pretty fine performing car combining superb balance and a nimble chassis with enough power to propel you along at speeds that quickly become very illegal. We're quickly approaching two decades since Porsche introduced these roadsters as their new entry-level model and given where things started these cars have definitely come a long way.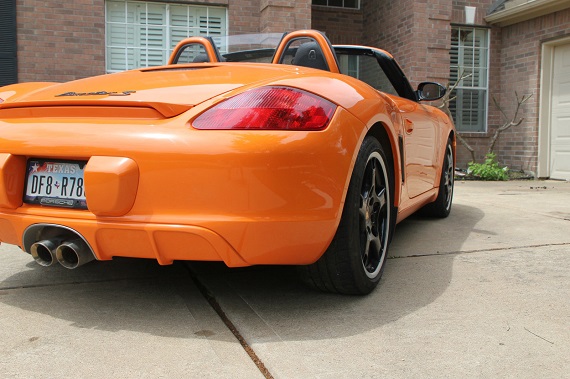 Year: 2008
Model: Boxster S
Engine: 3.4 liter flat-6
Transmission: 6-speed manual
Mileage: 39,300 mi
Price: Reserve Auction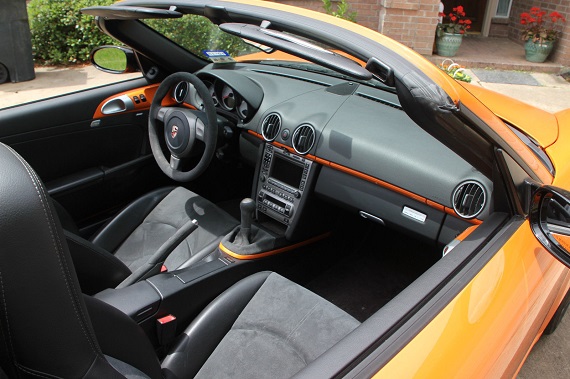 Orange!
310 HP
Magnificent Porsche Boxster S
Limited Edition
No. 035 / 250
Only 39,300 Miles
Everything in Perfect Working Order
Only problems are the two radio buttons are sticky
(All Porsches from this era have this problem)
$100 fix at Porsche Dealership
Also, the car needs new tires
There are two other Orange Boxsters on eBay:
1st one has 17,801 miles and lists for $43,900
2nd one has 46,633 miles and lists for $36,200
The reserve is significantly less than $36,200.
Bid With confidence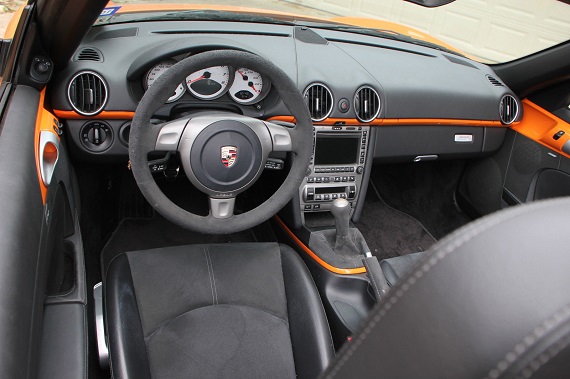 I am a roadster guy and as such I am very strongly of the mind that convertibles should only have two seats. That basic roadster formula has been thrilling enthusiasts for decades and I still recall my excitement when Porsche announced they would be joining the fray. In that regard, the Boxster has always held stronger appeal to me than a 911 Cabriolet. As to the particulars of this Boxster S: there isn't really a ton to say. It isn't very old and the condition is still reflective of that relative youth as both the inside and out present well, as we would expect. (If you'll pardon the brief digression: I always find it annoying when a seller mentions a minor fault that the dealer can fix pretty cheaply. Why not just fix it prior to putting the car up for sale? Even when it's a somewhat meaningless fault as we have here with the radio buttons it is still a detail that should be addressed if you are going to bother making mention of it in the ad.) The audience for one of these obviously is fairly limited as we're a long way from these having collector appeal, but if you once coveted one of these Orange Boxsters when they were released, then you now have the opportunity of getting your hands on one for half the original cost. That's never a bad thing!
-Rob