Starting in 2004, VW has started the every four year tradition of releasing an R version of the Golf. Starting with the 2004 R32, these cars were an instant hit with VW enthusiasts, and performance enthusiasts alike. With a 240bhp narrow angle V6 (VR6) 6-speed manual gearbox, and Haldex AWD these cars are capable on the road, and at track days. While the first generation was a hit, the second generation R32 was met with much hesitation among enthusiasts. Based on the MK5 platform, the 2008 R32 offered the same VR6 torque monster, however the 6-speed manual was replaced with VWs DSG dual clutch gearbox. While the DSG was a technological masterpiece, with launch control, and split second shifts,  it still left manual lovers shaking their heads in disgust.
As polarizing as the DSG gearbox is, the R32 still possessed all of the elements for success. With the 3.2-liter, 250-horsepower V-6 engine, six-speed double clutch transmission, Haldex 4 AWD system, electromechanical steering the MK5 R32 did its MK4 predecessor proud.
This Tornado Red on Black 2008 R32 for sale at VW of Oakland is sure to be a cop magnet for whoever buys it.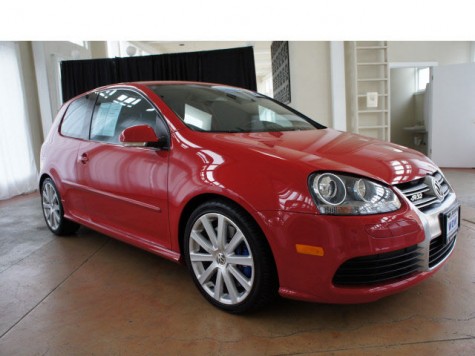 This is a car that I'm on the fence about.  I have driven the DSG, and it is a great transmission for flogging the R32, but it tends to be quirky around town in everyday situations.  no matter how great it is on paper, I still missed the visceral feeling of ripping through the gears.  All that aside, this 10K mile car is one of the cleaner R32s I've seen for sale.  At around 2500 miles annually, this car has seen an easy life.  The asking price of $26,991 (cars.com has an older price advertised) is right where it should be for a car this clean, making it a great deal no matter what your position is on the DSG gearbox.
-Brian