As much as the SUV trend has taken off, there has been a spate of performance estates that have made their appearance over the last decade. Most recently, the Cadillac CTS-V Wagon has made a splash by offering a supercharged V8 and 6 speed manual in a marked departure from the traditional Cadillac lineup. BMW and Audi have offered up a few hot estates for US consumption and Mercedes-Benz, not to be left out, unleashed the E55 on us in 2005, a supercharged V8 beast that made going to the market just a bit more fun. These E55 estates are now at an age where they are becoming attractive second hand buys, and this special ordered example is quite possibly the most off the wall one I've come across.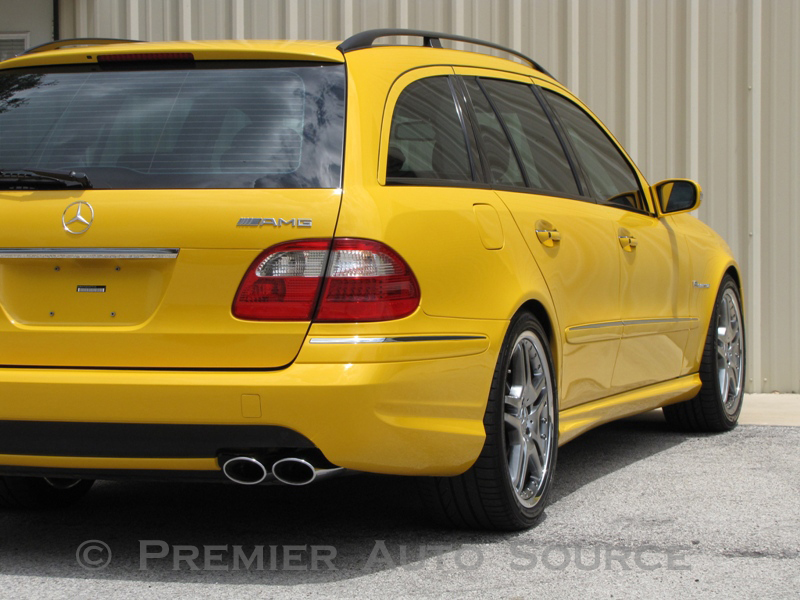 2006 Mercedes Benz E55 AMG Estate Wagon. One of one factory ordered 685 Sunburst Yellow with prominence. OEM AMG 19″ 3 piece CL65 wheels (includes OEM original wheels with Conti Pro Contact Tires). Navigation, Keyless Go, Bi-Xenon Headlamps with headlamp washers, voice activated control system, heated and cooled dynamic seats with massage, Designo Charcoal Leather with factory ordered yellow stitching, Designo Burl Walnut interior trim, Alcantara suede headliner, power lift gate, Harmon Kardon Sound with 6 Disc CD changer.

Being offered is this factory ordered Sunburst Yellow Estate Wagon that was special ordered by a very prominent racing enthusiast for a very high end client. This information will be provided to the new owner. It is currently owned by Master Certified MB Service Advisor. Rare, Rare, Rare! This is your chance to own the only Sunburst Yellow E55 Wagon known to exist. This has been verified by Mercedes Benz North America. If you are a person who likes to own something special and stand out in a crowd than this one is definitely for you! This car branches across all genres. It's fast, exotic, practical and exclusive! Nano tint recently installed at the Mercedes Benz Dealer. This car looks amazing at any angle.

Clean Carfax and Clean AutoCheck, both vehicle history reports show two Florida owners and no issues or incidents reported. You'll never have a problem finding this car in a parking lot! Notice how clean the exhaust pipes are, this car has been meticulously maintained and detailed regularly. Bi Xenon Headlamps with washers. OEM Factory AMG 19″ CL65 Wheels with Bridgestone Run Flat Tires Also included in the sale, but not pictured, are the set of OEM factory AMG Wheels and tires that originally came on the car. Hand built AMG engine in Germany. 469HP, 516 ft lbs of torque, your ice cream won't melt on the way home from the grocery store!

Leather wrapped steering wheel in excellent condition with shift paddles. Page buttons, audio controls and phone buttons at your fingertips, along with the Voice Control Stalk and Cruise Control Stalk. Tilt and telescopic steering column. Dual Zone Climate Control. Navigation, Heated and Cooled Seat Controls, Rear Wiper Controls, and door lock controls. Factory Harmon Kardon Sound with 6 Disc in-dash CD Changer. esigno Walnut Burl Trim. No stress cracks in any of the wood trim. Keyless Go, Optional Factory MHI Bluetooth module for integrated phone system. Moonlighting in overhead control panel, sunroof, rear climate controls, rear sunshade, memory seat with three programmable positions, power mirror controls, and power lift gate button on the driver side door panel. Alcantara Suede Headliner.

Interior is in excellent condition, well above average, no excessive wear. Designo Charcoal leather special ordered with yellow stitching to match the exterior paint. It is a non-smoker car with no offensive odors. Driver and Passenger Side Dynamic Seats with massage feature. Rear Cargo area with privacy cover and cargo net. Power lift gate. Every service record from pre-delivery inspection up to the most recent service will be provided to the new owner. As well as the window sticker, three keys, owner's manual and Carfax report. VIN sticker denotes the factory C685 Sunburst Yellow paint code. In closing, this vehicle has been meticulously maintained. All service is currently up to date including brake fluid flush, engine air filter replacement, transmission service, new spark plugs, etc…this vehicle needs nothing and everything works as it should.
This is a love it or hate it kind of car. Sure, it's rare, but yellow? I'd rather see this hue on an SLK than a wagon, even if it is fast. Part of the allure for me in owning an estate is stealth. And you sure aren't going to go unnoticed in this machine. With 60,000 miles, we're about $10,000 to $15,000 over what a normal E55 would run. I'm not sure a one of one color constitutes that kind of premium in this case.
-Paul