How do you improve on the car that has been the benchmark for hot hatches? Add 50bhp, AWD with a haldex differential, a sporty interior, and aggressive styling. In short, the R32. The past three generations of the VW golf have been disappointing to say the least, straying from the original hot hatch, each generation has gotten larger, less nimble, and ultimately less capable.
With the 5th generation Golf, VW tried to go back to the roots of the nimble hatchback that enthusiasts fell in love with back in 1983. The MK5 R32 features the 3.2L narrow angle V6, with an exhaust note that dreams are made of. While many disagree with the choice to offer the DSG transmission only, it is probably one of the best transmissions in the segment. All in all the MK5 R32 is a huge step in VWs redemption, and certainly a step in the right direction for the Golf.
In "pull me over" Red over black leather, this R32 for sale in Seatac, Washington is a great alternative to a new GTI.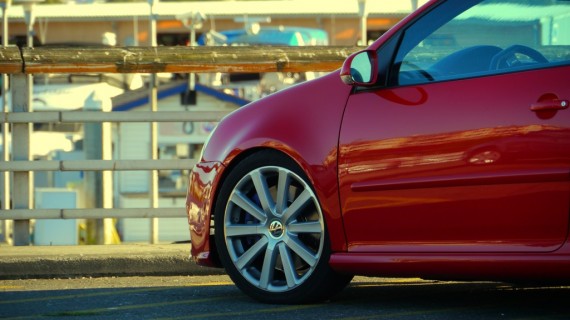 I am selling my beloved limited .:R32 because there is only 5000 made! As you can see it is heavily modified with 3.2L 24-valve 3189CC 195Cu Engine Naturally Aspirates. R32 is more a fast, comfortable GT than a rip-roaring, apex-attacking super compact.
Yes, the Evo will leave the R32 behind on a tight twisty road and will outgun it in a stoplight sprint. But the Vee-Dub is still plenty quick enough, handles better than most drivers will ever need and would make a much better daily driver and road trip companion thanks to its smoother, quieter ride. The R32 is also more mature, as this performance car does without the gaping air intakes and wing-and-spoiler bonanza. It also has a nicer interior that gives off a neatly tailored European vibe typical of the brand. The center-mounted dual exhaust is the reason to buy this car.
The car has done 48,000 milles. I put on spacers on the rear wheels, it feels steady on the road. I had to get new tires last year, dsg transmission oil recently has been changed which requires every 40k miles.
Loaded with st suspension from (http://www.stsuspensions.com/) . BEAUTIFUL TORNADO RED EXTERIOR WITH BLACK LEATHER INTERIOR. LOADED WITH HEATED SEATS, DSG AUTOMATIC TRANSMISSION W/ PADDLE SHIFTERS, R32 #4608-5000, 4MOTION ALL WHEEL DRIVE, POWER SUNROOF, NAVIGATION, STEERING WHEEL CONTROLS, DIGITAL INFO DISPLAY, DUAL CLIMATE CONTROL, ALUMINUM TRIM, TEMP/COMPASS GAUGES, ESP TRACTION CONTROL, DUAL EXHAUST, REAR SPOILER, XENON LIGHTS, 18″ ALLOY RIMS, IN-DASH CD PLAYER/AUX/IPOD DOCK CONNEC, AND MUCH MUCH MORE. I ONLY USE MOBIL SYNTHETIC OIL. Please call me if you are interested.
Year: 2008
Body: R32 AWD DSG Auto w/ Nav
Title: Rebuild
Engine: 3.2-liter
Cylinders: 6 – Cyl.
Transmission: DSG – 6 Speed

Call me or text if you are serious about buying. 253.205.5346
Clean retail on the R32 is around $21,000, so even though this car is not CPO by VW, this R32 is a solid buy at $19,000. This is one of the cars that I've wanted to own sionce it came out, but going from a wagon to a 2 door hatch might be a little too much of an adjustment. Given that the MK6 is basically the same car as the MK5, the R32 is a great alternative to the new GTIs that are pushing $30K MSRP, or even worse, the Golf R with an MSRP of near $37K.
-Brian