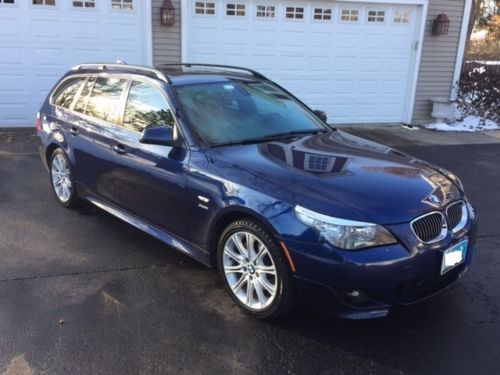 It's been a while since I last updated you on the trials and tribulations of E61 ownership. And, there have been a few exciting events which pertain to this car. Some of that comes down to learning about the quirks of ownership. For example, the iDrive system has a habit of notifying you of problems well after they've occurred. Like the E46, the E61 utilized the ABS speed sensors to calculate rotation of the wheels to determine if you've got a flat tire. So, if you..say…swap wheels and forget to notify the car that you've done so, it gets very unhappy (but, not immediately – only a few miles down the road will it tell you something occurred). Navigating the menus to find specific items can be laborious, but with time it gets better and you start to figure it out. But the electronic nannies don't end there; the "IBS" – Intelligent Battery Sensor – proved to be anything but intelligent, as it malfunctioned and decided that the car shouldn't start. It took a lot of internet diving to determine that simply unplugging the connector would fix the problem. Of course, that sensor is directly under the drains for the sunroof, which unfortunately seem to have a habit of randomly leaking (and, according to the never-wrong internet, are almost always the cause of the woes with the IBS).
Then there's the service warning.
Say your 11 year old car uses (read: leaks) a little oil. Fine, no problem, top it up. But the E6x FREAKS OUT that you've lost a little oil and basically tells you you're about to grenade the motor. Except, it doesn't do this when you first start the car. No, because the N52 carries some 7 quarts of synthetic it waits for the oil to warm up prior to notifying you there's a problem. And there is no dipstick. So, you have to wait for the car to determine if it has oil, which it will do ONCE YOU REACH YOUR DESTINATION AND DON'T HAVE OIL IN HAND. And then you finally get home, pop open the special BMW oil and it only takes 1/4 of a quart. You're telling me at 6.75 liters of oil you think the level is "CRITICAL", car?!?! And there are the parking sensors, which don't notify you of how close you are to the thing you're about to hit when you're pulling up, but when you engage reverse it then, once again, FREAKS OUT that you're about to roll into something (even if you're in reverse). And God forbid there be ice or snow covering those sensors, because then the car erupts in what sounds like a nuclear test warning. DUCK AND COVER. DUCK AND COVER!!!!!!
Who the hell designed these systems?
I don't paint a pretty picture of E6x ownership, but the reality is these are coming-to-terms things. The solutions are simple once you've figured them out (which, admittedly can be difficult), and then you're left to enjoy the great aspects of the car. And great it is. Dynamically, the E61 seems to defy physics. The steering is outstanding, the motor sounds great and the 6-speed automatic is almost always on point. The all-wheel drive is seamless, the seats are hugely comfortable, and the car is quiet, composed and comfortable in almost every situation. It has an awesome cruise control system – by far the best I've ever experienced. And it returns a shocking 30+ mpg at 80 m.p.h. average on the highway. Pop it into Sport mode, and suddenly the car is transformed, feeling light, agile and quick on its feet despite the 4,000+ lb curb weight. The brakes are awesome, confidence inspiring and yet not too aggressive, and it was able to swallow an entire bathtub basin with no difficulty. As do-it-all cars go, it's a compelling option. So let's take a look at one of the end-of-the-run E61s, turned up a bit over my 530xiT. This is the twin-turbocharged N54 powered 535xi Touring, and this one has the optional (and rare) M-Sport package: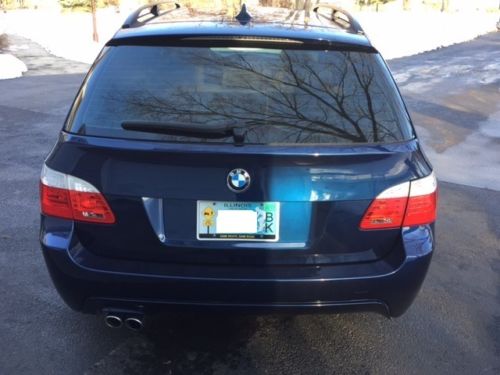 Year: 2010
Model: 535xi Touring M-Sport
Engine: 3.0 liter twin-turbocharged inline-6
Transmission: 6-speed automatic
Mileage: 81,000 mi
Price: Reserve Auction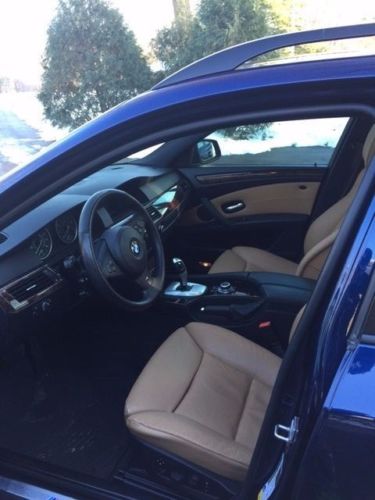 Regretfully selling my 2010 BMW 535xi Deep Sea Blue with Natural Brown, M Sport wagon. Only for sale because of a pending change in automobile policy where I work.

If you 'hunt' these cars, you will know the extreme rarity of this combination.

Option / General Overview:
– M Sport Package
– Premium Package
– Value Package
– Navigation
– Heated Front Seats
– Homelink / Programmable Opener in mirror.
– Premium Hi-Fi / Logic 7 System (this is a HUGE difference over the stock systems in the 5-series)
– Heated M Sport Steering Wheel (only the second one I've ever seen on an M Sport model)

My Additions / Maintenance
-$3702 spent on 3-26-2016 to get car 'perfect' after purchase from previous owner. New left front wheel, alignment, replaced both front thrust rod bushings, replaced right front strut, new windshield wiper transmission, and new valve cover.
-$345 for professional window tint installation. 34% on all windows. Did NOT tint the windshield.
-$260 for installation of satellite radio components on 5-13-2016. Included full module update as well. Also spent $120 for the satellite tuner and $70 for the brackets / mounting parts from an online retailer.
-$1104 for full brake job with new rotors, also oil and filter change on 8-02-2016.
-$50 to update the maps in the navigation system to 2016 version. Installed on my own.

Issues / What It Will Need Next
– Car came with a poorly touched-up paint rub / scrape directly under the left taillight. It is about 3″ long with ding below it. This is the most noticeable cosmetic blemish on the whole car.
– Has about an 8″ long rub / and multiple scrape lines on passenger side, lower front lip. Appears previous owners got too close to some parking curbs in diagonal spaces.
– Rear bumper has multiple thin scratches and some small chips in the paint that have been touched-up. All of this is from sloppy loading by the previous owner(s). Nothing major, but important to mention.
– Multiple small rock chips in hood and doors. Standard wear for a car of this age-just a reminder this is a used car. I would be glad to photograph any additional areas that are of concern.
– May 2016 had piece of gravel hit windshield and put a c-shaped crack exactly in the middle and immediately above the windshield wipers. Had State Farm coverage and they sealed / repaired the crack. I elected to NOT have the windshield replaced, because it would have been non-OEM BMW glass. If you want a new windshield, I can work with State Farm and they will replace it. Overall, it is NOT something that you notice when driving–it simply is NOT in the field-of-view.
– October 2016 I had a flat tire and had to change to the spare tire to get home. During the tire change, my grip on the wrench slipped and my face dented the gas door. (See photo). Paint is NOT cracked, but it needs a paintless-dent repair (approx. $70).
– During August 2016 dealer visit, they mentioned that the oil pan gasket is starting to seep. They recommended NOT replacing at the time, just said that will eventually be the next thing it needs. They did not even add the comment to the RO–they know I like to know what might be needed next. To this day there is still not a single drop of oil on the garage floor. In addition, the car is NOT burning / using any oil between the regular maintenance. (I love the BMW dealer and want the new owner to be informed of what I was told.)

Bonus / Other Facts
– All maintenance is up-to-date. Currently the car shows the following time until next services:
– 9000 miles until vehicle check.
– 9000 miles until oil change.
– 10/2017 for brake fluid change.
– 39,000 miles until rear brakes.
– 39,000 miles until front brakes.
– Current mileage is 80,9xx. Car may be driven for local test drives, but wanted to give an accurate odometer as of the start of this listing.
– Pictures for this listing were taken December 22, 2016. (So they are an accurate representation of the car's condition.)
– I have both factory keys and all manuals.
– It was a CPO-car to the previous owner. So other than one repair (by previous owner), it appears to have had all/only BMW Dealer maintenance.
– Clean CarFax, and Illinois Title.
– Two sets of floor mats. Currently have the winter / rubber factory set installed.
– Just had car professionally cleaned for the sale. Including full shampoo of the carpet mats. The car is stunning.
– We are a no pet, non-smoking house. This car has NEVER been smoked in.
– We don't eat in the car. No strange odors.
– Currently on Blizzak RFT tires with outstanding tread. I also have 3 Goodyear Eagle RFT summer tires which I will include in the sale at no-charge (if you wish). The Eagles have another 6,000-8,000 miles in them–I only have 3 because the sidewall was damaged when I got my flat tire back in October.
– Car DOES have a compact spare. It's rare for BMW cars with RFT tires to come with any type of spare at all.
– I have all my maintenance records and the records of the second owner.
– Previous owner purchased the car approximately November 2012 with 43,100 miles.
– I purchased the car in February 2016 with 66,300 miles.
– I am a BMW enthusiast. I love these cars and love them working 'as they should'. Simply, this is a very well cared for car (and always garaged).

For pricing, I have used NADA. For this combination, the 'Clean Retail' value is $20,875.

I absolutely need to sell this car; therefore, I've set a reserve price below the Clean Retail value.

Car is also for sale locally, and auction could end at any time.

Please contact me for questions, as I want the new owner to be thrilled with this car. I am not interested in trade requests.

Cash or bank issued Cashier's Check required for full payment prior to taking possession.

PayPal Deposit required within 48 hours of auction end. Full payment due in 7 days. Buyer responsible for all transport arrangements and cost. I'm glad to suggest a meeting location for the transit company–which is less than 2 miles from my location.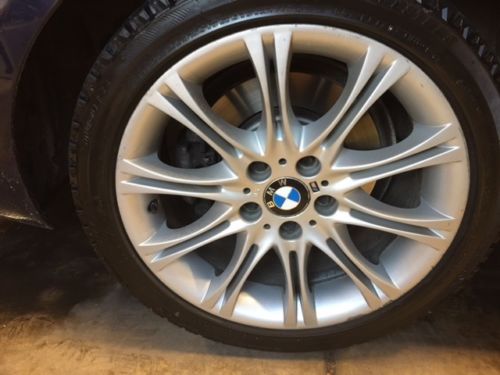 People complain (rightly so) that the E65 7-series isn't a particularly attractive car. For many, the E60 isn't a whole lot better – but somehow, in wagon form the E61 looks great to me. It's aggressive and unique without looking particularly dated, amazing since the design really started in the early 2000s. The design is helped anytime the car has the Sport package (later, M-Sport) That added 18″ wheels which appear much more appropriately scaled to the car, but unlike the rear-drivers, the M-Sport E61s didn't get a lowered suspension. They already sit fairly low, though, so unless you want to crash around on a dropped H&R setup (in front only, as they E61s have air suspension in the rear that's a bit of a trick to lower), it'll be fine for daily use. As the seller notes, it's easy to miss out on the size of this car when parking, so curbed wheels and nicked bumpers seem the norm. It is, after all, quite big. The combination of Tiefseeblau Metallic and Natural Brown Dakota leather is lovely, and the wood accents in the E61 are great as is the dash design. The post-LCI cars received an apparently better iDrive setup, so some of my gripes may be rectified, and a revised shifter that looks a little more modern. Outside, the M-Sport bumpers are differently sculpted than the standard units, unlike the earlier Sport model that just wore different wheels. Those 18″ options changed from the Style 123 on pre-LCI to the great looking Style 135 M double-spoke wheels also seen on the ZHP E46 (though in different offset). Maintenance is claimed up to date for the more expensive to run N54 – a great savings to the future owner, but still don't expect to get the 30 mpg I claim. Of course, with 300 horsepower easily turned up with a tune, you can also surprise some M owners with the speediness of your wagon on the fly.
The only item missing here is the manual transmission some will complain about the car not having, but the claim is that only 45 535xi Touring M-Sports were imported with a manual, and my experience has been that the manuals tend to be overpriced. The seller claims he's below NADA on his reserve, which should be at or close to $20,000. You can buy a cheaper E61, but not one this nice or unique for much less.
-Carter