While the BMW 1M may not quite be the E30 M3 people were hoping for, it is certainly one of the more exciting offerings from BMW's M-division in some time. It does rock the fattest fenders since the E30 which, combined with the modern BMW style of complex curves and cuts, gives a decidedly over-muscled bulldog stance. Known for a pants-crappingly short wheelbase and a stronger (if parts-bin sourced) N54 twin-turbo, this 1M also benefits from a Dinan software package resulting in almost 40 additional horses. 380hp in an essentially cubic sports car sounds hilarious and scary.
Year: 2011
Model: 1M Coupe
Engine: S54 twin-turbo inline six, Dinan Software (~380hp)
Transmission: 6-speed manual (hallelujah!)
Mileage: 18,300
Price: $59,800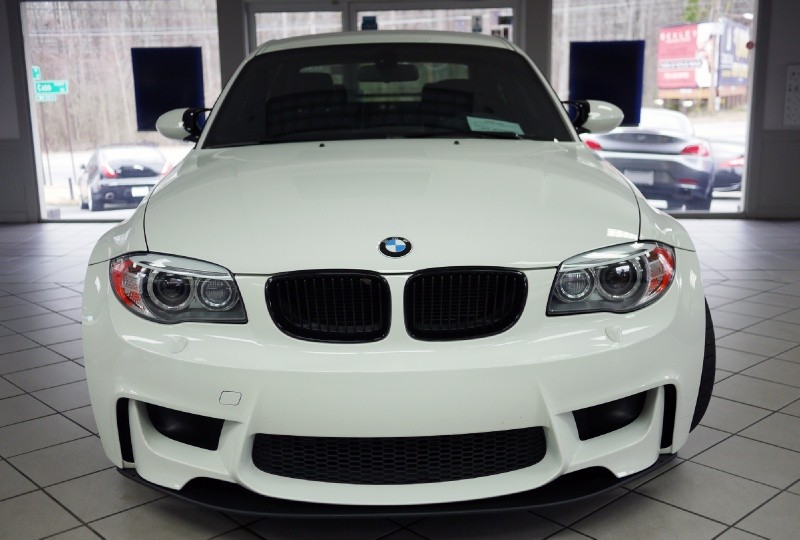 2011 BMW 1 Series M 1M Coupe Dinan Stage 3
* Stunning 1 Series M Coupe Alpine White on Black Boston Seats with Maintenance Plan from BMW until 05/08 17 or 100K miles!
* 1 Owner Local Trade In!
* Dinan Stage 3 Engine Software! (Does NOT void warranty! Link below)
* Safety Car Front Spoiler!
* Convenience Package!
* Premium Package!
* Black 19″ Wheels!
* Harman/Kardon surround sound!
* Heated front seats!
* Satellite radio!
* BMW Apps!
* Voice-command!
* Smartphone Integration!
* Automatic climate control!
* Xenon Headlamps!

* Convenience Package:
– Navigation system
– Comfort Access keyless entry
– Park distance control (rear)

* Premium Package:
– Power seats
– Autodimming mirrors
– Power folding mirrors
– Universal garage door opener!

Dinan Stage 3 Software Details: http://dinancars.com/shop/D900-30TM-Stage-2-Performance-Engine-Software-Boost-Upgrade-1-Series-M.aspx#page=1
I've seen this before, but it never makes sense why the ad says Dinan Stage 3 when it clearly links to Stage 2 and there is no Stage 3 to be found on Dinan's website. Regardless, Stage 2 is plenty of extra beast in an already intimidating car. I normally love Germany's racing white, but here the white exterior and bland black interior seem to exaggerate the beluganess and obscure the monster. But whatever, it's number 78 out of 740 for a car that will go down in history as a very special M-car in a time of impressive but less-special ///Ms.
This 1M is already chasing down one of the E30 M3's most notable recent characteristics: appreciation. Even with options and aftermarket parts, this car cost no more than $55k new (dealer markups notwithstanding) and has now covered 18k miles, yet is for sale at just under $60k. Sure, this is a very cool modern BMW, but can you imagine what kind of M3 (or how many) you could get for $60k!? With that money you could have an exceptional E30 M3, E28 M5, E36 M3, AND an E39 M5. No question which garage I'd choose.
-NR