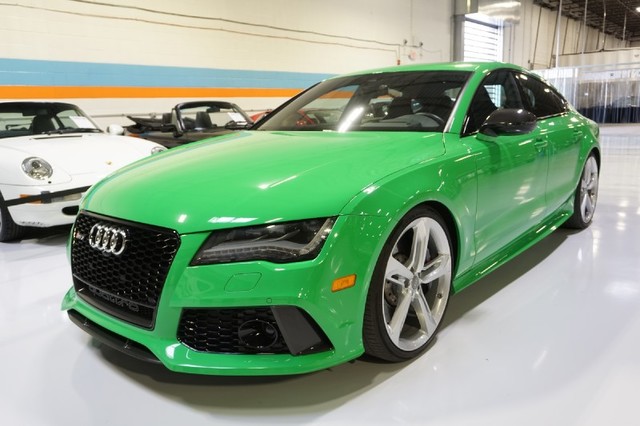 I'm sure that occasionally (or more likely, often) when discussing current color pallets offered by manufacturers I sound like a broken record. The new model is, generally speaking, that 95% of those that purchase the top-tier models for any given manufacturer will select one of three colors: black, gray or white. It reminds me of a book my wife bought for our son for Christmas; This Bridge Will Not Be Gray by Dave Eggers. It chronicles in a tongue-in-cheek manner the development of the Golden Gate bridge – reportedly, according to the text, the first orange bridge in the human history. "No bridge had ever been orange. Orange was silly. So most of those involved figured the bridge would be gray. Gray was serious. Gray was safe" the book states about the bridge, and I feel like a fair amount of people buying these near-exotic cars feel the same way. But in the book, Eggers talks about how one of the bridge's designers – Edward Morrow – decided gray would be the wrong color; that if he was going to have to look at this bridge every day, it should look like something special. The original buyer of this Audi RS7 got it: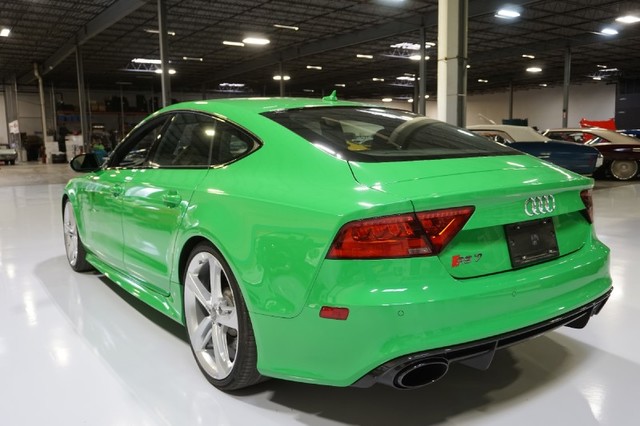 Year: 2014
Model: RS7
Engine: 4.0 liter twin-turbocharged V8
Transmission: 8-speed automatic
Mileage: 17,255 mi
Price: $105,000 Buy It Now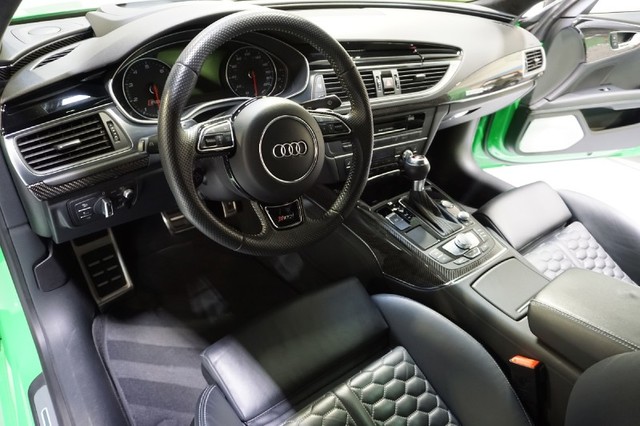 2014 Audi RS 7 Prestige

Call 440-914-0000 or email sales@mcgohio.com
2014 Audi RS7

Mileage: 17,300
674 hp
H&R lowering module
APR tuning
Milltek catback exhaust
Clean Carfax!

Yep: It's imposing, in-your-face, gritty with 674 horses, and yet subtle enough to make you jump at the opportunity to make a dreaded grocery store run. This head turner packs a dramatic twin-turbo 4.0-liter V-8, a performance-tuned eight-speed automatic, all-wheel drive, and an adjustable suspension. Wow! This car impresses us!

But the most obvious indication this isn't your grandmother's sedan is of course the color. Outside, you'll see crisp green paint (signal green) which you won't find on the color charts–this is a paint-to-sample car.

Under the hood, tucked under the cover shield, you'll find top mounted twin-turbos wrapped in their own heat shield. Stock rated at 582 hp with 563 max torque, this ride has been tuned to get you 674 hp with 700 max torque. And handling all that twisting power is the ZF-sourced eight-speed torque-converter automatic transmission.

The RS7 offers the driver multiple driving modes, the hardest core of which is Dynamic. It sharpens the engine and chassis responses of this large hatchback to a razor's edge. A gentle stroke of the gas pedal sends the RS7 deep into triple-digit territory, and despite a 4500-ish-pound curb weight, the chassis is athletic and the responses quick.

For an Additional $10,000 a set of 4, one-off, highly glossed black finished ADV.1 wheels made specifically for this car. Tires are Michelin ZR21 295/30's (please see photos labeled "Set #2") Valued at $15,000.

At the Motor Car Group, we're enthusiasts first. We want you to enjoy your new car from the minute it's delivered and the trailer door drops. Before a car leaves our shop, it's gone through comprehensively, both visually and mechanically. We do more than just kick the tires, though: We fill your tires with nitrogen, road test (if the weather permits us here in Cleveland!) and clean it inside and out. We buff the paint using a three-step process immediately before it's taken away so that it gleams when it arrives. Every car we sell, from Sunday drivers through the rarest exotics, is meant to be driven–get out there!

Price

While current or recent model year cars are simple to price, the collector car market fluctuates so much that simply keeping up is a full-time job. We research similar cars and determine the price of ours based on sales records and relative conditions of those vehicles. We offer superior examples that hold their value better or will appreciate more than others you will find: Whether you're buying a car you'll keep forever or as a short term hold, a car from us is simply a better value.

Contact Information

If you want to make an offer, or talk about the Buy It Now price, call Larry at (440) 914-0000 or email me at woo@mcgohio.com.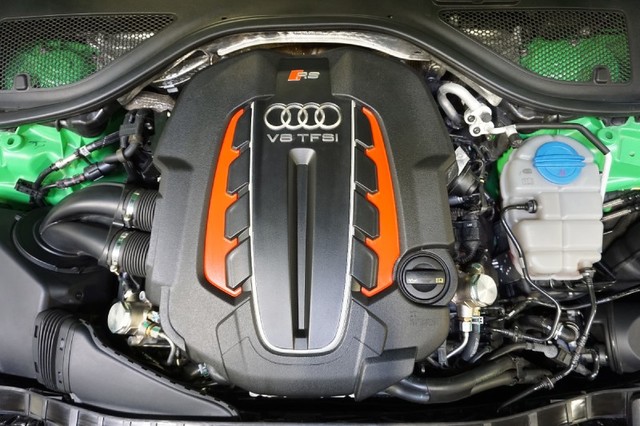 So, the response by Audi, BMW and Mercedes-Benz (and, to a lesser extent Porsche) is that of course, if you're in the market for one of these cars, they'd be happy to paint it whatever color you want – for $10,000 or more. And sometimes that's a head-scratcher, because what shade do you pick? Obviously, for some who order these cars the color can't be seen before it arrives, so it's quite a gamble. But pick the right color, and boy does it work. Signal Green just looks absolutely astonishing on this RS7, and the upgrades make it as potent as the exterior. With nearly 700 horsepower on tap, you won't have to worry about much keeping up with you in a straight line. Stock with "only" 605 horsepower in the new RS7 Performance version, the car runs 0-60 in a staggeringly quick 3.6 seconds and tops out at 190 m.p.h., so figure this car should be a bit quicker. The Milltek exhaust will announce your arrive (or, more likely, your departure) if the color didn't get everyone's attention. This particular car also has option $10,000 worth of black wheels. I was so surprised, frankly, when I saw this listing and the car didn't have black wheels, but of course, there they were later in the pictures. I'd leave them at the dealer, personally. With only 17,255 miles, this is still a brand new car under warranty and should have zero issues in terms of condition.
Now, the price. $105,000 (not including the $10,000 worth of barbecued wheels) sounds like a lot, and it is – as you could walk into your Audi dealer and order a 2016 RS7 with zero miles for $109,000. But, if you want the "Performance" model, that's $129,000. If you want it in a color other than gray, you do have two factory options of Sepang Blue or Misano Red, but if Signal Green was your color Audi charges an addition $3,900 for it. The 5 spoke "blade design" wheels are another $1,000, and the Bang and Olufsen is a pocket-emptying $4,900 option. What's amazing is that there's a further $20,000 worth of options you could select for your RS7, meaning a fully loaded example to match the performance of this car could cost you $170,000 or more. But the one that sticks out to me is that your hundred and a third grand doesn't get you heated seats – a $500 option. In that view, the $105,000 asking price doesn't seem all that bad for this good looking hatch. However, if we're talking monopoly money, truth told I'd probably just opt for a brand new stock A7. Sure, it doesn't have bonkers horsepower, but for $69,000, you've got a great looking and seriously quick 4-door. Upgrades to the 3.0 are just as easy and the nice thing about opting out of the RS7 is that you get many more interior color choices. For example, you could get the same Signal Green for the same $3,900, but select a nice Nougat Brown interior with Walnut accents and still be saving $30,000. But, a lot of that comes down to personal preference and I'm glad at least that someone had the imagination and the gumption to say "This RS7 will not be gray!"
-Carter