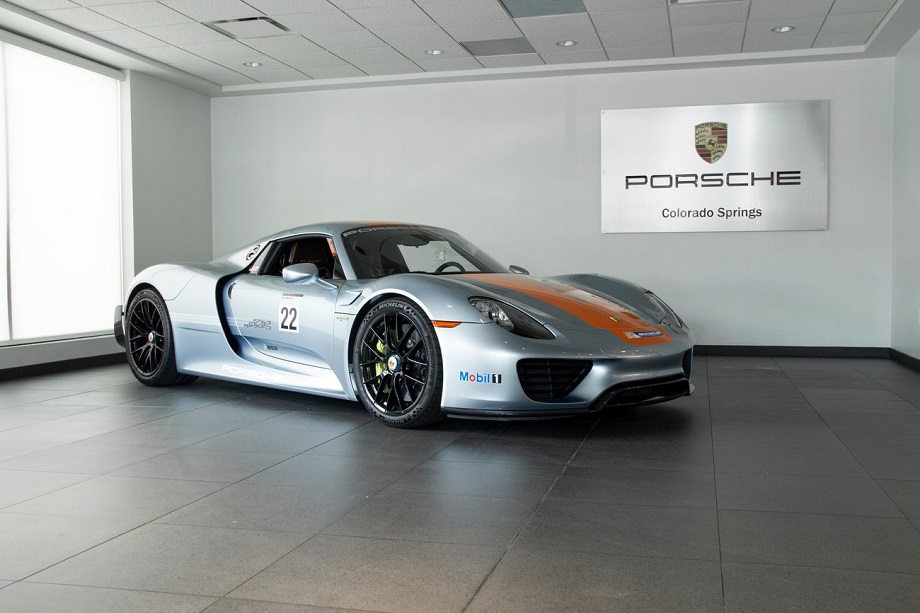 If you'll allow me to indulge a little bit I'd like to present this…which is insane. Here we have one of the more unique ideas when spec'ing a Porsche. This Liquid Metal Chrome Blue 2015 Porsche 918 Spyder was built to replicate the look of the 918 RSR Concept, which Porsche showed at the Detroit Motor Show back in 2011. A lot of concept cars are conceptual for a reason, but the 918 RSR, since it was to be the racing version of the production car, was truer to the look of the real thing than some over-the-top concepts tend to be. Thus, why not go for that look? And they've done a heck of a job of it too! Even the interior color appears to replicate that of the Concept.
Of course, they aren't identical. The RSR was a fixed-roof version of the 918 and the one we see here remains in the standard Spyder configuration. The aero isn't quite as pronounced either, but this car was meant to be driven on public roads so we can excuse that. Oh, and it has been driven. This 918 has 10,363 miles on it!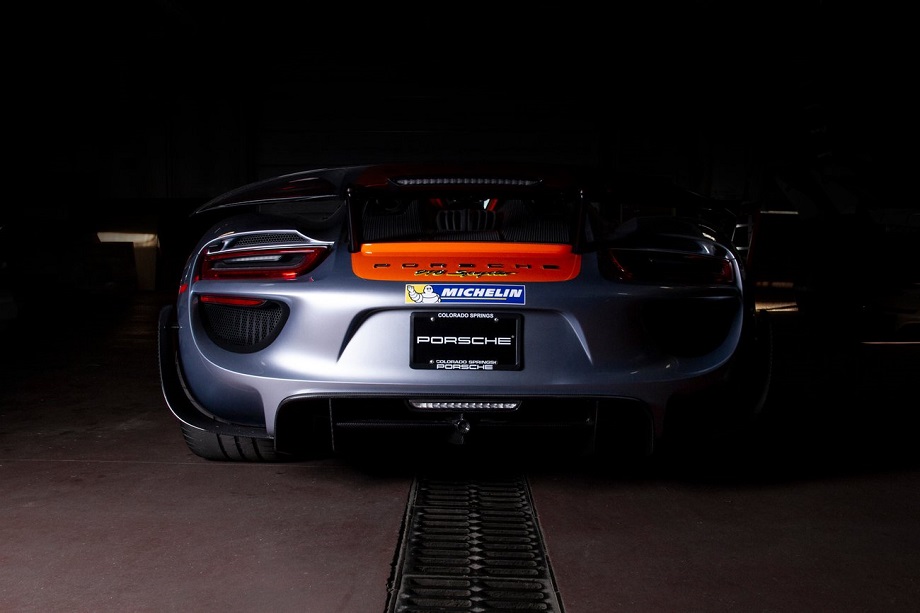 Year: 2015
Model: 918 Spyder
Engine: 4.6 liter V8/twin electric motors
Transmission: 7-speed automatic
Mileage: 10,363 mi
Price: $1,699,995 Buy It Now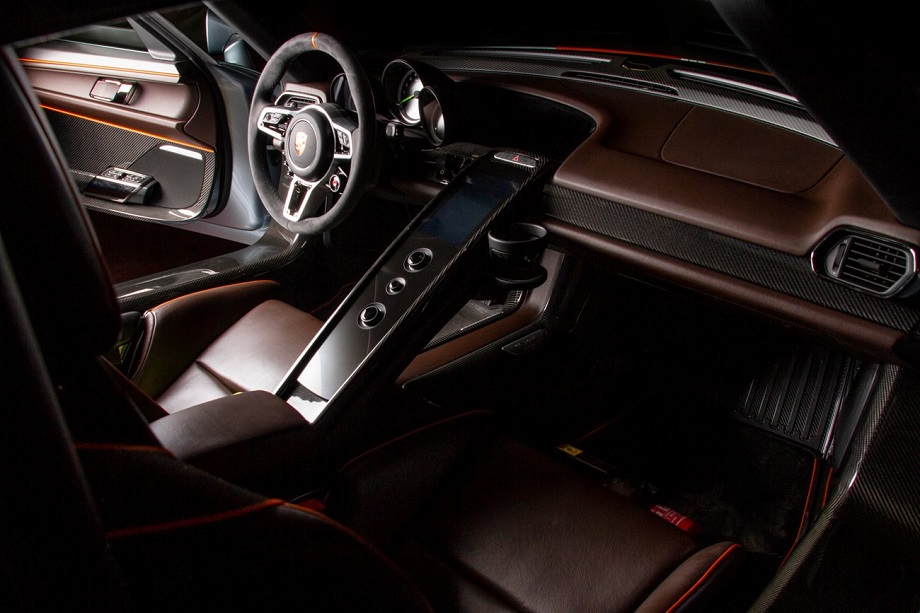 One of one 2015 918 Spyder Weissach Package in Liquid Metal Chrome Blue with factory painted RSR Livery over Mocca Brown Authentic Leather interior. This 918 had an MSRP of $1,121,000 and has remaining factory warranty until July 23, 2019. The car came to us from one of our enthusiast friends that considered every possible detail when designing it. The previous owner designed this car to replicate the 918 RSR Concept car and did an exceptional job of doing so. The orange racing stripes, hybrid logo in the rear wing, and Porsche Intelligent Performance insignias are painted rather than decals. From the number 22 on the hood to the Michelin stickers on the bumpers this 918 came from the factory the way you see it today. With $80,000 of custom tailoring, $63,000 of paint, and $26,000 of custom interior this 918 Spyder is truly a very special car.

Original Equipment:
– Axle Lift
– Burmester Audio
– Automatic Air Conditioning
– Cup Holder
– Homelink
– Comfort Heating
– Bucket Seats with Comfort Panel
– Glare Reducing Interior Package
– Carbon Fiber Floor Mats
– 25 Foot Charge Cable
– Custom Tailoring inside and out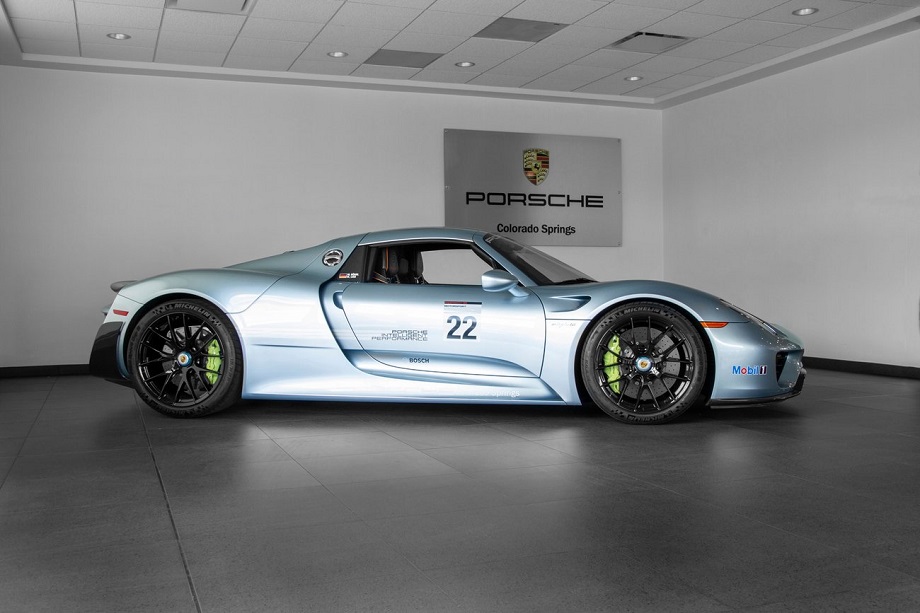 First, we should all stand and give the owner of this 918 a round of applause. To not only go through the effort to produce such a rare 918, but then actually drive the darn thing is quite inspired. And this isn't just a couple of thousands miles total, but more than 3K per year. That's really spending some quality time with your hypercar.
On to the car itself. While this 918 might look like the RSR Concept, stepping inside reveals a much more civilized environment than what we'd expect from a racer. It has A/C, a Burmester sound system, heating, and even a cup holder. The 918 has enough performance that it doesn't really need to be stripped down in order to get you to your destination quite quickly and if you're going to drive it then why not be comfortable? It all makes for a very interesting car. It might feel a little strange driving around in it, but I'd guess driving a 918 attracts loads of attention no matter how it's dressed.
As for price, like any 918 the price is quite high. Looking at other examples currently available this one is priced pretty consistently with those. I'm not sure quite how to balance the uniqueness of this one – it is 1 of 1 – with its mileage. While it is great to see that it's been driven that mileage does detract from its value, especially when pretty much every other example has fewer than 1,000 miles. Should it be worth the same? I don't really know. The unique factors on this one are entirely cosmetic and they're cosmetic in a way that not everyone necessarily will desire. Its historical referent should give it some cache so I guess we'll have to see. Like other very unique hypercars it wouldn't surprise me if it sold almost immediately, nor if it sat for quite a while. For the right buyer it could be perfect so it is simply a matter of that buyer coming along.
-Rob