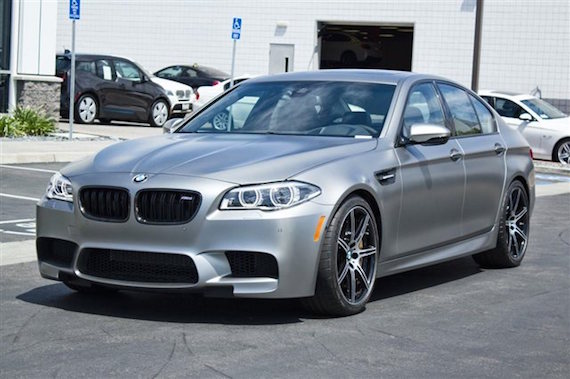 At this point we're all familiar with the ridiculous investment opportunity the BMW E30 M3 has been recently. According to Hagerty, average values held steady around $15k from 2007 to 2012, and they were even lower before then. Today, Hagerty estimates the average E30 M3 value is $48k, an easy $30k if you picked one up just 5 years ago.
In these days of "unicorn" start-ups and (allegedly) ridiculous easy riches, 5 years is a pretty long horizon for the make-money-now bunch. In that case, they should have grabbed one of the 30 BMW M5 "30 Jahre Editions" released in the US last year, a 10% share of worldwide production of the ultimate F10 M5 celebrating 30 years of the M5 supersedan. With power bumped to 600hp and a special Frozen Dark Silver that puts most of today's fancy satin/matte finishes to shame, it is definitely more than just a badge exercise (although there are plenty of self-important badges). Initially sold for $138k, a nice $34k premium over the M5's MSRP, just one year later you could have triple the profit of that 5-year E30 M3 investment.
Despite the piped-in sound silliness, I do like the F10 M5 and BMW's modern styling. Though a little overcomplicated, it's growing on me and vastly preferable to the days of the Bangle Butt. It toes the line between aggressive and subtle while packing a nuclear punch that will keep up with most supercars. Turn all that up to 11 along with an extra dose of rare, and you've got the 30 Jahre Edition.
1 Comment