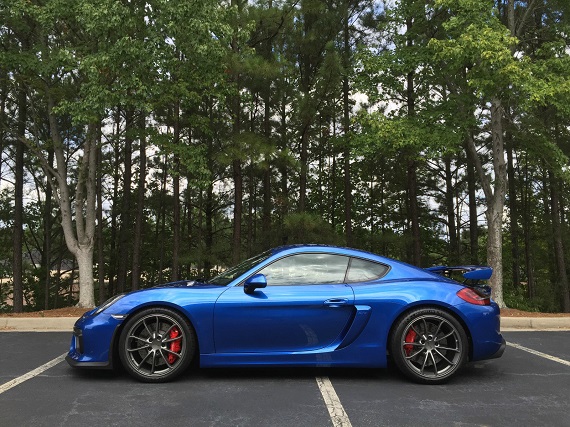 In my write-up of the new GT3 RS, I mentioned the Cayman GT4 as a useful alternative for those seeking a traditional manual in their performance car now that Porsche has decided the GT3 RS will no longer come equipped with one. So why not have a look at the new GT4? Like the GT variants with which we are all so familiar for the 911, the Cayman GT4 takes aim at the track. It uses the 3.8 liter flat-six from the 911 Carrera S with 380 hp, sources much of its stiffer suspension from the GT3, and drivers must accept some compromises to refinement and everyday usability in the name of less weight. Those weight savings are countered by weight gains from much of the more stout components on board meaning the GT4 comes in at nearly the same weight as the Cayman GTS. In appearance, the GT4 is clearly distinguished from its siblings by a front fascia akin to that of the GT3 and GT3 RS, its lowered ride height, more pronounced rear air inlets, and a rear wing. Suffice it to say, no one will confuse the GT4 for a standard Cayman. And, of course, the only transmission on offer is a 6-speed manual.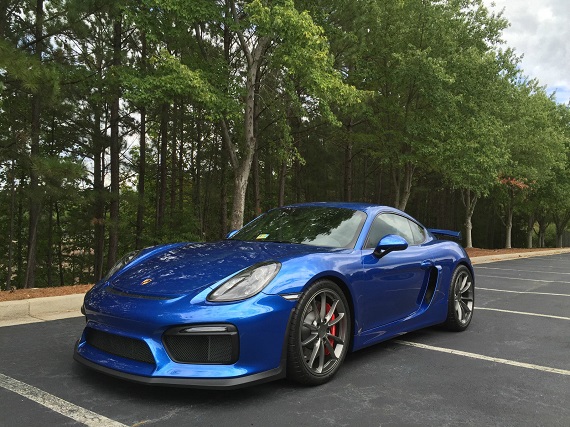 Year: 2016
Model: Cayman GT4
Engine: 3.8 liter flat-6
Transmission: 6-speed manual
Mileage: 1,416 mi
Price: $98,500 Buy It Now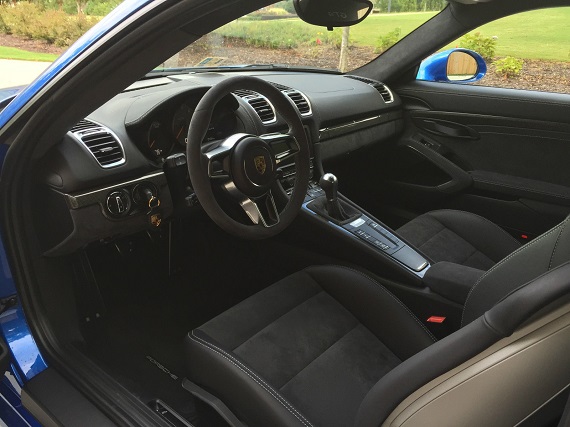 To keep a long story short: I am ordering another car and selling this one.

My GT4 is ready for you to own and start driving immediately. Please see the options below.

VIN: WP0AC2A8XGK197527
1416 miles

OPTIONS:
Sapphire Blue Metallic
Leather interior, Black (Stitching in Platinum Grey)
Extended Fuel Tank, 16.91 gal
Fire Extinguisher
Smoking Package (gives you the extra power plug in the center console and the cover instead of an open pocket)
Wing Supports in Black
Center Console Trim in Carbon Fiber
Carbon Fiber Interior Package i.c.w. Leather Interior

I did an initial oil change using OEM filter and recommended Mobil 1 oil at approximately 1,000 miles. The only blemish on this car is a very small scrub on the leading edge of the front black plastic lip from where I exited a gas station entrance when it was dark and didn't get enough of an angle. If you've kept up in the GT4 forum you'll know that many owners have scrubbed their front lip already in the course of normal driving. See the picture with the blemish circled in red.

Also, please note that I also had the best clear bra installer in Georgia, Atlanta Protective Films, apply Suntek clear bra to the entire front end + A-pillars + roof partial + door handles + door handle cups. He applied Xpel to the rocker panels + side scoops + behind rear tires. Suntek was recommended as the best choice cosmetically for darker colors and Xpel was selected for the rockers for durability in that area. This was the recommendation from the installer.

I am a non-smoker, car has been garaged only, NEVER tracked, NEVER launched, NEVER abused. It was driven ~700 miles home from the selling dealer, +1 trip to Roswell for the clear bra, + 3 or 4 commuting Fridays into Atlanta, + 1 trip to the PCA corral at Petit Le Mans. Basically 95% highway miles.

For the transaction, I do have a lien with Pentagon Federal Credit Union. Please note that I would like to do courtesy trade (the dealer sells you my car as a middle man) with my dealer so that I can save on sales tax for the new car. This would not cost you anything, I would directly pay the dealer a fee for doing this. The benefit for the buyer is the peace of mind of conducting the transaction through a Porsche dealership which means your bank can cut a check to the dealership instead of a private party.

Auction deposit is non-refundable! Do not buy-it-now if you are not already prepared and committed to purchasing my car.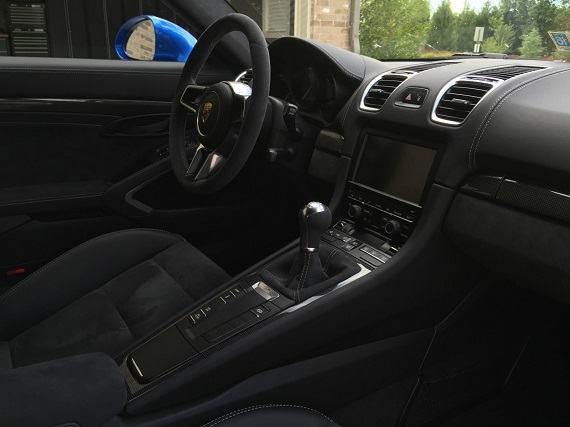 To me the Cayman fits Porsche's current design aesthetic better than any other car in the the fleet and the GT4 comes across as particularly stunning. I've yet to warm to the design of the 991 in general and as mentioned with the GT3 RS there's just too much going on. It's a fussy looking car. The GT4, by comparison, looks fantastic; it's aggressive and purposeful, but without being too over the top – even with the wing. I saw one on the street a week back and it looked even better in the flesh and in motion. I really like Sapphire Blue on these cars so that's why I was so drawn to this particular Cayman. This one is light on options and many would probably prefer one with the optional bucket seats and carbon ceramic brakes. Combined those add around $12K to the price and probably even more for those now on the market. We've seen a number of them for sale as, like the GT3 RS, owners hope to turn a quick profit by selling to those who want to have one immediately. It appears those prices have started to come down for the GT4 as the one here – as well as a couple others currently for sale – has slipped below $100K, a point I previously was not seeing. There's still a premium attached, but it's becoming more reasonable. This one comes in at nearly $300K less than the GT3 RS I featured last week and, because it's in closer company, around $70K less than asking prices I see for a 911 GT3. It's an apples to oranges comparison, but I really would have a tough time choosing the 911. A 997 GT3 RS would make for a much tougher decision. Anyway, it's great to see Porsche extending the Cayman's capabilities and extracting as much as they can from the car. Long criticized as held back by the company, the Cayman really seems to be coming into its own.
-Rob