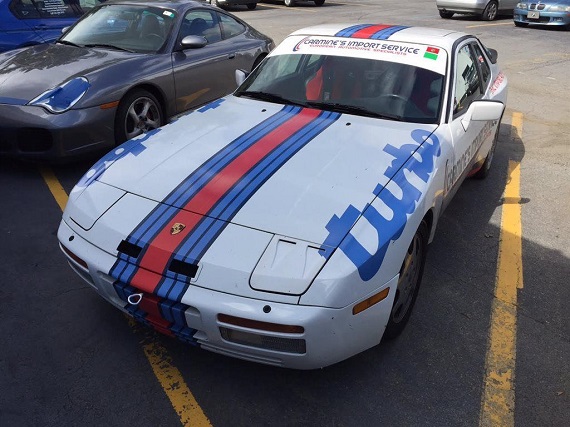 For those that haven't had the pleasure of driving a 944 Turbo S, allow me to describe the sensation. If you've ever wondered what it would be like to be the stone in a sling shot, it's a pretty good analogy. My first drive in a S saw me pull up to a merge onto a secondary highway. The slightest gap opened in traffic, and since I was in a Porsche I naturally thought that half a car length with the closing traffic at 65 m.p.h. seemed doable. Clutch out, foot on the floor, and….nothing. I thought I stalled the car. I had just enough time to look down in disbelief, feel the blood draining from my head and look into the mirror, uttering "Oh…shi" when BAM – the car came on boost. Like the intro to Star Trek – The Next Generation, the front of the car stretched towards the sky and elongated as I rocketed forwards. How that manifests itself on track leads towards a very odd driving style. At my favorite track, Lime Rock Park, for example, in the Turbo S you need to be on throttle when you should be off throttle. Otherwise, if you wait for the car to be where you would normally hit the throttle, you're halfway down the straight. The best example of where this odd throttle usage comes into play is in "Big Bend". A decreasing radius corner, if you nail the throttle after the first apex, normally you'd spear straight off the road. The last thing you want to do when those front tires need to bite in a car with 250 horsepower is lift the nose up. But when you nail the throttle in the 944 Turbo, it doesn't have 250 horsepower. It has 10. Maybe 12. So, you plant the throttle, turn in and as you're about to hit the apex BAM, the boost comes on, helping to rotate the rear end and you can throttle out of the corner. Perhaps it was Porsche's way of imparting 911 "don't lift" DNA into the front engine turbocharged wonder! Regardless of how you drive it, though, these 944 Turbos make great friends for track adventures: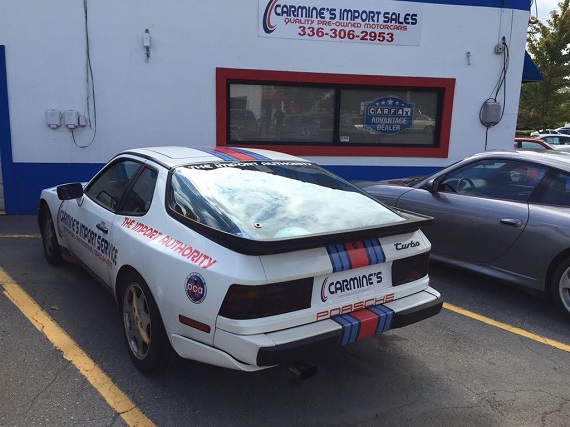 Year: 1988
Model: 944 Turbo S
Engine: 2.5 liter turbocharged inline-4
Transmission: 5-speed manual
Mileage: 100,263 mi
Price: $11,995 Buy It Now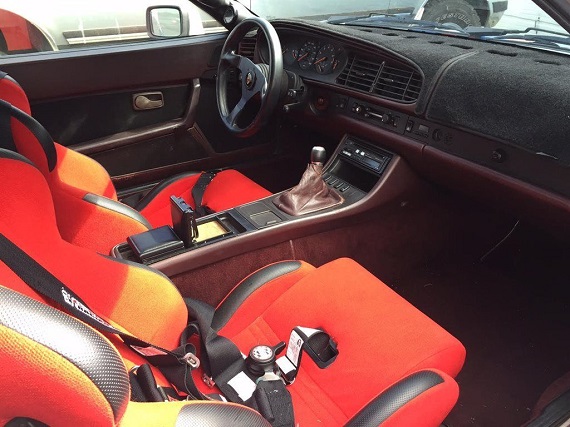 1988 Porsche 944 Turbo S Racecar, HPDE Track Car, Street legal. This vehicle is an original Silver Rose with burgandy interior. This car is wrapped in white vinyl for advertisment and track purposes. It has a Abaco Maf unit and is programmed perfectly for the fuel air ratio. Lindsey Racing 3″ SS cat-back exhaust, air mass conversion and dual port waste gate upgrade, K26/8 turbo with 951 Max Chips for DME and KLR, new cam and crank sensors, Lindsey Racing reference sensor harness, short shifter, 140# valve springs (close to factory spec), new water pump, new timing belt with all of the pulleys, recent cylinder head gasket and all head work, and recent balance shaft cover reseal. Also has new vacuum hoses and fuel lines, a new a/c compressor, COLD A/C on a racecar! Awesome! Heat works too. All lights work. Bilstein Coil Over suspension with H&R springs (front is 400# and the rear is equivalent of 550# (repositioned the tortion bar and added the coil overs). It has SS brake lines and cross drilled rotors (have track pads as well), new master cylinder, Power Flex bushings on the sway bars. Brand new front brake rotors and Hawk HT-10 racing brake pads in front. 60% race pad left in rear. Fresh brake fluid. The car has a boost adjuster in the glove box (currently running 14.5 to 15 lbs of boost). Sparco seats and a Momo steering wheel with new 5-point harness. We installed a new fuel pump, filter, damper and regulator (regulator is a 50psi unit). The injectors have been rebuilt and cleaned. It has a Sachs Super Cup Clutch set (5,000 miles on it). Shifter linkage bushings recently replaced with Renn pedals. We also corner balanced the car and it has camber adjustment plates. Passes NC State Inspection. Catalytic converter still installed. Can be used for street/track use. Vinyl will just peel off. Silver Rose paint underneath vinyl is original. Condition unknown. Extra original parts included such as visors, steering wheel shifter knob with boot. Original Turbo S CUP wheel with Brand New Bridgestone RE-11s. Ready to go. Needs nothing. Serious buyers only please. Call 336-993-5506 or search Carmine's Import Sales in Kernersville, NC. Shipping quotes available for southeastern United States.
It's pretty unfortunate that the car that was sacrificed for this track conversion was one of the Turbo S Silver Rose models, but that's a reminder that for some time they had little value in the used market. Covering the great color is a white vinyl wrap with Martini graphics that make it look more like one of the Turbo Cup cars than a street ride. But the modifications haven't gone so far that you couldn't still drive this car to and from the track. About to be 28 years old, perhaps that's not the best plan – but it's possible. While you get Turbo Cup looks and most of the speed from those limited run, magnesium clad racers, one thing you won't get is the price. While most of the original Cup cars range from $85,000 to $150,000 asking prices, the entry fee here is a coffee under $12,000. For less than the cost of an engine rebuild on a 911 or M5, then, you could have a dedicated track car.
-Carter