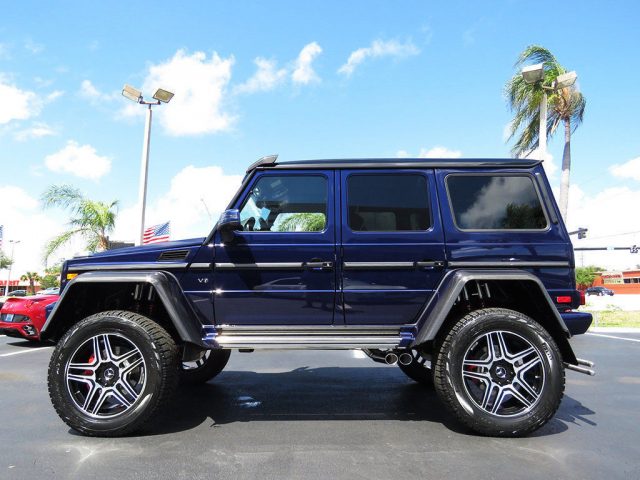 The Mercedes-Benz G550 4×4² is one of the craziest creations to not only come from Mercedes-Benz but the car world in general. I would have liked to have been in the meeting at the Mercedes-Benz offices in Stuttgart when they mocked up the 4×4². But perhaps it would be even more crazy to have been in those same offices when they decided to build these things and sell them to the general public.  The already unique G-Wagen had its ground clearance increased by nearly 8 inches and front track widened by more than 10 inches thanks to the wonders of portal axles. This of course was all to make room for 22-inch rims wrapped in Pirelli Scorpion ATR 325/55R22 tires that look like they belong touring the country at Monster Trucks shows rather than cruising down the street in your local (extremely wealthy) town. Now that these squared machines are starting to show up at a dealers like this one for sale in Florida, I had to dig a little deeper to check one out.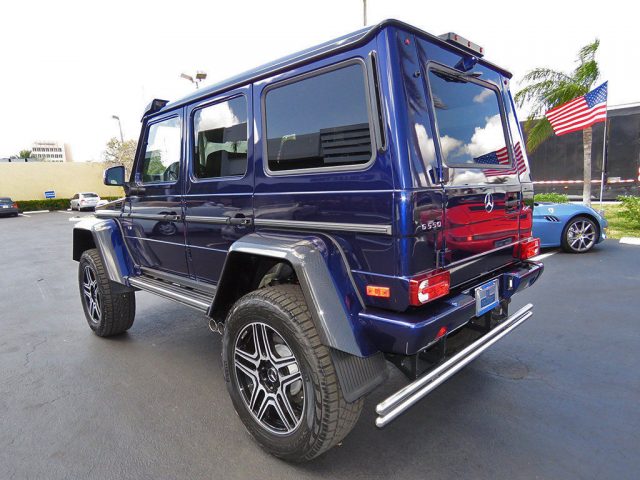 Year: 2017
Model: G550 4×4²
Engine: 4.0 liter V8
Transmission: 7-speed automatic
Mileage: 48 mi
Price: Reserve Auction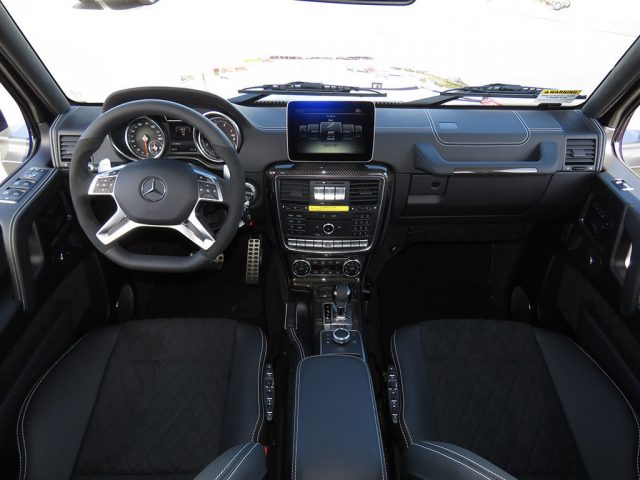 Fort Lauderdale Collection is proud to present this ALL NEW 2017 Mercedes-Benz G550 4×4 Squared . The G-Class rises to new heights.

The G550 4×4 Squared is based on the 6-wheeled AMG G63 6×6 (minus one axle). Using an all-wheel drive system that includes portal axles and a newly developed variable chassis, this Mercedes-Benz has off-road prowess like none before it. Combine that with a new 4.0 liter biturbo V8 (416 hp, 450 lb-ft of torque), throw in some unique styling cues and top it off with world-class luxury and technology features and you have the recipe for the ultimate luxury 4×4.

This one comes in the absolutely stunning "design Mystic Blue". This color looks AMAZING, and the AMG carbon fiber wheel arches and LED light array take it up another notch.

Features are too many to list here. Suffice it to say, this truck comes with everything you would expect in a Mercedes-Benz, plus features that are sometimes hard to find. Things like Heated and cooled front seats and heated rear seats, massage front seats, GPS Navigation system, rear-view camera, Wi-Fi connectivity, Premium audio system, 115 v power outlet, 22″ wheels, power moonroof, and a lot more.

Please take a look at all of our gallery pictures, and feel free to call or email us if you have any questions at all.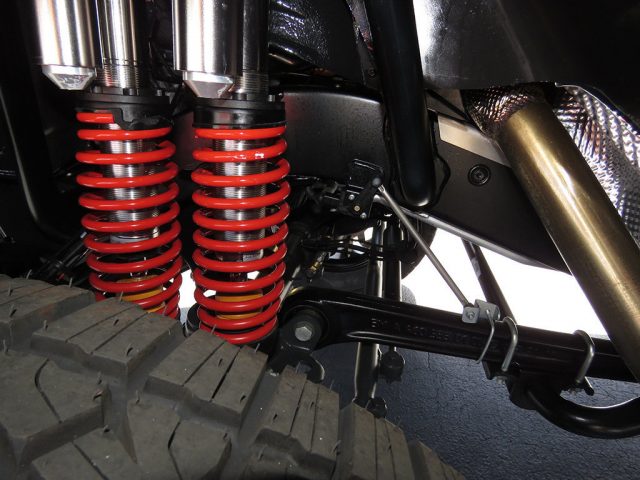 I think these things are absolutely nuts. I've always thought of stuff like this to be only concept cars that you might see built for some quick publicity but in practice would be far too troublesome and expensive to actually produce. But not this one. Mercedes had to project that these would be snatched up as soon as they could make them by the ultimate "look at me" buyers who not only wanted prestige but the same driving position as a school bus. It's not only the height that gets me about these, it's the width that I can't get over. Something this wide has to be a totally nightmare to drive in any kind of situation where you objects beside you. Heck, even pulling it into a parking spot has to be a process.
So what does this monster cost? You can pick one up around the $230,000 range, which considering all that goes into these, that's probably not the worst deal ever. What's interesting about this specific truck is that it's not for sale at a Mercedes-Benz dealer despite only having 48 miles on it. Why is this interesting? Because that means it can be exported without Mercedes putting your name on their black list and telling you never to step foot in one of their dealerships ever again. Regular G-Wagens and GLs are extremely popular in places like China where prices might be three times as much for the same exact vehicle we get here in the US. So "agents" buy new vehicles from the US dealers then promptly put them on a ship never to be seen again. Mercedes along with other automakers don't like you making money that way and getting their product cheaper elsewhere, so about a year ago manufacturers really came down hard on dealers who knowingly sell vehicles that will be exported.
Since this 4×4² is currently one of the hottest vehicles for sale today and any potential buyer doesn't have to deal with those pesky authorized dealers, it wouldn't surprise me one bit if this blue monster was promptly put on a ship never to be seen again.
– Andrew