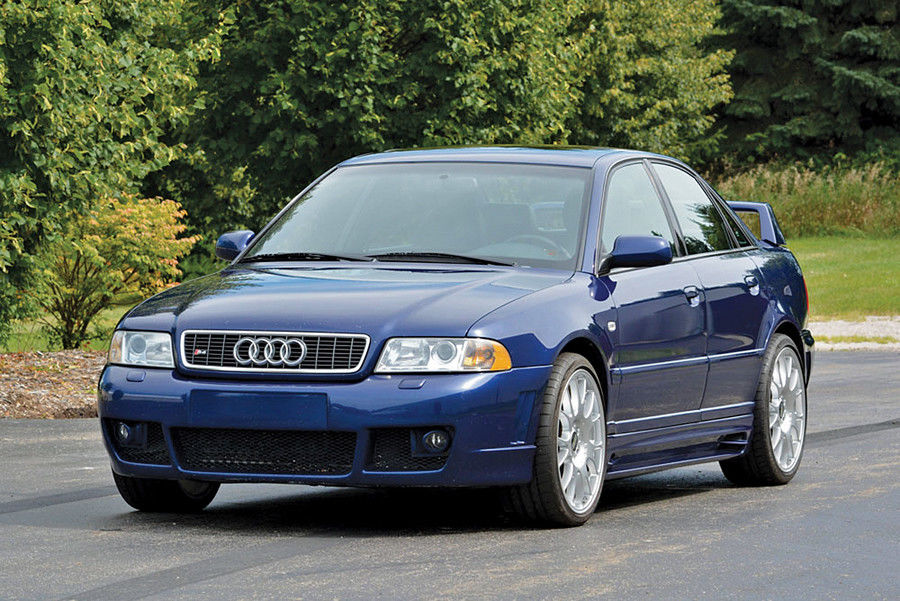 Update 1/29/2018: The asking price on this S4 has dropped from $13,995 to $12,995.
The B5 S4. On paper, it's a car that I should like a lot. Coming from the modest 4000 quattro, Audi produced what should have been a monster on paper; a 2.7 liter twin-turbocharged V6 rated at over twice the power of the old inline-5s mated to a 6-speed manual transmission. 6-spoke "Avus" wheels carried on the late 90s design in 17″ form, with deeper but still subdued body additions and more grills hinting at the better performance of this A4-based creation. Twin polished exhaust tips, Xenon headlights, deeply bolstered sport seats and plenty of technology also came along from the ride, too.
But for me the B5 S4 sedan was never super exciting. Perhaps that was because it was instantly popular. What I remember annoying me more, though, was that it really seemed like Audi could have produced stronger performance. After all, it generated only a few more horsepower than the last favorite – at launch, the already out-of-production E36 M3 was the match for the performance of the S4 due to its lighter weight. And that was in turned-down U.S. spec! More sharply notable was the launch at the same time of the S8, and the S4 was some 90 horsepower down on that model. Yet get behind the wheel of one, and suddenly it wasn't a lack of grunt you were noticing. It was how well the package pulled together. It rode well, it had a glut of usable torque thanks to the small twin turbos' ability to spin up so quickly, and the fit and finish inside was leagues better than the E36 was. And while you could stick snow snows on an E36 and make it through winter just fine, as a year-round commuter car the S4 made a lot more sense while simultaneously being a much better sleeper. It was a 'Q-Ship'; admittedly, not the biggest or fastest one out there, but certainly an undercover speed agent.
Those in the know noticed, and although today's example has sprouted wings and is decidedly not as understated as it left the factory, when you see the name of the original owner you'll understand why…
6 Comments