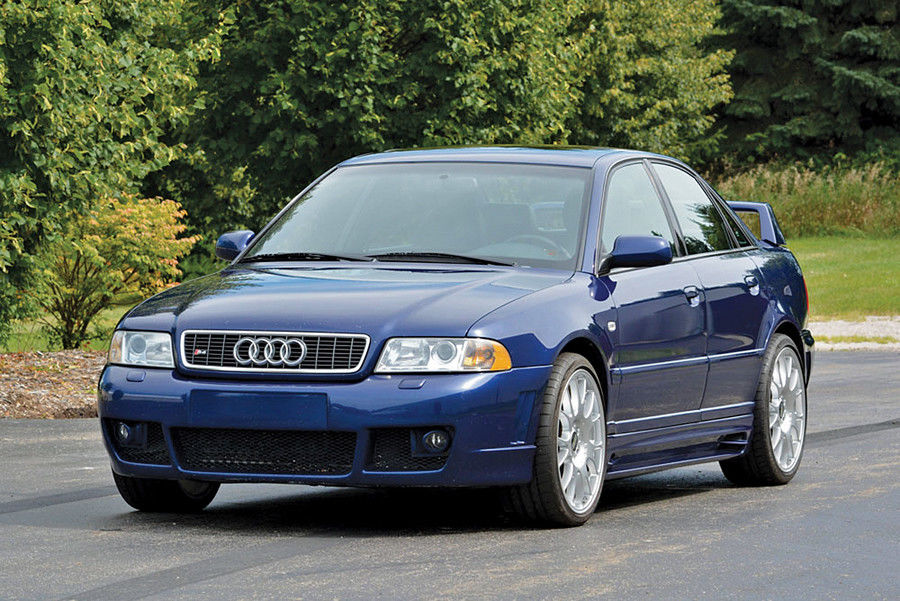 Update 1/29/2018: The asking price on this S4 has dropped from $13,995 to $12,995.
The B5 S4. On paper, it's a car that I should like a lot. Coming from the modest 4000 quattro, Audi produced what should have been a monster on paper; a 2.7 liter twin-turbocharged V6 rated at over twice the power of the old inline-5s mated to a 6-speed manual transmission. 6-spoke "Avus" wheels carried on the late 90s design in 17″ form, with deeper but still subdued body additions and more grills hinting at the better performance of this A4-based creation. Twin polished exhaust tips, Xenon headlights, deeply bolstered sport seats and plenty of technology also came along from the ride, too.
But for me the B5 S4 sedan was never super exciting. Perhaps that was because it was instantly popular. What I remember annoying me more, though, was that it really seemed like Audi could have produced stronger performance. After all, it generated only a few more horsepower than the last favorite – at launch, the already out-of-production E36 M3 was the match for the performance of the S4 due to its lighter weight. And that was in turned-down U.S. spec! More sharply notable was the launch at the same time of the S8, and the S4 was some 90 horsepower down on that model. Yet get behind the wheel of one, and suddenly it wasn't a lack of grunt you were noticing. It was how well the package pulled together. It rode well, it had a glut of usable torque thanks to the small twin turbos' ability to spin up so quickly, and the fit and finish inside was leagues better than the E36 was. And while you could stick snow snows on an E36 and make it through winter just fine, as a year-round commuter car the S4 made a lot more sense while simultaneously being a much better sleeper. It was a 'Q-Ship'; admittedly, not the biggest or fastest one out there, but certainly an undercover speed agent.
Those in the know noticed, and although today's example has sprouted wings and is decidedly not as understated as it left the factory, when you see the name of the original owner you'll understand why…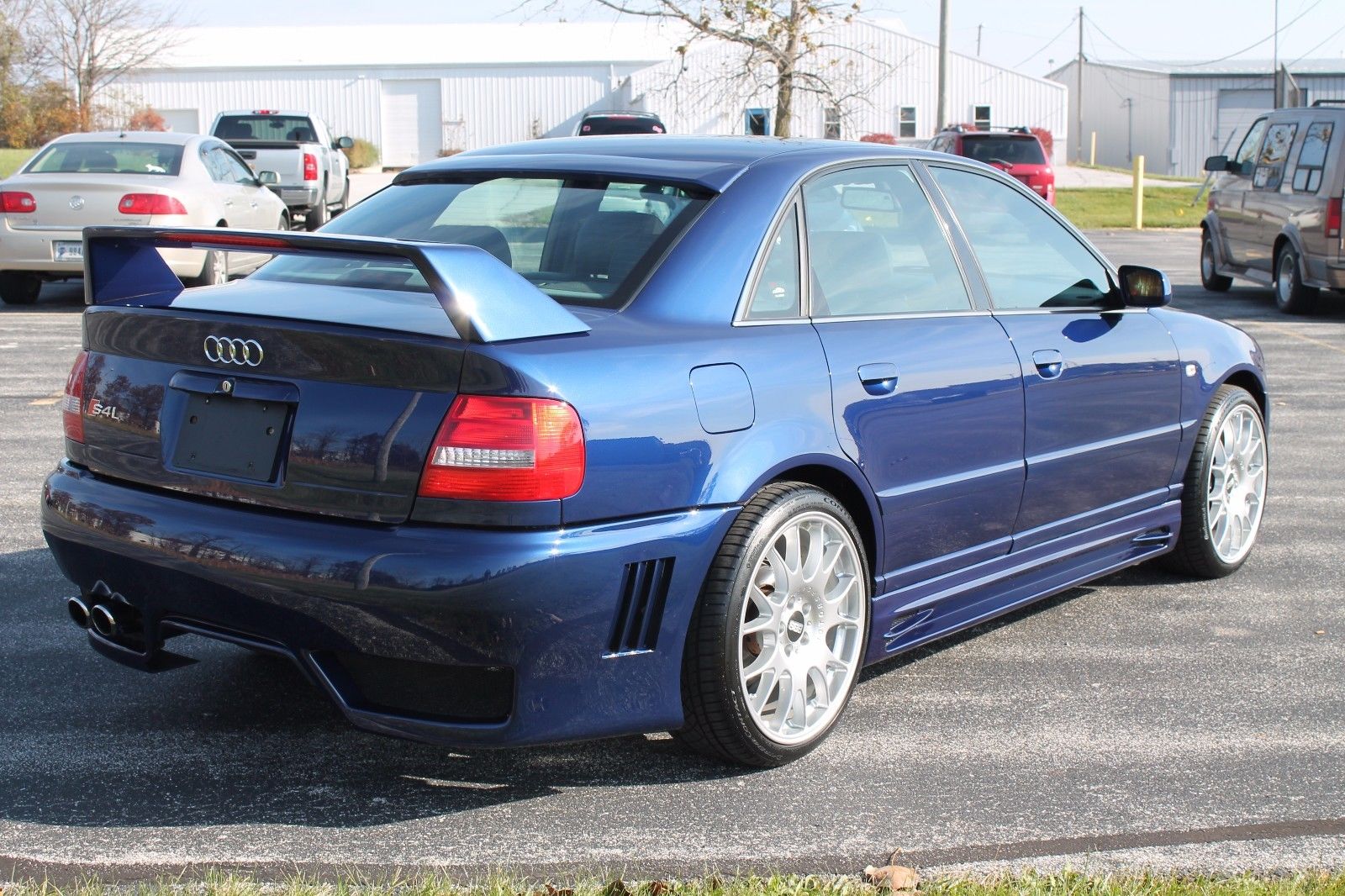 Year: 2001
Model: S4
Engine: 2.7 liter twin-turbocharged V6
Transmission: 6-speed manual
Mileage: 97,723 mi
Price: $12,995 Buy It Now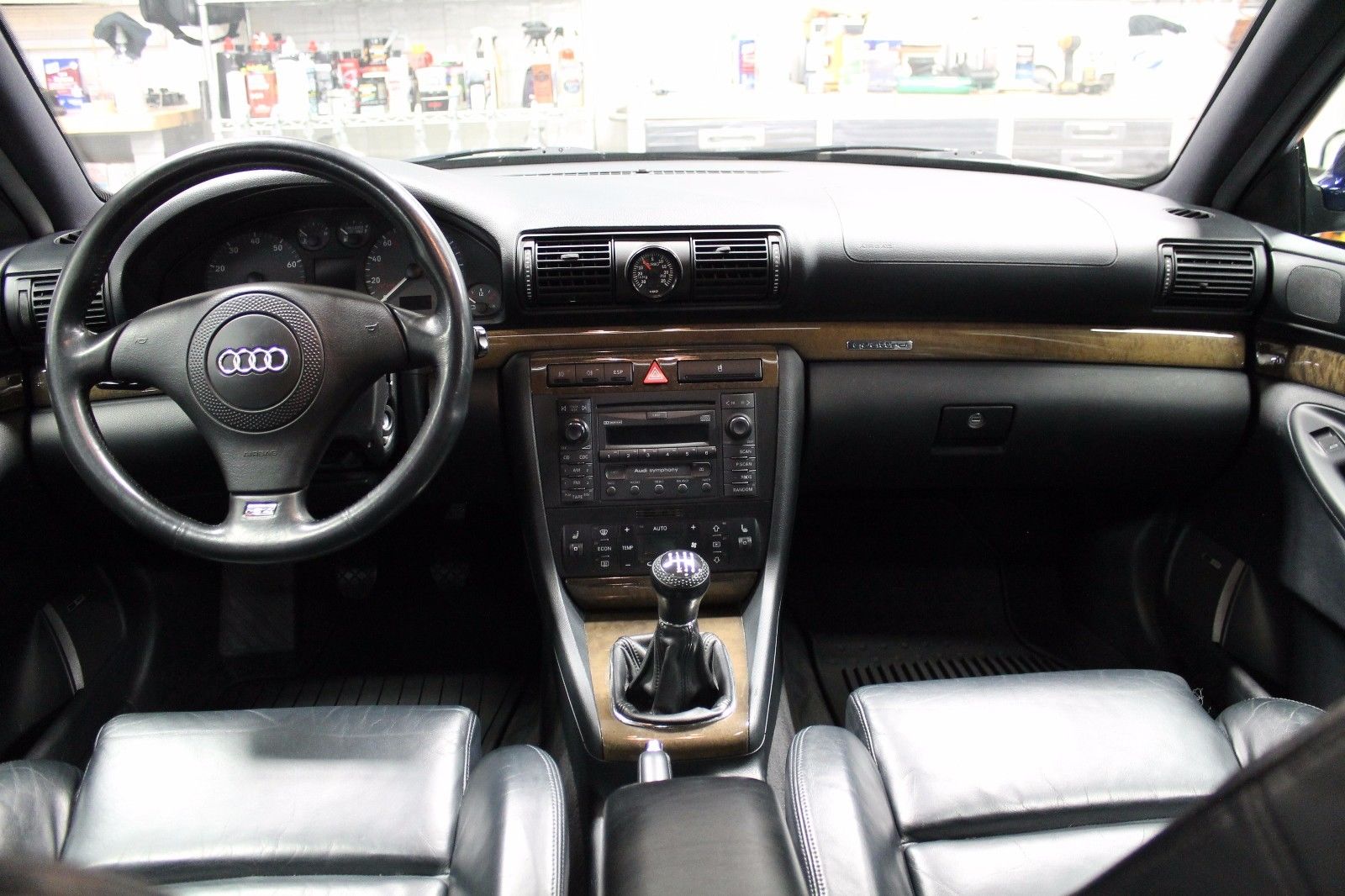 2001 Audi S4 Quattro

Exterior: Santorin Blue Pearl Effect

Interior: Onyx Interior

Odometer 97,763

Engine: 2.7T V6

Transmission: 6 Speed Manual

This beautiful S4 is in amazing shape for the year. We have never seen a B5 S4 in this type of shape – ever. The interior is nearly perfect – with minimal looseness on the driver's seat bolster. There are no broken pieces of plastic or trim, the typical wear areas around the switches & nobs remains unmolested & the stereo sounds exceptional. The dash does have the very common LCD burnout and is difficult to read, but shows (OK) when started & no warning messages. The windows, power sunroof & steering wheel controls work when operated. The leather wrapped steering wheel is in excellent condition. As you can see from the photos, the exterior is in very good condition. The body panels are straight and do not appear to have been re-painted. There are no texture or color differences between each panel. The headlights are perfect, with no stone chipping – they look brand new as well as the bumper & hood. Stock stone guard protection on the headlights (that has since been removed) kept them in perfect shape. The aftermarket front & rear bumpers match perfectly & are in excellent condition. The side skirts show some minimal chipping inside of the front wheel well – but only show a few flaws upon close inspection. The sideskirts could be adjusted slightly as the door does rub an unnoticeable amount opening and closing the front driver and passenger door. The rear wing is in great shape and remains uncracked or damaged. The Engine bay is next to mint – the wheels & wheel wells are clean and free of curb rash. There are no mechanical issues or demeanors while driving this S4. It shifts, accelerates & performs wonderfully. It was just fully serviced and it is ready for it's new B5 appreciating owner!!

What is special about this car other than its condition & period correct styling is it's ownership. Ken Lingenfelter of Lingenfelter Performance Engineering purchased this car new in 2001 and is reported as the first and second owner. All Dealership maintenance records are titled to he or Lingenfelter Performance Engineering. The second owner logged less than 10k miles on the car after it was purchased resulting in its current mileage. There are no accidents reported on it's autocheck and has a clean & clear title. The car has also been featured in Sports Car Market Magazine. It is assumed that under Lingenfelter ownership the "L" emblem was added after the S4 badging. APR tuning has no record of the car being tuned after running it's VIN.

TECHNICAL DATA:

– 2.7 L, 250HP V6 DOHC biturbo, 5 valves per cylinder

– 6-speed manual transmission with synchronized reverse gear

– Anti-lock Brake System (ABS 5.3)

– Quattro Permanent All-Wheel Drive system with EDL ( Electronic Differential Lock)

– HP2 4-pad High Performance Front Brakes

– Sport Suspension

– Four-link Front Suspension

– Double A-arm fully independent rear suspension

– Quick Ratio rack & pinion steering

– ESP (Electronic Stabilization Program)

SAFETY & SECURITY:

– Driver & Front passenger next generation airbag supplemental restraints

– Driver & Front passenger seat mounted side airbag supplemental restraints

– Inflatable "SIDEGUARD" curtain airbags

– Front 3-point safety belts w/automatic pretensioning and belt force limiters

– Xenon high intensity gas discharge headlights

– Anti-theft vehicle alarm system

– Headlight Washer System

COMFORT / CONVENIENCE:

– Silk Nappa Leather Seat upholstery

– Electronic Climate control with pollen filter

– 60/40 Split/folding rear seat

– Electronic Cruise control

– Tilt/ telescopic leather wrapped steering wheel

– Birdseye maple wood inlays for dash console & doors

– 10 Way power front seats with power lumbar adjustment

– Remote Keyless locking with controls in folding key

– Symphony radio w/cassette, 1-disc CD-Player

– Prewiring for CD Changer & telephone

FACTORY ADDED OPTIONS

-Premium Package $1200.00

– Power glass sunroof,

– Homelink Remote transmitter

– Auto Dimming Inside & Outside Mirrors

– Bose Premium Sound System $650.00

– Cold Weather Package $600.00

– Heated Front Seats

– Expandable Ski/Storage Sack

Total: $2,450.00

AFTERMARKET ACCESSORIES

– Professionally Installed 2.25" UUC Catback Audi S4 Stainless Steel Exhaust $1067.58

– Rieger Tuning RS4 Look Front Bumper (w/o Fog Brackets) $436.99

– Rieger Tuning RS4 Look Rear Skirt $296.35

– Rieger Tuning Side Skirts (with 2 Air Intakes) $385.56

– Rieger Tuning Rear Wing with Brake Light $612.00

– Rieger Tuning Rear Window Spoiler $107.04

– 5 x BBS CH Wheel (19×8.5, 5×112, ET+35) (Diamond Silver) $2,425.00

– 5 x Continental DWS 06 235/35/19 $842.25 (New in 2016)

Total: $6,172.77

MAINTENANCE HIGHLIGHTS

All receipts can be emailed; these are only a few Audi Dealership service highlights of major preventative maintenance repairs

– 11/10/2005 @ 37,508 MILES — 60k mile service $778.66

– 08/31/2006 @ 52,140 MILES — Alignment, tires, brakes $2,345.13

– 11/08/2010 @ 64,921 MILES — Regular Maintenance $640.67

– 05/12/2013 @ 72,747 MILES — TIMING BELT $2,623.49

– 11/04/2014 @ 81,317 MILES — Valve Cover & Cam Cover Gaskets & Seals $1,429.48

Total of all Dealership Maintenance Performed: $8,237.73

Over $14k has been invested into this S4 – and it's condition deserves it to be part of a collection where it can live the rest of it's life under pampered care. Unfortunately due to the B5 S4's affordability they have been commonly driven into the ground – which makes this piece of jewelry an exceptionally rare find. Please call 260-415-2202 or email selectautofw@gmail.com for any other questions. We have all service history, carfax & addtl photos or videos that you may need. This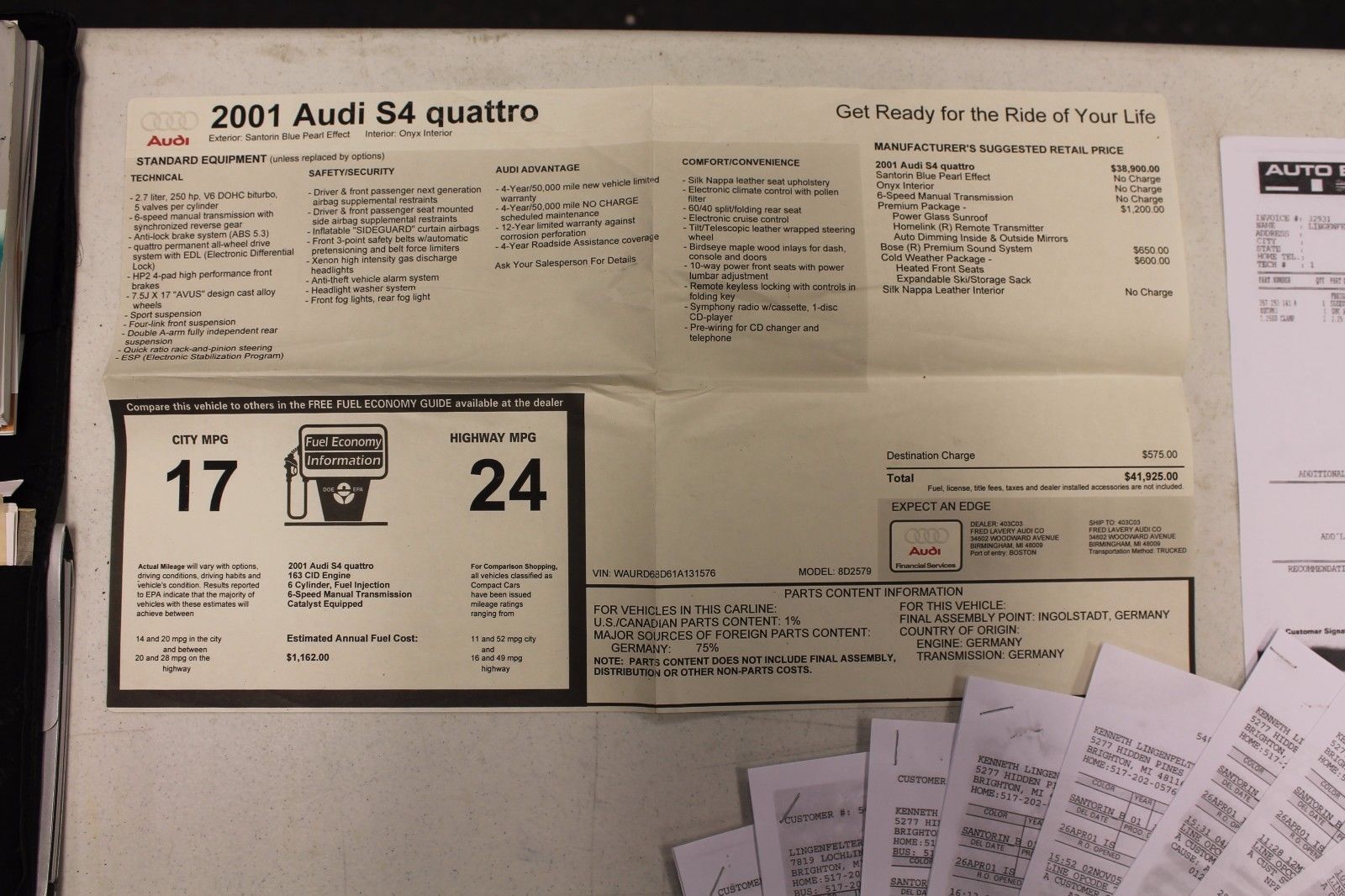 Lingenfelter Performance Engineering's name has been magical since the eponymous founder John Lingenfelter burst on the scene in the 90s. I still remember reading the Car and Driver articles about his creations; the most astounding at the time undoubtedly being their C4 ZR1s. Lingenfelter blew the LT5 out to 6.8 liters, resulting in the "415" package. That's not horsepower – that's CID. It produced 640 horsepower in 1998, which was at the time akin to saying you were the offspring lovechild of Elvis and a F-14 Tomcat. It probably should have had wings, given its ability to go from 0-150-0 in 23.3 seconds. In the same amount of time, this Audi S4 wouldn't have yet hit 120 mph, never mind stop, too.
So I imagined that with the Lingenfelter name attached to this S4, the performance would be equally outrageous (even if it was cousin Ken, and not the mad man John). I was wrong. This S4 is all bark and no bite, which is the only way which it is disappointing. The Rieger bits are just plain unattractive from every angle and just look cheap. That's unfortunately, because otherwise this is a stunning example. While Ken is the owner of Lingenfelter now, he's more known for being an exotic car collector than performance tuner, and it shows in this example. The condition is far above average, the mileage below average. It's got all records and disclosed expensive maintenance on time. The BBS wheels are top-dollar items and the Santorin Blue – while not as iconic as its Nogaro stablemates – is absolutely lovely. Were this car completely stock, I could see some justification for the $14,000 asking price. But as it stands, I see a beautiful car that has to be unmodified to be appealing at all.
-Carter