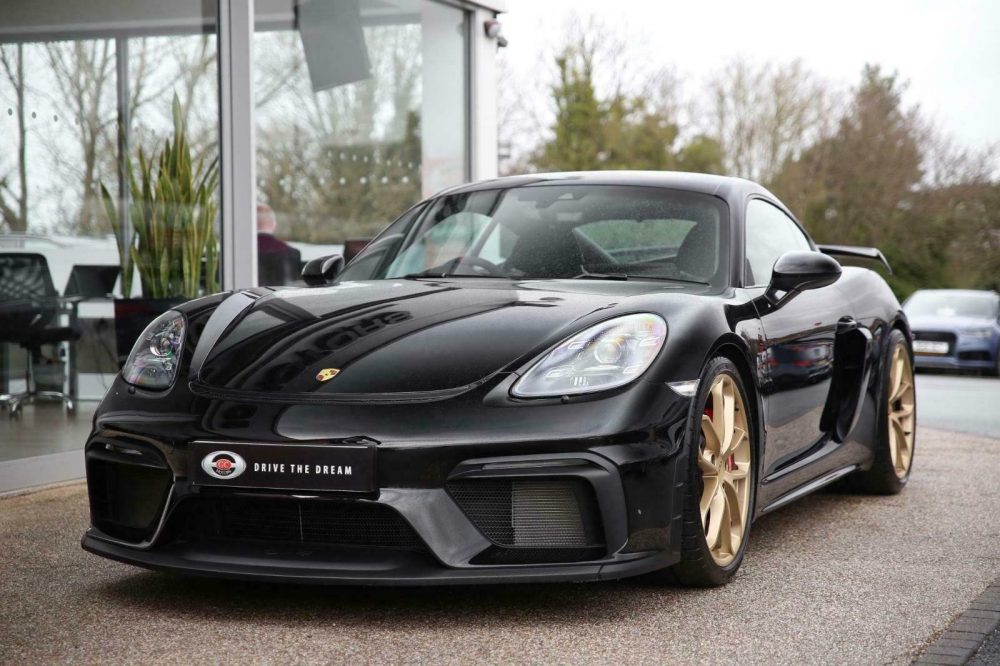 Well, they are here. Sort of. The Porsche 718 Cayman GT4 is on public roads and do they look appetizing. There are a handful of them already in the hands of US buyers and even more in Europe as 2019 model years. The US production was halted for reasons we all need not be reminded of, but word is customers who put in orders for them should start seeing them on dealer lots in the next month or two. For those lucky Europeans, you can have your pick if you have the money. This 2019 up for sale in North Yorkshire, England is finished in with always classic Black with the new Satin Aurum wheels and just 950 miles. Worth it over the 981 GT4?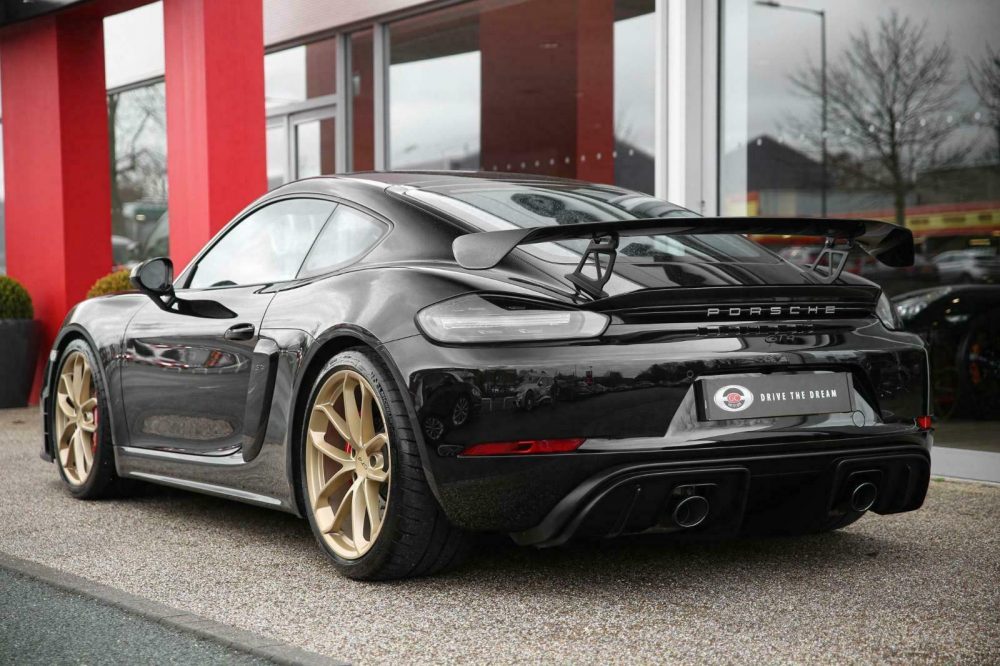 Year: 2019
Model: 718 Cayman GT4
VIN: N/A
Engine: 4.0 liter flat-6
Transmission: 6-speed manual
Mileage: 950 mi
Location: Harrogate, North Yorkshire, England
Price: £89,990 ($113,976)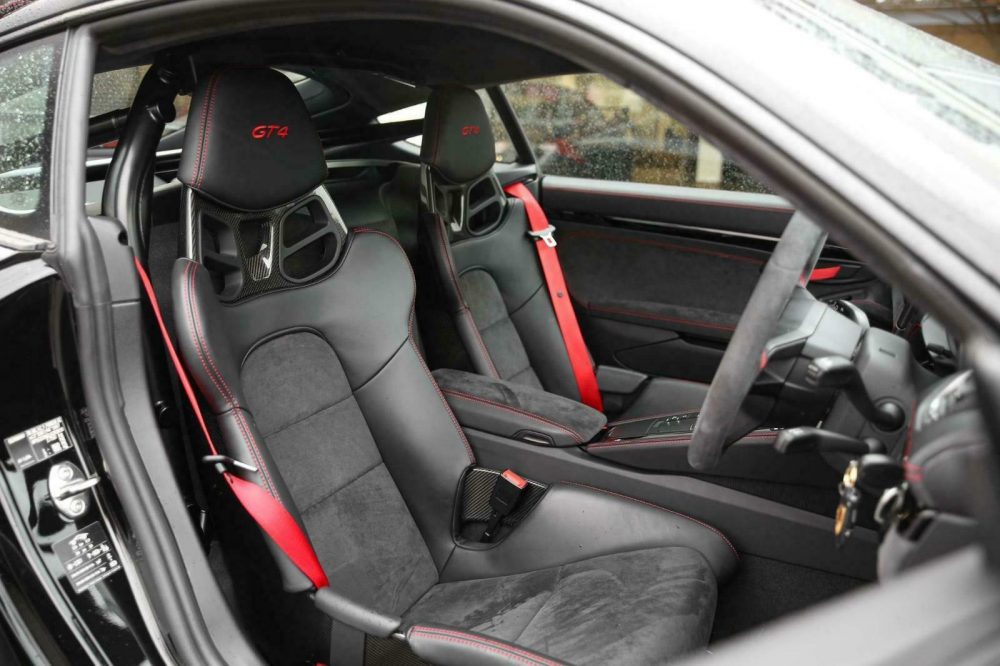 Black, Sports exhaust, Clubsport harnesses, Bose audio system, Clubsport pack, 918 Carbon fibre bucket seats, Sports chrono pack, Switchable sports exhaust, Alcantara steering wheel, Roll bar, Rear spoiler, Light design pack, PDLS PLus, PCM, Alcantara headlining, Gear stick, Central armrest, Dashboard inserts & Door inserts, White rev counter, Black paintwork with Black half leather/Alcantara interior complemented with a Piano Black interior trim, 20" Satin Aurum alloy wheels, Satellite Navigation, Electric folding wing mirrors, Reversing camera, Parking sensors, DAB digital radio, Traction control, Auto blip, Stitched headrests, Cruise control, Brushed aluminium door sills, Dual-zone climate control, Bluetooth connectivity, Jukebox, USB interface, Automatic lights, Red calipers, Red stitching, Quad exhaust, 2x SD port, Carbon fibre bucket seats, PASM, Sat Nav, UK vehicle, Warranty until December 2022, All our cars are HPI clear, GC Motors is a prestige car dealership based in Harrogate, North Yorkshire. Due to our highly experienced buying team who source only the most desirable and highest spec cars, we can guarantee to beat any deal in the UK for a like to like car, please contact us for your own personal video presentation of this particular car. We also offer competitive finance rates from our in-house team on PCP, lease purchase and HP, REF:18902, 1 owners,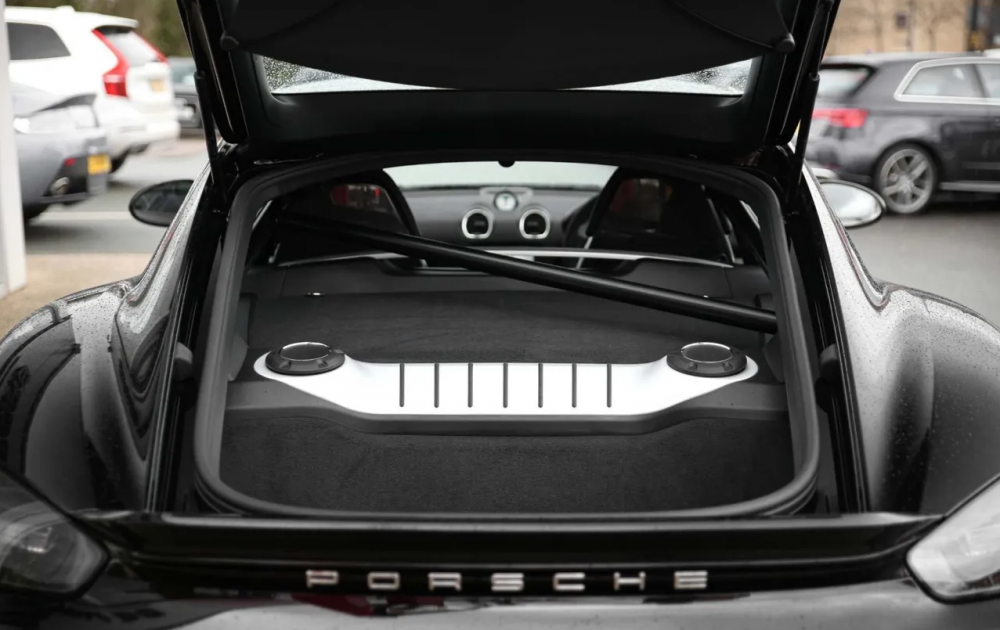 The 718 GT4 could be mistaken for the 981 GT4 unless you have a sharp eye, or just look at the rear end. You have some new aero with a new front bumper, but the big deal is the restyled rear end that is now becoming the coprate look with Porsche with the full light bar. That means no more debadging, as those Porsche letters are stuck on there good. As mentioned, a new bronze wheel color called Satin Aurum, which by taking a look around at the current 718s already built, seems to be very popular. Inside, almost nothing was changed at all. But that isn't the reason to buy the 718. It's the new 4.0 liter. Before you get too excited, it is not the 4.0 liter from the GT3. One, I don't think it fits in a Cayman. And two, that car would be $175,000. This 4.0 is based on the twin-turbo 3.0 from the current 911 that is void of its turbos and bored out to a 4.0. Still a fine compromise. Porsche says it will 0-60 in 4.2 seconds, but we all know Porsche is lying. Some magazines are seeing times in the high 3 second range, but that is par for the course on every 0-60 time officially quoted by Porsche.
Pricing for the US market starts at a hair under $100,000, which is around $14,000 more than the 2015 GT4. We all know exactly zero cars will sell for that, because you are out of your mind if you don't option the $6,000 carbon bucket seats. Click a few more other boxes, and suddenly this car is $120,000. Well, you are getting dangerously close to 991.1 GT3 RS money for that price and that car is a different animal. Still, if you seek a perfect balance of soft enough to drive everyday, track day beast, excellent reliability, and unreal resale value, it is tough to argue.
This example in England thankfully has the carbon buckets plus a few other goodies. Converting the Pound sterling to dollars, this one is at $114,000. I'm willing to bet the original selling price was closer to $120,000, so if this is your spec, a nice discount. Lets check back at the end of summer to see what the used market holds for US cars. I bet it won't be much different given they are already selling for over sticker.
– Andrew